BLOG: 10 Things USC Wants For Christmas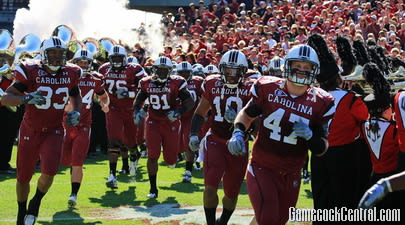 It's almost Christmas, which means Santa Claus is about to begin his annual voyage around the world. I still haven't figured out how the dude manages to break into so many homes in a single night without getting caught, but he gets the job done by leaving lots of presents and that's the bottom line. You can be sure the South Carolina coaching staff is eager for a visit from Santa this year, so here's what they hope to find under the Christmas Tree in two days:
1. Jadeveon Clowney, Lateek Townsend, Philip Dukes and Gerald Dixon: Okay, that's actually four gifts bundled together, but we'll count it as one. They're four of the top five uncommitted players left in the Palmetto State. Together, they could be the foundation of an outstanding USC defense starting as early as 2011. Three (all except Townsend) play defensive line, an essential component for a successful defense in the SEC. If all four players sign with USC, here's the potential starting front seven on defense in 2012: Clowney (USA Today Defensive Player of the Year) and Devin Taylor at D-End, Dixon and Byron Jerideau at D-Tackle, Townsend at MLB, Shaq Wilson at OLB and Damario Jeffery at Spur. Of course, veterans like Qua Gilchrist, J.T. Surratt, Chaz Sutton, Quin Smith and Kelcy Quarles (early enrollee in January) will keep battling for jobs and won't make it easy on them.
2. Ten Wins In A Season: It's only happened once in school history, the Black Magic season on 1984. Right now, USC stands at the threshold of one of the best seasons in school history. But they need to beat Florida State in the Chick-fil-A Bowl to reach double digits. Winning 10 games should do wonders for the mindset of a program climbing the ladder in the hyper-competitive SEC, and should assure a Top 10 or, at least, a Top 15 pre-season ranking in the national polls before the 2011 season.
3. Depth On The Offensive Line: Even if starting left guard Garrett Chisolm is able to play, USC will take the field in the Chick-fil-A Bowl with seven experienced offensive linemen. That's not enough in the SEC. Five redshirt freshmen (Cann, Robinson, Williams, Patrick, Gibson) should be able to contribute in 2011 and USC is adding another half dozen prospects in the latest signing class, including four-star OL Brandon Shell (HS All-American) from Goose Creek HS. As a result, the depth should be better starting next season. Right now, though, USC is feeling the effects of the departures of Nick Allison and Quintin Richardson prior to the season.
4. Marcus Lattimore Stays Healthy: Except for possibly Auburn QB Cam Newton, no player in college football was more important to his team than Lattimore in 2010. When he was able to run the football, USC won. When he couldn't, they struggled. USC is 6-0 when Lattimore rushed for 90+ yards. His top three outings came against Georgia, Tennessee and Florida. That's called showing up for the big games. USC must continue to run the ball (9-0 this season when they have more rushing attempts than passes thrown) with Lattimore. After that, they should throw some passes in the direction of Alshon Jeffery and let the magnets (or so it seems) in his hands do the rest. When is the last time a single team had two top Heisman Trophy contenders on the field at the same time?
5. 2011 SEC Championship: This is the next logical step in the evolution of the Gamecocks since joining the SEC in 1992. With Stephen Garcia, Lattimore and Jeffery all returning in 2011, will any team in the country have a better combination at QB-RB-WR? I doubt it. Next season should be the year when USC can legitimately call themselves championship contenders at the outset of the season. That's probably never happened before. Of course, it takes a little luck (Auburn has had more than a few bounces go their way), some good coaching and, of course, players able to perform under intense pressure to make it happen.
6. Stable Coaching Staff: Will every USC assistant coach return in 2011? Right now, it looks likes it. G.A. Mangus was linked to the Temple job because of his connections in the Pennsylvania area. But Florida's maligned offensive coordinator Steve Addazio got the job. Obviously, stability will help in recruiting and on-field performance. Both the current and future players know who will be coaching them in 2011. It's no coincidence that some of the top programs in the country keep their assistants. If you want an example of what can happen when there's a brain drain, look southward to Gainesville. Offensive coordinator Dan Mullen (Miss. State) and defensive coordinator Charlie Strong (Louisville) have both left the Gators in the last two years. The drop off has been noticeable, especially offensively. Of course, not having Tim Tebow hurt, but trying to fit a square peg (dropback QB John Brantley) into a round hole (spread option) didn't work.
7. Improved Pass Defense: We all thought USC would be spectacularly good on pass defense this season since the Gamecocks finished No. 2 in the SEC in that category last season and had most of their players returning. But confusion and poor play reared their ugly heads throughout the season, which is why USC is now last in the conference in pass defense? Did the coaches give the players too much liberty to make their own calls? Possibly. Without question, the coaches simplified the schemes and minimized the opportunities to change the call in the wake of the second half collapse at Kentucky. After that, things improved. But then USC took a step backwards by allowing 351 passing yards in the SEC Championship Game. Secondary coach Lorenzo Ward will have to perform a tune-up in the off-season.
8. Top 10 Recruiting Class: USC is running out of room, but signing Clowney and the other three aforementioned prospects in No. 1 above should catapult USC into the Top 10 of the national rankings, or put them really close. As of today, USC has a quartet of four-star prospects committed to the Gamecocks (WR Damiere Byrd, DT Kelcy Quarles, OL Brandon Shell, DB Brison Williams). That number could double by Signing Day. USC is now No. 19 in the Rivals.com rankings and has the most commitments (26) of any team in the country.
9. Third Straight Win Over Clemson: As late as three or four years ago, beating Clemson twice in a row seemed an impossible task considering all the crazy bounces, favorable calls and USC's own ineptness in the Tigers' favor. But USC has now beaten Clemson soundly two years in a row and will have possibly their best team in school history in 2011. Obviously, there's a lot of football to be played between now and the next meeting, and a lot of things like injuries can tilt the scales, but you would have to make USC the favorite right now for the renewal of the Palmetto State rivalry 11 months from now. USC has the potential to dominate in-state recruiting in 2011 and another win over Clemson could cement the Gamecocks' status as the top football school in SC.
10. Unbeaten At Home: USC has gone 6-1 at home in the last two seasons. The next step? Finish an entire home schedule unbeaten. The 2011 home slate includes Navy, Vanderbilt, Auburn, Kentucky, Florida, The Citadel and Clemson. Those are all winnable games. Auburn, obviously, won't have Cam Newton and a slew of seniors, while Florida will be in the first year of Will Muschamp's reign as head coach. Beat East Carolina in Charlotte and split on the road and you have 10 wins. Could USC pull off back-to-back 10-win seasons? Possible. But they must first beat FSU in the Chick-fil-A Bowl to even think about it.