David waiting for chance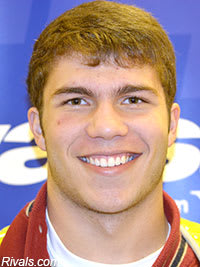 [rl]
If the production gives any indication, then Hoschton (Ga.) Mill Creek quarterback
Daniel David
is one of the best quarterbacks in the state of Georgia and perhaps in the Southeast.
The 6-foot-1, 185-pounder directed the number one scoring offense in Georgia's 6A classification. His team averaged 41 points per game and David tallied 1,331 yards and 12 touchdowns through the air while rushing 63 times for 672 yards and six more scores.
On top of that, the person that instructs him at the high school level believes he offers much more in terms of his intangibles.
"He is the best leader, player, athlete I have ever coached," Mill Creek head coach Shannon Jarvis told GamecockCentral.com. "He is the real deal."
While the skill sets and measurable are different, Jarvis believes that his pupil compares favorably to one former quarterback from the Peach State that went on to great success at the college level.
"I was fortunate to coach (former UGA standout) David Greene in high school," Jarvis said. "Daniel has as much of the 'it factor' as him."
David visited South Carolina late last month for the Gamecocks' junior day event and spent plenty of time talking with USC quarterbacks coach G.A. Mangus, who found a hidden gem named Connor Shaw out of the state of Georgia that ended up being USC's all-time wins leader under center.
"It was great, I had an awesome time," David told GamecockCentral.com. "He said I'm one of the guys that is left on his list and he is coming down to watch two of my spring practices. He also wants me to come back for a camp this summer."
While on campus, David got a chance to take a look at USC's facilities as well as take in a spring practice inside Williams-Brice Stadium.
"They really get after it," he said of USC's workout on the field. "I like how they run a very similar offense to us at Mill Creek. The facilities are really nice. I like how everything is in one place like the locker room and the weight room."
Boston College is another major program that is showing interest in the under the radar passer. David is visiting Georgia Southern this weekend. He made it apparent that an offer from the Gamecocks would be big for him.
"That would mean the world to me," he said. "I really would like an offer from the University of South Carolina."
Click
Here
to view this Link.