English talking different language at plate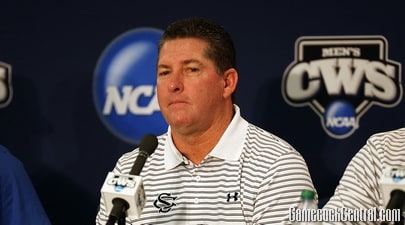 Tanner English smiled when the question was asked, as if he knew it was inevitable.
Both coach Ray Tanner and associate head coach Chad Holbrook have said recently that once English, a freshman from Murrells Inlet, learns the proper approach at the plate and turn his blazing speed into an asset as far as on-base percentage is concerned, he will become a major weapon for the Gamecocks.
That means learning how to bunt, staying patient at the plate, drawing walks and slapping the ball around, keeping it on the ground rather than hitting fly balls.
"In the fall I struggled with that a little bit," English said. "Coach Holbrook, coach Tanner and I worked on it a lot in the fall and then I worked on it some more during the offseason. We've gained a little ground there, so hopefully it will start to pay off."
Once he learns to become a more selective hitter, he will be ready to take on the responsibility of batting lead-off for the Gamecocks.
"Honestly, I have to be an on-base guy," English said recently. "I don't need to worry about hitting home runs or slugging them into the gaps every time. If I can get my on-base percentage up, then I think that will help us."
Another adjustment English has been forced to make since joining USC last August - the umpires. They have tighter zones at the major-college level, so he usually doesn't have to swing at pitches outside the strike zone as defined in the rule book.
In short, he is able to stay disciplined and wait for a good pitch to hit without being afraid a bad pitch will be called a strike.
"The umpires are better here, so you don't have to swing at as much," English said. "But it's a step I've had to take and I've been working on it each and every day."
So, how much time has English devoted to adjusting his aggressive hitting style from high school to fit the college game? Countless hours.
"Coach Holbrook and I have been working on my bunting a lot and getting the ball on the ground and being able to place it all over the field," English said. "Hopefully, if I can do that, it will help me out."
Holbrook and Tanner have been relentless in their constant message to English about keeping the ball out of the air, he says.
"Every single day, every single day," English replied when asked how often the need to keep the ball on the ground is emphasized. "If I hit a ball in the air during BP, I hear a lot of mumbling behind me (outside the batting cage). So I try not to do that too much."
One topic English is hesitant to talk about is his speed. (Ray) Tanner described him recently as the fastest player he has ever coached.
The 5-foot-9, 160-pound English, though, talks about his speed in more modest terms, saying only he "won a couple of races" in his neighborhood growing up when the local kids would get together for a little competition.
He was always one of the smaller kids in the neighborhood, so his incredible speed often paid dividends.
"I can run a little bit," English smiled. "I don't know about that (being the fastest player Tanner has coached). That's kind of cool if I am, but I really don't know.
"I've always been a lot smaller than everybody else, so I've had to play outside of people saying I can't do things. My speed has helped me there."
The early returns have been positive. Sunday, he batted lead-off for the team consisting mostly of starters and collected a single and double in four trips to the plate, a .500 on-base percentage. The previous day, English singled in three plate appearances, although one of the outs was a hard liner to center.
Thus, English went 3-for-6 in the final two weekend scrimmages.
"He's gotten better (as a lead-off hitter)", Tanner said following Sunday's scrimmage. "His deal this weekend was good at-bat, bad at-bat. But he is mixing in some good at-bats. His speed is a factor. He changes the game a little bit when he is on base. Our pitchers are a little more careful trying to get to the plate. It could help the offense if he is able to do that. Right now, we're just trying to get him more consistent."
With the start of the regular season still more than two weeks away, English is close to cementing a starting job in the outfield, likely in center or left depending on whom else is out there.
"I'm going to go out this year, and play and have fun," English said. "That's the big thing. We'll see where it goes from there. One of my biggest things is I have a blast every time I come onto the baseball field. I love every second of it. If you're playing with a good attitude, things will start rolling your way."
Though he has performed well in his first preseason camp, English appreciates the level of competition he faces on a daily basis, and that there are no guarantees handed out at the Division I level.
"Everybody out here is here for a reason," English said. "We're all good at something. I feel like everybody on the field will help out. I don't think we have to worry about that. We're just trying to step up and meet the expectations."
English won a state championship at St. James High School last year. He hopes to continue the winning tradition in 2012 with the Gamecocks.
"We have a whole bunch of good guys out here," English said. "If we can keep that going, that will be awesome."
English's most difficult decision within the past seven months has been whether to sign a pro contract and forego a college baseball career. After batting .412 as a senior with seven homers and 23 RBI with 28 stolen bases, he was taken in the 13th round by Tampa Bay.
In the end, English turned aside all offers and enrolled in school.
"They were both really good opportunities," English said. "That was probably one of the hardest decisions I've ever been faced with in my life. But I'm really glad I came here. All the guys are awesome. These guys are going to be some of my best friends for the rest of my life.
"Playing in this atmosphere is going to be amazing, so I can't wait."


D. McCallum