Gamecocks beat Alabama on wild pitch in series finale
SOUTH CAROLINA GAMECOCKS BASEBALL
TUSCALOOSA, ALA.—Early in Saturday's series finale against Alabama, Mark Kingston made something very clear to his team: he and the rest of the Gamecocks were going to be as aggressive as they had been all year.
And late in the game, it paid off.
TJ Hopkins stole two bases in the 12th inning, coming around to score after that on a wild pitch as the Gamecocks beat the Crimson Tide 5-4 Saturday.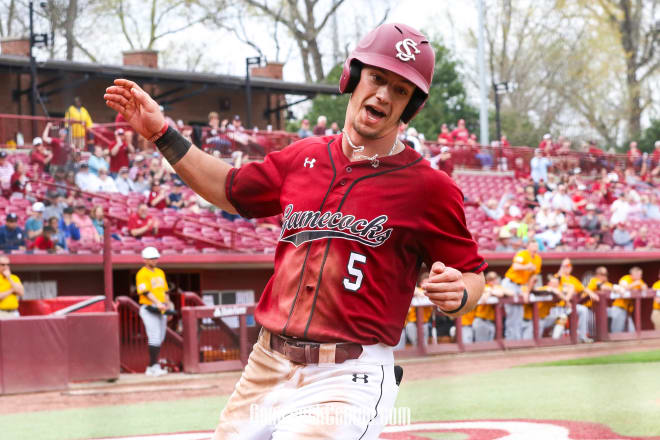 "He told us in the second inning something like scared money don't make money, which is true," Hopkins said. "I like running and there are a few other guys that like running. If it works, it works. That's all that matters."
Also see: Recruiting scoop and more from a big day of visitors
With one out in the 12th, Hopkins drew a full-count walk before stealing second, then subsequently third. Then, with two outs, he'd scoot home on a Jeremy Randolph wild pitch.

It didn't come without a little bit of sweating, though, with a review after the senior swiped second but the call was ultimately upheld.
"I told (the second baseman), 'I didn't feel you tag me,' and he was saying he tagged me," Hopkins said. "I kept telling him I don't think he tagged me. The pitcher came over and was like, 'hey, did you get him?' and I answered for him. I said no he didn't. I didn't think he'd tagged."
Those were Hopkins's ninth and tenth stolen bases this season, and could arguably been his two biggest.
The Gamecocks (19-13, 3-8 SEC) were looking for anything good to happen after putting up one run on seven hits over an 18-inning doubleheader Friday.
Mark Kingston mentioned after those two losses to start the series he wanted to see more fight from his team, and that's exactly what he got as the pitching and defense did enough to keep South Carolina in the game for Hopkins's heroics late.
They'd have more runs (two) and almost half as many hits (three) through four batters Saturday than they did all of Friday.
"It was a day we easily could have let slip away again, especially once it started going into extra innings. But they didn't do that," Kingston said. "The issue is not want-to, it's not toughness, it's not competing. It's just some days the other team plays better than we do and plays the game better than we do. Today we found a way to win."
Also see: Full updates and analysis from South Carolina's spring game
Brett Kerry (3-1, 1.69 ERA) picks up the win, tossing 5.2 scoreless innings to close the game and giving up just one hit while striking out four. It was the freshman's longest career outing, coming in and keeping the game in hand after a strong start from Cam Tringali.
The Gamecock offense spotted Tringali, making his first collegiate start, four runs over the first two innings before Alabama scored two in the third on a RBI double and two more off reliever TJ Shook in the fifth with the runs credited to Tringali.
The freshman finished scattering four hits over 4.1 innings and finished a two-thirds of an inning shy of a career-long outing.
"He was tremendous. Tremendous," Kingston said of Kerry. "I thought Tringali was great there. Shook gave up two runs there in the middle but other than that he was OK. The bookends were outstanding."
Kerry would pitch out of trouble all game long, coming in for Shook in the seventh and putting a base runner on in three straight innings but getting out of it every time. He'd pitch a perfect final two innings, though.

The biggest threat came in the 10th with the Tide getting a runner to third with two outs and Brett Auerbach hitting what looked like the game-winning single but a diving stab from George Callil at short robbed him of the hit and preserved the Gamecock's chances.
"I thought it was a base hit and I turned around and he's making another too 10 play. All credit to my defense," Kerry said. "That wasn't me going out there carrying the team on my back. That was me throwing the best I can but my defense really picked me up. They won the game for us, not me."
Also see: What Will Muschamp said in his post-spring game presser
Player of the game: Brett Kerry, in his first extended action since starting on March 10, tossed 5.2 scoreless innings and struck out three.
Key moment: George Callil robbed Auerbach of the game-winning hit in the 10th inning and kept his team's hopes alive for Hopkins's run in the 12th.
Up next: South Carolina returns home for a quick one-game homestand against UNC Charlotte on Tuesday. First pitch is scheduled for 7 p.m.