Gamecocks hold on to beat The Citadel
SOUTH CAROLINA GAMECOCKS BASEBALL
Gage Hinson watched as the four other bullpen pitchers before him struggled to keep Citadel's lineup off the bases and off the scoreboard Tuesday night.
So, when it was his turn to come in in the bottom of the eighth, he knew what he had to do.
Hinson pounded the zone, escaping a jam in the inning and shutting the door in the ninth as the Gamecocks held on to beat The Citadel 10-9.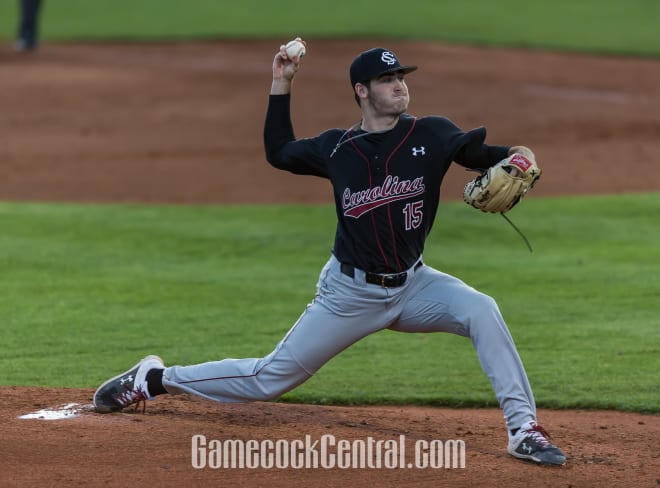 "It's just throwing strikes. I had been working hard in the bullpen, getting some work done," Hinson said. "I had been warming up for a few innings and had it dialed in. it was just coming out there and doing the best I can."
Also see: P.J. Hall updates his recruitment
The Gamecocks (14-3), who jumped out to a quick 9-1 lead after six innings, watched that lead evaporate in the blink of an eye as the bullpen struggled to throw quality strikes, giving up eight runs on 12 hits Tuesday night and walking four.
Both John Gilreath and Cam Tringali were tagged with four earned each in a combined 3.1 innings before Parker Coyne faced two batters and didn't record an out.
Outside of Hinson, South Carolina's bullpen threw 122 pitches, only 60 percent of those for strikes.
"I want to see them throw more strikes, I want to see them get more outs, period. That wasn't good enough. That wasn't good enough," head coach Mark Kingston said. "Those guys need to step up their game; I think they will but tonight I think they took a little bit of a step back and need to be better."
Also see: What's the biggest surprise and concern this spring?
That's why the staff opted to go with the soft-tossing Hinson and his submarine delivery to try and change things up.
"Everyone else was getting lit up," Kingston said. "He's a little bit softer, a different arm angle. We just tried to change the look and it seemed to work."
It worked with Hinson escaping a two-on, two-out jam in the eighth with a fly out to center and then pitching a perfect ninth inning to earn his first career save. It was just the senior's sixth career appearance and his third this season.
"It's been a struggle but it's been fun. I like a little adversity," Hinson said. "Ain't nobody ask it to be easy, you know? I've been doing the best I can and I feel like I've been doing pretty good."
Hinson preserved a nice outing from Daniel Lloyd in the freshman's first career start. Lloyd, who grew up in the area going to Summerville High School, pitched 2.1 innings and gave up just one run on three hits and struck out three.
Lloyd (2-0, 4.76 ERA) left after a predetermined split, picking up his second win in as many appearances.
"I thought he did a nice job. We wanted to get him out of there so he's available for this weekend because he's going to be an important piece of this staff for us. We got him out of there and I wish the guys behind him would have pitched better."
The Gamecocks jumped out to a quick 9-1 lead thanks to a big five-run second inning put struggled to put runs on the board after that. They had just one hit after the fourth inning and scored just three runs.

Luke Berryhill and TJ Hopkins combined to drive in six of the team's 10 runs and, despite the struggles, Kingston said he was pleased with the at-bats and contact his team was making.
"It's baseball. The wind's not blowing your way sometimes," Hopkins said. "You just have to go out there and keep battling, put the ball in play, get on base and play some baseball."
Also see: What SEC coaches are saying about South Carolina
Player of the game: Luke Berryhill had four RBI Tuesday night.
Key moment: Hinson came in and pitched out of a jam, giving up no runs and picking up his first save of the year.
Up next: South Carolina starts SEC play Friday, hosting Georgia in a three-game series. No starter has been named yet. First pitch is scheduled for 7 p.m. on the SEC Network Plus.