Hopkins leads charge, Gamecocks power past Furman
SOUTH CAROLINA GAMECOCKS BASEBALL
GREENVILLE, S.C.—TJ Hopkins noticed something re-watching this weekend's series against Georgia.
The senior, who's seen a thing or two in the SEC, picked up that his at-bats weren't that bad and his approach should more than likely stay the same heading into Tuesday's game at Furman.
Hopkins's hunch paid off as the senior hit two homers and drove in four runs as the Gamecocks powered past the Paladins 12-7.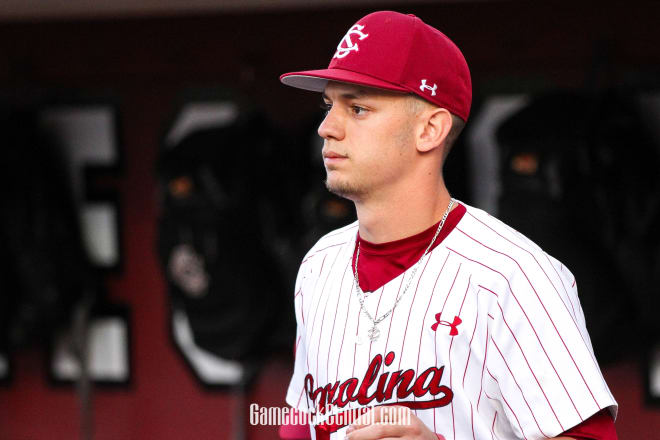 "When you face guys like that you don't need to change anything. I was pulling off some balls, I was seeing it well and nothing was really falling," he said. "Tonight, I was just trying to hit the ball every time over the batter's eye. Especially as a team, it's going to be a fun weekend in Tennessee."
Also see: Latest scoop on when a few members of the 2019 are set to arrive on campus
It was the first two-homer game for the senior since March 7 of his sophomore year, this time helping the Gamecocks (15-6, 0-3 SEC) snap a three-game losing streak heading into this weekend's matchup with Tennessee.
He's now tied with Jacob Olson for the team lead in homers with eight; his first bomb went 406 feet with the second being sent 368 feet over the fence in left-center.
Hopkins and Allen combined to drive in eight of the Gamecocks' 12 runs, going 5-for-8 Tuesday night with a double, two home runs and a stolen base.
Allen finished Tuesday with three RBI, driving in Olson in the sixth inning. The 12 runs on 11 hits were the most since scoring 12 on 12 hits March 10 against Valparaiso.
"There's no major changes, just we had to get back on track and needed to get our mojo back," Gamecock head coach Mark Kingston said. "We needed to have an approach that worked tonight but moving forward. I think we did a good job."
Also see: Latest on Walker, Tisdol
They'd score in five straight innings, including putting up a three-spot in the eighth inning before being held scoreless in the ninth.
Daniel Lloyd, in his second straight midweek start, got his team off on a good foot. Throwing on a pitch count, he lasted 2.1 innings and gave up one run on one hit while striking out two. He only walked one batter.
Dylan Harley came in and picked up the win, pitching 3.2 innings and giving up one run, a solo homer in the sixth, on four hits while striking out four. It was Harley's first career win.
"That's his third or fourth time in a row, that's encouraging," Kingston said. "He needs to be an important part of our pitching staff and he gave us a real good outing tonight."
The Gamecock relief corps hit a rough patch in the ninth with three pitchers combining to give up four runs in the inning before Cam Tringali had to come in and record the final out.
Furman actually out-hit the Gamecocks, but was just 6-for-22 with runners on base, 3-for-14 with runners in scoring position.
"Midweek pitching is your depth, so our depth needs to be better there's no question about it," Kingston said. "We score 12 runs we shouldn't be sweating at the end of the game like that. We just need to get better."
Also see: Three-star tackle sets official visit date
Player of the game: Hopkins had three hits, the second time he's done that this season and ninth multi-hit game of the season, driving in four and hitting two home runs.
Key moment: Furman loaded the bases in the fifth inning with two outs down just six and Harley rallied to get cleanup Logan Taplett to fly out and end the threat.
Up next: South Carolina hits the road in the SEC for the first time this season, heading to Knoxville, Tennessee for a three-game series.