Ingram talks future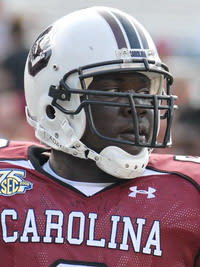 Bobby Deren
writes for Rivals.com affiliate ScarletNation.com (Rutgers athletics), in addition to his coverage of the NFL Draft process. Deren's first book, Draft Season, chronicled four different journeys to the NFL Draft, including that of former Gamecock, the late
Kenny McKinley
. Draft Season is available for purchase at
this link
. You can also
follow Bobby on Twitter
, as he will be live-tweeting updates and pictures from practice all week.
On Monday, Deren caught up with former Gamecock All-American defensive lineman Melvin Ingram at Senior Bowl practice.
On missing South Carolina:
"Of course I miss it. I miss being around my teammates and my brothers and having a good time."
On his new football career:
"It's like a business but I'm still out here having fun. It's quite an experience to be around all these good football players. I'm just enjoying the experience."
On playing in front of a bunch of scouts:
"It ain't nerve wracking.. It's just part of the life. I chose this life so it comes with the territory."
On the competition:
"The competition is real good, I'm just trying to work harder than everybody."
On his draft status:
"I'll find out on April 26th or April 27th if my name gets called. It's something I've been working for my whole life. It's like a dream come true."
On his goals for the week:
"Just to get better. The football players are tremendously talented, it's just an opportunity for me to get better."
On what he is most excited about:
"I look forward to practice. I love football. I've always loved practice."
On something about him off the field:
"I'm a people person. I like making friends, I like having a lot of friends. I've already made a lot of friends. Everybody I come across, I just try and shake their hand and make new friends."