Its Georgia Week For The Gamecocks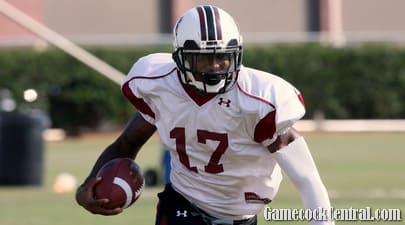 South Carolina should be healthier for Saturday's noon showdown (ESPN2) with SEC East Rival Georgia than they were at the end of last Thursday's season opener.
But not as healthy as Steve Spurrier would like.
Sophomore safety D.J. Swearinger should be ready to practice by the middle of the week, Spurrier said, after suffering a slight concussion midway through the second quarter of Thursday night's 41-13 victory over Southern Miss, a contest many people thought would go down to the wire.
Swearinger was the only USC player forced the sidelines prematurely against USM.
"We came out pretty good injury wise," Spurrier said. "D.J. Swearinger's slight concussion wasn't real serious although we held him out of the second half. He should be OK by Wednesday or Thursday of this week. We're pretty much full speed and hopefully it will stay that way."
The hamstring strain suffered by spur linebacker Antonio Allen in the final days of pre-season camp may be healed enough to allow him to suit up against Georgia.
Rodney Paulk (limped off the field) and Ladi Ajiboye (broken bone in hand; he wore a club on Thursday night) should also be ready to play as well, though Ajiboye might have his hand wrapped differently, Spurrier said.
Ajiboye missed last season's Georgia game because he was serving a three-game suspension.
"They should be OK," Spurrier said. "Rodney just sort of sprained his knee, but it wasn't the one he had operated on. I saw him (Saturday) and he said he should be fine. Ladi has a little broken bone in his hand and he had a club over his hand. It really prevented him from playing as well as he normally plays. Those defensive linemen need to be to grab and push and do all kind of stuff with their hands. Hopefully, we'll have a smaller cast for him where his fingers can get out and he can play with his hand a lot better."
But the news isn't as promising for outside linebacker Shaq Wilson, who is expected to miss his second straight game with a severe hamstring pull. Wilson has practiced once since suffering the injury on Aug. 3.
"Shaq will probably be out again," Spurrier said. "He really pulled a hamstring badly the first practice of pre-season. Antonio Allen didn't quite pull his as badly, so there's a chance he could play this week.
Spurrier said OL Terrence Campbell should be fine after sitting out the opener as he completed his recovery from a high ankle sprain.
"He should be OK. If he had been forced to go in, we would have tossed him in there," Spurrier said. "Fortunately, all of our guys stayed healthy the entire game. We were able to play some true freshmen and some backup linemen the last game."
Offensive lineman Jarriel King and cornerback Chris Culliver both sat out the opener because of NCAA eligibility concerns. Spurrier offered little new information on Sunday except to say the group of players cleared to play about 75 minutes before kickoff on Thursday night "should be OK," although he wasn't 100 percent positive.
King and Culliver have not been cleared yet to play and Spurrier hesitated in saying either one would be able to play in six days.
"I guess I'm like the Georgia coach. We're not supposed to talk about it too much," Spurrier said. "And I'm trying not to talk about it too much. We'll do whatever the NCAA tells us what to do on those players."
USC would like to have a full roster available for the traditional early September clash with Georgia. This year the stakes are even higher with the SEC East seemingly up for grabs.
Georgia blasted Louisiana-Lafayette, 55-7, Saturday in Athens in the season opener for both teams. All-America wide receiver A.J. Green was held out of the game due to eligibility concerns and his status for Saturday's showdown in Columbia is questionable.
"I don't think (Green's status) will affect our preparations all that much," Spurrier said. "But as we've learned, we probably won't know if he's playing until Saturday morning. Maybe Georgia won't know if he's playing until then. Sometimes they wait until the last day to tell you who plays or not. We may not know until Saturday about our guys either. They just tell us who plays and we have a go at it. That's the way you have to operate."
Even without Green, the Bulldogs will present plenty of problems for USC to have to deal with.
"It will be a tremendous challenge this week playing a very good Georgia team," Spurrier said, "They had an excellent game this past Saturday. We're looking forward to seeing what happens Saturday at high noon. It's early, but both teams desperately want to win it. Obviously, it puts one of the two schools in better position than the other. All of our conference games are important, especially within the Eastern Division. It should be a heck of a game."
Stephen Garcia will likely have to duplicate his performance against Southern Miss to give the Gamecocks a chance to beat UGA for the first time since 2007, and the first time at Williams-Brice Stadium since 2000.
Garcia was 16-of-23 for 193 years in the win over Southern Mississippi. But the most important number might have been zero, as in the number of sacks USC allowed when Garcia was in the game.
"He did get rid of the ball much better than he ever has," Spurrier said. "Only one time did he peek at the rush because he wasn't sure if we were protected. Overall, he stayed in there and threw the ball. He had a few free guys coming at him and in the past he would take off running and try to juke them. He would usually take a sack. But he was able to get the ball out of his hands, which was a big reason we were able to get a few rushing yards.
"He seemed to be thinking through the play much better than the previous year."
Even though Garcia played well in the opener, Spurrier wants the running game to be more productive. Take away Ace Sander's 53-yard scamper on a reverse and the 69 yards rushing compiled by Garcia (38 yards) and Connor Shaw (31 yards), USC gained 102 yards on 22 carries, an average of 4.64 yards per carry.
"I don't think we ran it all that well," Spurrier said. "Our quarterbacks had 82 yards rushing and Ace Sanders had about 50-something on the one reverse. Our sweep was better than our up the middle play. We have a lot of work to do. We're not any great running team by any stretch yet, but hopefully we can work on it and improve. Georgia has as good of a pass rush as any in the country based on the way they looked this past Saturday. We must be able to run the ball and block some guys if we're going to be in the ballgame."
Following a disappointing 2009 season, UGA head coach Mark Richt hired Todd Grantham as the Bulldogs' new defensive coordinator. Grantham brought a 3-4 system to Athens.
"It appears to be quite a bit different," Spurrier said. "Obviously, their players have been well trained through spring practice and through pre-season practice. They're a really veteran defense as far as knowing what to do. With the extra time we get now, a new coach gets a lot of time to install his defense. They had very few mistakes on Saturday against Lafayette. They were very prepared. They had a receiver get behind them on one play but that was about it. That may have been their only defensive error all game.
-- Spurrier said the win over Southern Miss "was a good opener" even though "there were a lot of errors here and there, as should be expected." He added he was pleased with the effort throughout the game.
-- Spurrier said USC's freshmen, including QB Connor Shaw, played "about the way we expected." Shaw made "some good plays in there," he said, adding Ace Sanders had a couple of big plays and RB Marcus Lattimore had "some good tough inside runs." Lattimore averaged 3.9 yards per carry in leading USC with 54 yards, one more than Sanders. "He made some nice five, seven yards runs when there wasn't a whole lot there." Spurrier said their performance wasn't surprising since all three players enjoyed outstanding pre-season camp.
-- Spurrier acknowledged the presence of Connor Shaw has helped push Garcia to become better. "Last year, we had absolutely no one pushing Stephen. He was our quarterback n matter how he played. Now, in the back of his mind, he knows if he wants to play he has to play the way the coaches ask him to. I think that has helped Stephen a bit. He added: "We're actually in a lot better shape at quarterback than we have been in the last year or two."
-- Spurrier said redshirt junior Kyle Nunn played every snap of Thursday's game at left tackle and played "a solid game." Nunn filled the LT spot in the absence of Jarriel King. "We're proud of Kyle. He was mentioned as having a solid game for possibly the first time in his career at South Carolina," Spurrier said. "He had a good smile on his face." Spurrier praised OL coach Shawn Elliott for his job working with the line.
-- Spurrier noted Saturday's game with UGA will feature a great battle between two of the best punters in the game. USC's Spencer Lanning averaged 52.5 yards on two punts in the opener after being voted a team captain.
-- Spurrier said he hopes to utilize Stephon Gilmore in the Wild Cock formation "about once or twice a game" in order to force the opponents to "spend about 15 minutes" studying the formation.
-- Spurrier said the USC secondary did a good job covering USM WR DeAndre Brown, holding him to a quartet of fourth quarter receptions when the outcome had already been decided.
-- Spurrier said the ideal situation with quarterbacks is to recruit a good one every two years and redshirt them their first year. But he admitted that doesn't happen much anymore due to a lack of patience.
-- Spurrier said USC is focused on the future when it comes to the UGA rivalry. The Gamecocks have suffered a series of heartbreaking losses to the Bulldogs in recent years, including 2005, 2008 and 2009. Missed extra points played pivotal roles in two of those games.
-- Spurrier said he hoped to draw up some new plays for Ace Sanders, though he expected Georgia "would be ready for everything."