Marty Simpson: Five reasons we shouldnt care...
Editor's note: Simpson earned four letters and started 44 games for the Gamecock football team. In this feature, he takes a look at the Gamecocks as an analyst, letterman and comedian.
Five reasons we shouldn't care that these Gamecocks don't look as good as we thought:
REASON NO. 1: Most Gamecock fans are unqualified to judge greatness in its infancy.
I know this sounds harsh at first but, hear me out. At what point in our storied history have we started a season in ANY fashion that ultimately led to a championship? Last year we won the East, sure, but we weren't able to finish the job. In 1984 we ultimately were ranked No. 2 in the nation the week the No. 1 team lost, and we were then upset by a team who will remain nameless. (Because I don't want to wake any sleeping demons!) In 1969, when we actually won the ACC, we were blown out by a top-10 Georgia team in week three in Athens. And in all of the above cases these Gamecock teams went on to lose their bowl games.
My point to all of this is that Gamecock fans don't have a reference point to look back at and say to themselves, "Yes, this team reminds me of the year we won it all." We can't honestly say, "I recognize the fact that this team has championship caliber qualities about it." While fans can say it and talk about it and write about it, the sad truth is no one around here can actually testify as to what it SHOULD look or feel like. (Save one, our head coach!)
Auburn, last season's eventual national champion, struggled to win a three-point game on the road in Starkville in week two, squeezed by an average Clemson team at home in overtime, then held on for dear life versus the Gamecocks in week four. Two weeks later they would survive a three-point blood bath versus Kentucky! I am sure in the third quarter of the Clemson game when they were losing, their fans were not thinking, "You know what? We are going to win the national championship this season!"
So the fact that we were all predicting great things out of this year's team and are now experiencing what, on the surface, looks like mediocrity, doesn't change the fact that WE are NOT qualified to recognize what a championship team looks like in its infancy! How could we?
My father's classmate in law school got a number of C's on his papers. He always claimed that he felt like the teachers, who usually had straight A's in school and then became teachers, were not necessarily qualified to grade his C paper, since they were not familiar with C papers. As silly as this scenario seems, it just illustrates my point that most Gamecock fans are only keenly aware of what C (and maybe a few B) seasons actually look like.
It could very well be the case that the problems exposed in our first two games actually lead to fixes that propel our team to the next level down the road. (Assuming these problems get corrected.) The difference in this year's team and the past teams is we were given the chance to find these problems amidst two solid victories!
REASON NO. 2: Most Gamecock fans are like parents, and the Gamecock players are their children.
We all know that parents are incapable of making an accurate assessment of their own child's abilities. Trust me on this point. I coached and taught for nine years at a high school. I have never met any parents who were able to assess their child's ability accurately. Not one. This doesn't mean they were bad people, it just means we are ALL rendered useless when it comes to evaluating our own child's abilities properly.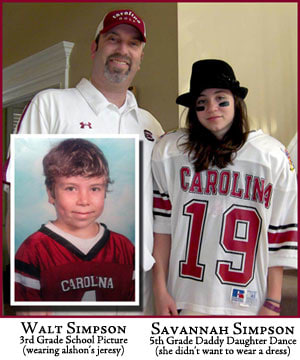 Click
Here
to view this Link.
(Noteworthy: MY children are exceptional . . . no, seriously, they are . . . ask anyone.)
And so it is with almost all Gamecock fans. South Carolina loyalists across the state have been excited all summer about how great this year was going to be without taking into consideration what that greatness would actually look like. A season of greatness is going to be filled with adversity. The reaction to that adversity is what defines the champion, not the fact that adversity exists.
So our precious "Little Johnny" fell down and bumped his knee in Athens this past weekend. The sad part is now we are all clamoring about how the boys around "Little Johnny" pushed him or how we need to meet with the teacher because she should have kept a better eye on Johnny while he was at recess.
While we are doing this, we failed to realized that while our "Little Johnny" stumbled and scraped his knee for sure, he also got back up, cleaned it up himself, and then continued to play without complaining! (AND WON! Since this is a metaphorical representation of the Georgia game in case you missed that.)
Maybe the right thing to do as a parent on this occasion is to shut-up.
REASON NO. 3: The Gamecocks don't have to "win it all" in one weekend.
A championship run is made up of a number of consecutive wins. All of which are played one at a time. On any given Saturday, the Gamecocks don't have to prove to any sports writer or any fan that they are a national championship caliber team. All they have to do is beat their opponent on that day. Going on the road in the SEC is all about survival. Impressive road wins in the SEC consist of one factor and one factor alone. THE SCORE!
Conceding the facts surrounding our current issues with our pass defense and a our pass offense, I would like to point out some obvious things about the Georgia game.
WE WON! On the road! While playing poorly! Against an extremely talented team that was playing its very best!
Do you know how many times in the past 117 years since we first played Georgia we have won in Athens? Eight. EIGHT! Five of those wins came in the 20th century and three have come since 2001. That means that we only need to win two more games in the next 89 years in Athens to equal last century's total.
Honestly, in light of these numbers I don't care at all that we didn't win by more points or that our passing attack looks stale and cluttered. I wouldn't care if Cocky had to line up at tailback to get a win in Athens. I am just grateful for the win.
REASON NO. 4: The national media will continue to ignore the Gamecocks giving us the underdog motivation we need.
Two years ago when we lost to Georgia on the 5-yard line, the national media buzz could be accurately summarized as, "Georgia Survived!" No media outlet was writing about how the Gamecocks outplayed the Bulldogs or how they were outcoached while being victorious. All the national media wanted to talk about was the traditional powerhouse, Georgia, surviving the scare from the lowly South Carolina Gamecocks.
So this year, the Gamecocks were ranked No. 12 in most polls and Georgia was unranked. So naturally you would think the national media this time would be shouting that the Gamecocks "survived!" Not so fast. Most media publications were proclaiming South Carolina lucky to get the win and praising Georgia for playing so well for Coach Richt.
It's beginning to seem like most national media outlets have fallen under Orel Hershiser's spell from baseball season and have decided that only national powerhouses like UCLA, Alabama, Auburn or Georgia are worthy of any "reputation protection" when it comes to things like how tough it is to win on the road in the SEC.
So I am pleased that we actually won ugly. Had we blown out Georgia, it would have confused the national media as to what to write about and this would have removed the chip on our shoulder that sits squarely there now.
The national media needs a bigger, more traditional powerhouse program to be the best team each year (see Boise State, year after year.) So I don't care how good we look as long as we win. I only will care in December and January how well we play, and maybe, just maybe, the national media will catch on by then.
REASON NO. 5: The main problem to solve rests with the Head Ball Coach.
Sure the defensive secondary needs some major improvement, but until the full unit returns health wise and suspension wise, I will reserve judgement on them. The major area of concern at present is the passing attack. This gives me great peace. The reason I am at peace with this issue is I know Coach Spurrier is burning inside knowing that his statistics in the passing category are currently laughable.
Coach Spurrier had the stats put up on the scoreboard while coaching at The Swamp. (Place-Kickers have time to notice such things.) Coach loves to show off the fact that the stats are in his favor, and right now they haven't been and this is driving him crazy!
I have no doubt that the man responsible for getting us this far in the first place will fix the problem that is the passing game. He will do it with sound fundamentals, solid coaching, and the pinch of imagination which only a Spurrier passing attack can muster.
Look for the passing game to be what is talked about the most by the end of the season. Even though Coach Spurrier knows we are a running football team and we win because of our rushing dominance, I predict special things will happen in the passing game. They will happen, if for no other reason, because Coach Spurrier can't sleep at night until they do!
And in a season where the mumbles of Lattimore for Heisman have already started, the visor is conjuring up ways to spread the ball around and make plays with guys like Ellington, Sanders, Moore, Byrd and Cunningham. Alshon has proven that even when our passing game is non-existent he will get his catches. Look for Coach Spurrier to put to rest the notion that we cannot throw the ball very soon!
There they are. Five straightforward reasons why we shouldn't care that these Gamecocks don't look as good yet as we thought they should.
I want you to think about this the next time you say, "Oh boy, I think we are in trouble," after watching our secondary get beat or Garcia throws an incompletion:
How many of us after the 1998 Ball State game, which we won by 18 points, went home thinking to ourselves, "You know what? I think we are about to lose 21 in a row."
For all we know, we are getting ready to complain about these Gamecocks playing up and down football for the next two years as we win 21 in a row!
Who really knows? The only thing I am certain about is this: I am glad it's Coach Spurrier who's in charge of it all, and not me!
From coach to comedian: Marty Simpson
is a former Academic All-Conference player for USC who scored the Gamecocks' first 6 points in the SEC. During 8 years as a high school varsity coach, Simpson led his team to the state finals and saw one player advance to set an NFL rookie record. Simpson now divides his time between his family, running a multimedia company named
Blue-Eyed Panda
and traveling the country performing stand-up comedy for clubs, churches, and corporations.