Muschamp hands keys to McIlwain, what does that mean going forward?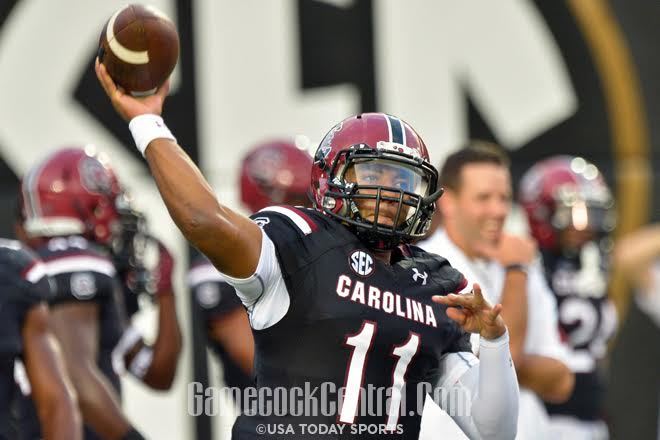 After South Carolina's 20-15 win over East Carolina, in which true freshman Brandon McIlwain made his first career start at quarterback, Will Muschamp was asked (for what seems like the hundredth time) who the starter will be going forward. This time, his answer was different.
Often quick-witted, Muschamp's answer was a simple, "Yes," when asked if McIlwain would be the starter going forward. The first-year head coach was quick to indicate that this was not a benching of Perry Orth, per say, but that McIlwain has what the Gamecocks need right now.
"I think he's got a lot of poise about him," Muschamp said of McIlwain. "He's got a lot of the 'it' factor you look for at that position. He doesn't get phased by a lot."
I, like most everyone that follows Gamecock football, expected that McIlwain would start at one point or another this season, but I think it speaks volumes about Muschamp as a coach and McIlwain as a player that he took over the starting job just six quarters into the season.
WHAT HE BRINGS
Obviously, there are numerous factors that go into a decision of this magnitude and to say that McIlwain's ability to run alone earned him the job would to oversimplify the matter. However, it is a fact that cannot be ignored.
When Connor Mitch was injured last season, the coaching staff had to choose between Orth and then freshman Lorenzo Nunez. Nunez, a far more raw prospect than McIlwain, saw time first as a wildcat specialist, then started two games, despite posing little threat in the passing game.
One of the best ways to put pressure on a defense at the college level is to play a dual-threat quarterback. While Orth can run a bit, McIlwain obviously is the better fits the mold. Muschamp and offensive coordinator Kurt Roper want to run an uptempo, spread system similar to most of the more potent offenses in the college game.
Where McIlwain differs from Nunez is in his decision-making ability and pure quarterback talent. Nunez went to a small high school and played quarterback out of necessity. Smaller schools will often put their best playmaker at the quarterback position, regardless of arm talent, to ensure they touch the ball as much as possible. This showed at the college level, where Nunez averaged only slightly above seven yards an attempt and threw as many interceptions as touchdowns.
McIlwain, on the other hand, is a natural dual-threat quarterback. Obviously the arm strength is there, as he was one of the top outfielders in the country coming out of high school. In around six and a half quarters, he's thrown for 356 yards (just 20 less than Nunez threw all of last season) and two touchdowns, while adding two more scores on the ground.
In all of that, he's committed just one turnover, a fumble against Vanderbilt.
With the struggles of the offensive line, the constant threat of the quarterback run can help slow down a defensive pass rush. It gives the defense something else to worry about. The decision to start McIlwain makes sense in that regard.
WHAT IT MEANS
Gamecock fans know this is a rebuilding year, (well, few years) but Will Muschamp obviously can't make a big deal of that to his players, especially the seniors.
The decision, however, shows that the coaching staff understands that fact. I have no doubt Perry Orth could have led the Gamecocks to victory against ECU, but Muschamp elected to play McIlwain instead.
McIlwain was not infallible Saturday. There were several overthrows and he misread the end on the read option more than once. While McIlwain does bring a bit more to the table than Orth in terms of natural talent, Muschamp could easily make the argument for Orth's experience.
However, Muschamp is building for the future. He's made the decision to deal with some of the "freshman mistakes" by handing over the reigns to McIlwain. There will be growing pains, but the Gamecocks will be better off because of this decision.
WHAT TO EXPECT
At the end of the day, regardless of rankings, potential and upside, Brandon McIlwain is still a freshman. He did have an extra semester on campus since he enrolled in January, but he will still make freshman mistakes. You are free to yell at you tv and call for Orth every time he misses an open receiver, hands it off on a zone read or takes a sack instead of throwing the ball away, but starting McIlwain makes the most sense, for this year and beyond.
He will make mistakes. He will also make plays that no other player on South Carolina's roster can make. He will show flashes of brilliance and he will grow and improve with each snap he takes.
The coaching staff will also grow more comfortable and begin to settle into a playcalling rhythm. The offensive line will become more used to having the freshman behind them. The receivers will improve their timing.
South Carolina will play better defenses than East Carolina's. McIlwain will struggle at times, but the Gamecocks will be better with him consistently under center.