Muschamp updates Gamecocks following Tennessee win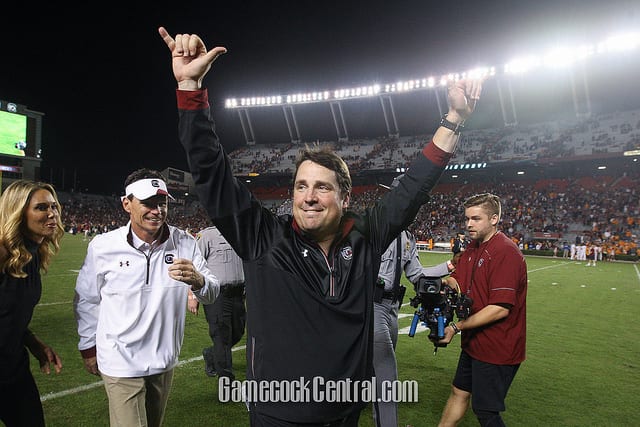 Will Muschamp held his Sunday teleconference on Sunday. Here are the highlights:
- Going back to watch the tape, Muschamp said it was a good win but they had some silly things they had to deal with - the taunting, the Lammons situation, celebrations.
- The urgency and energy there and now USC has a result to show for it, Muschamp said.
- TJ Brunson sprained his ankle and is questionable for Missouri. Keir Thomas got popped in the ribs but should be OK.
- On offense, three guys played really well according to Muschamp. Rico Dowdle, Jake Bentley, and Hayden Hurst. He only had one catch, but did a great job blocking against Derek Barnett and others. - Alan Knott was the OL of the week. He continues to progress, Muschamp said. Not being able to lift in the summer hurt him from a strength standpoint, coming off the wrist injury.
- Jamarcus King and Dante Sawyer were the players of the game on defense.

- Muschamp said Derek Barnett is a really good player and a possible first round pick. They helped on him, slid on him some and Muschamp said Mason Zandi did a good job overall. One sack, Tennessee got USC schematically on it and didn't have an answer. Malik Young was beat on an inside rush and they had a slide protection or another. Sometimes they held the ball a little longer on a couple situations. It wasn't all on the OL.

- No further discipline for Chris Lammons. "You've got to keep your composure, be a better man, walk away." Lammons walked up to Muschamp and apologized at halftime.

- Missouri prep starts after Muschamp hangs up on the Sunday teleconference. The tape hasn't been turned on yet, but Muschamp is familiar with Barry Odom and says he's a heck of a coach.

- Muschamp: "We shouldn't have any letdown. It's about reset and refocus."
- The effort has been there all year, Muschamp said. It's been about making plays and coaching better in some situations.

- The team was off today. Muschamp said they're at that point of the season, banged up, needed to get a break.

- The DJ Smith targeting penalty: In that situation, Muschamp said that coaches teach to make your target low, and Smith did that. But also, Muschamp said they want guys to wrap up and not throw forearms out. When you don't wrap and throw your forearms out, you tend to lower your crown instead of keeping your head up.

- There is some coaching to forcing turnovers, Muschamp said, but there are also guys that have a knack for it. There are sometimes choices to make in terms of going for a strip or just tackling somebody. TJ Holloman has that knack, Muschamp said.
WHY SUBSCRIBE TO GAMECOCKCENTRAL.COM? SEE WHAT OUR MEMBERS HAVE TO SAY HERE....
- Hurst had two shot plays called for him on Saturday night but they were covered and they were good decisions by Bentley to not let them go, Muschamp said. Early on, USC struggled with some pressure and they went to some seven-man protections.

- Hurst is night and day in terms of blocking from when Muschamp first arrived, he said. There are a lot of nuances to the position with what's asked.

- Donell Stanley - USC hopes he can go this week. He's still a little hobbled right now. They have to make sure he's 100% ready to go.

- USC's youth on offense - the future is bright, Muschamp said. A lot of good players who are in the first two classes going through growing pains playing but playing at a high level against a good opponent in Tennessee. They're playing out of necessity, but also because they're good players.
ALSO SEE: Recruits react to USC's win over Tennessee

- The seniors talked with Muschamp about making a bowl, and they've talked about it as a team. They plan on doing it, he said.

- Brandon McIlwain's short-yardage effectiveness: Tennessee covered a boot that USC thought would be open, USC also missed a block on another. Muschamp said it's been effective at times and will be again in the future.