Spurrier Reflects On Good Win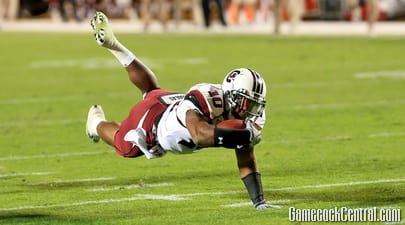 After disposing of stubborn Vanderbilt in a hard-fought battle, South Carolina head coach Steve Spurrier hopes the Gamecocks can take another step towards the SEC East division title when they face struggling Tennessee Saturday at 12:20 p.m. at Williams-Brice Stadium.
In the wake of last night's 21-7 victory over the Commodores, USC rose to No. 17 in both of the major polls. The second BCS standings are set to be released Sunday at approx. 8:15 p.m.
USC is ranked No. 19 in the Harris Interactive poll, one of the rankings used in calculating the BCS rankings.
The USC offense rolled up 484 yards of total offense, including 355 through the air, in their second straight victory over the Commodores. Defensively, USC limited Vandy to 70 total yards in the second half and held the Commodores to 3-of-15 on third downs.
Vanderbilt punted nine times, including the first six possessions of the second half.
"Our team played well in a lot of areas," Spurrier said Sunday during his weekly teleconference with reporters. "We had a few miscues here and there. But overall it was a good win. Our defense played very well on third downs. We forced a lot of punts. We had a chance at a couple of fumbles. We sort of batted one around between two or three guys. But it worked out for us. It was a tough game. Vandy played well. We had some good plays here and there and some bad plays."
The performance by the USC defense in the second half contrasted sharply with the game eight days ago in Lexington. The Gamecocks surrendered a 12-play, 83-yard touchdown drive in the second quarter, but held Vandy to 23 rushing yards in the second half.
USC was outgained on the ground, 85-10, in the first half by Vandy but turned the disadvantage into a 129-108 edge in the final statistics. Defending the pass, USC utilized more press and man-to-man coverage than it did last week when Kentucky QB Mike Hartline chewed up USC's zone coverages.
"We mixed in a little bit more man than normal," Spurrier said. "Again, our third down defense was very good. But Vanderbilt is not as talented as Kentucky throwing the ball, that's for sure. Our defense played about like we expected. We actually held them to three points last year. We felt our defense should have held these guys down. And that's what occurred last night. We mixed it up and didn't allow them to throw those quick screens. I thought all of our DBs and linebackers had an excellent game."
Exiting the Vandy game, the health of freshman running back Marcus Lattimore (538 rushing yards) and defensive tackle Melvin Ingram are key concerns for USC.
Spurrier said Lattimore, who didn't play in Saturday's win over Vanderbilt because of a sprained left ankle, should be close to 100 percent for the annual late October battle with the Vols.
Brian Maddox's career-high 146 yards rushing lifted his season total to 231 yards.
Lattimore was at Williams-Brice Stadium Sunday afternoon receiving treatment on his ankle along with defensive end Chaz Sutton, who had tiny screws surgically inserted into his hand to help facilitate his recovery from a broken bone.
"Marcus was down there getting treatment and had his ankle elevated," Spurrier said. "There's a good chance he may be 100 percent this week."
Ingram suffered a fractured bone in his hand early in Saturday night's game and played the rest of the game with a cast on his hand. No other injuries were reported.
"We came out of the game virtually injury free," Spurrier said. "They were able to put Melvin's hand in a little cast and they were able to play a little bit afterwards. We think he'll be able to play some this week, although for defensive linemen it's difficult not being able to grasp."
Unlike most games, USC didn't complete a single pass to a running back or tight end during Saturday night's game. All 31 completions went to wide receivers, including 13 to Tori Gurley and nine to Alshon Jeffery.
"That was the most catches by wide receivers of any team I've ever coached," Spurrier said. "We threw that little quick screen out there behind the line about 15 times. But to have one wide receiver with 13 catches, another with nine and another with six is unusual.
"I told Coach Steve Jr. that he should take that stat sheet when he goes recruiting wide receivers," Spurrier said.
Ace Sanders finished with a season high six receptions and returned three punts. The freshman from Bradenton, Fla. is now USC's third leading receiver (16 catches for 212 yards) behind Jeffery (49 catches) and Gurley (30 catches).
Tennessee's difficult season under first-year head coach continued Saturday night with a 41-10 loss to rival Alabama at Neyland Stadium. The Vols fell to 2-5 overall, 0-4 in the SEC and are in danger of missing a bowl game for the third time since 2005.
The Vols stayed close for a half before the Tide rolled over the final 30 minutes by scoring 28 unanswered points. Running back Tauren Poole had a 59-yard TD run against the defending national champions to give UT a temporary seven-point lead.
However, just like most of their games this season, Tennessee's lack of depth caught up with them in the second half
"Tennessee is a good team that has played well at times and not so well at other times," Spurrier said. "They've been a team that has struggled a bit sometimes in the second half. But they're very capable of beating just about anybody in the conference. They have a lot of good players. They have 10 seniors starting, so they have a lot of experience."
A USC win over Tennessee combined with a Georgia win over Florida Saturday in Jacksonville, Fla. would put the Gamecocks on the brink of capturing their first-ever SEC Eastern Division title.
Spurrier said the Vols have his full attention right now and doesn't have time to worry about the 'what-if' scenarios.
"We have Tennessee to worry about," Spurrier said. "We all know our position and where we are. The only thing that's going to help us is do our best to beat Tennessee this week and then worry about the next game after that."
-- Ace Sanders had a total of nine touches in the game - six receptions and three punt returns. But he found little running room on special teams, finishing with minus-four yards on three returns. "We didn't get much on special teams, but we didn't turn it over," Spurrier said. "Ace Sanders caught the ball well back there. He just didn't have much room to run."
-- Spurrier praised holder Seth Strickland for jumping on the football following the blocked field and preventing a long return by Vanderbilt. "He did an excellent job there," Spurrier said.
-- Spurrier again lamented the lack of turnovers created by the USC defense. Saturday, they missed on a couple of opportunities to fall on multiple Vandy fumbles. The Gamecocks are currently minus-6 in turnover margin. "We have to get our defensive players to learn how to get their hands on those loose balls before they fall," Spurrier said. "It just seems we couldn't get our hands on that one fumble where we had two or three guys right there. All of a sudden, we batted right to a Vandy game. We're going to have to get some loose balls through the rest of the year here."
-- The 146 rushing yards by Brian Maddox were the fourth highest single game total Saturday in a game involving a SEC team.
-- Tori Gurley's 13 receptions were the most by any SEC receiver on Saturday.
-- The 355 passing yards by Stephen Garcia were the most by any SEC QB on Saturday. He bettered UK QB Mike Hartline by two yards.