Tanner: Middle relief still a mystery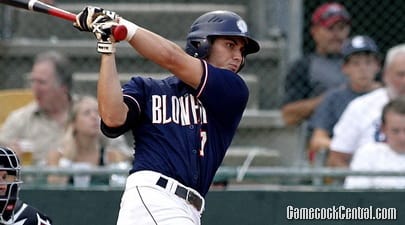 Middle and long relief remains a mystery for South Carolina coach Ray Tanner one week before the two-time defending national champions start facing other teams.
The weekend starting rotation appears firm with Michael Roth, Matt Price and Colby Holmes handling the front-of-the-line duties. But who will pitch the middle (if needed) and late innings for the Gamecocks? Early in the season, that's important because the starters are likely to be on a pitch count for the first few weekends.
Tanner didn't rule out taking a piecemeal approach in the early portion of the season until pitchers take on defined roles.
"It's a little too early. Hopefully, we can be successful as we go," Tanner said Thursday, prior to practice at Carolina Stadium. "There are some roles that are undefined. I will certainly defer to coach (Jerry) Meyers and his opinion for a great deal of those decisions. But we think we have some candidates.
"It looks like we'll be out front with Roth, Price and Holmes right now. Beyond that, it remains to be seen. But we have some guys that are pretty good. Some guys down there have experience and some of the new guys have pretty good arms. It's going to take us a little while to maybe define it."
The coaches are hoping one or more hurlers will be able to replace John Taylor, who set a school record last season with 50 appearances, compiling a 1.14 ERA in 71 1-3 innings with 63 strikeouts and nine earned runs allowed.
Two viable candidates for the integral role are names most Gamecock fans are unfamiliar: sidearmer Hunter Privette and lefthander Vince Fiori.
Both newcomers have pitched well in the weekend scrimmages and appear to have secured coveted roster spots.
Privette, a Hartsville native, pitched at Florence-Darlington Tech for two seasons before joining USC last fall. He was 8-2 with a 3.55 ERA in 58 1-3 innings with 64 strikeouts at FDT last spring.
The last USC pitcher to sign with USC out of Florence-Darlington Tech? Taylor. The 6-foot-2 Privette looks a lot like Taylor with his low arm angles when he delivers a pitch.
Will lightning strike twice for USC concerning a pitcher from Florence-Darlington Tech?
"Why not?" Tanner smiled. "That is appealing, that he has been a part of that program down there. He knows what John Taylor did. He fits the bill a little bit. It will be extremely difficult, if not impossible, to match what JT did. But he's a good-looking kid and he works extremely hard."
Fiori has traveled a lot farther than the Pee Dee to play for the Gamecocks. He graduated from Ramsey (N.J.) High School in June, one year after undergoing Tommy John surgery that prevented him from taking the mound his senior season in 2011.
Instead of sitting out the season, Fiori played first base. Despite the injury, USC continued to recruit the lefthander as a preferred walk-on and he arrived in Columbia last August knowing he would still get a chance to pitch.
Tanner hopes USC's faith in Fiori is rewarded.
"He was a good prospect before he got hurt," Tanner said. "You'd like to think once he gets healthy he'll be back to where he was. He looks good. He's handled the rehab part well. Let's hope he does well. He's a good -looking arm from the left side."
Last week, Fiori hurled three innings in the final scrimmage of the weekend, allowing two hits while striking out three.
"I was really impressed with Fiori last weekend and the way he pitched," Tanner said. "He continues to get better the longer he's in the program."
VERGASON HOLDING ON AT SECOND BASE: Junior-college transfer Chase Vergason's advantage in the second base battle with freshmen TJ Costen and Connor Bright is holding firm, and the Orlando, Fla., native is expected to be the opening-day starter, officially making him the successor to Scott Wingo, one of the most popular Gamecock players in recent memory.
"Vergason has had the edge all along and he continues to have the edge," Tanner said. "He has done some really good things. He might not be quite as athletic as Costen, but he's played the game the way you're supposed to play it and he moves the ball around.
He makes all the routine plays. He knows how to handle the defense as far as where the outfielders need to be. He's done a good job. He's a new player, but he seems comfortable. He looks like a player that has been here for a while. He knows how to direct traffic. That's impressive."
Costen could play second or in the outfield. Either way, the USC coaches will try to find ways to exploit his blazing speed.
"TJ will get an opportunity to play as well," Tanner said.
Tanner takes pride in how his teams play defensively in the infield. With three first-year players at second, third and shortstop, that's a concern.
"Playing solid defense in the infield is something I want to have a good feel for going into next week," Tanner said. "We have three position guys that weren't here last year. That's certainly going to be my focus this weekend."
NOTES:
-- Price struggled in his scrimmage outing last weekend, although Tanner believes it could end up being a blessing in disguise. "Coach Meyers said he had a real good pen a couple of days ago," Tanner said. "He's a guy that has been around the block. He's not just a two-pitch guy. He's a multiple-pitch guy. He can throw four pitches. He's been in the trenches. He knows how to compete. He's not trying out. He's a guy that will get an opportunity to pitch."
-- Forrest Koumas is off to a slow start in the scrimmages as well, but that could be due to a hamstring injury he suffered in the fall that limited his mound times. Tanner, though, expects that the Lugoff-Elgin High School product will be ready when the season starts next weekend.
-- Tanner acknowledged freshman catcher Grayson Greiner, who threw out five would-be base stealers in last Sunday's scrimmage, has probably been "a little bit better than maybe I anticipated." But, as the coach noted, there is a wide difference between performing in a scrimmage in front of a few hundred fans and an actual game with a sold-out stadium. "The bell is going to ring soon, so we'll see what we can do," Tanner said.
-- Tanner said third baseman LB Dantzler's preseason camp "has been better than we wanted it to be," both from an offensive and defensive perspective. Dantzler's bat has sizzled since the scrimmages started on Jan. 27. It's almost to the point where the USC coaches wish he would save some of those hits for the regular season. "It's impossible to continue the way he is swinging the bat," Tanner said. "Sometimes, guys like that start the season and they can't buy a hit. But he has worked hard. He is a much better defender than maybe I anticipated he would be coming into the program. I'm really happy with his defensive prowess over at third base."
Just because SIGNING DAY is over doesn't mean our coverage of the
big day stops. We have more analysis of USC's 2012 signing class, plus
all of our normal content on GamecockCentral.com. Don't miss a thing
D. McCallum