The good, bad and unknown: ECU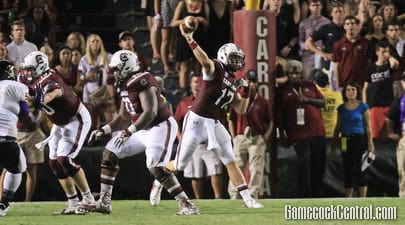 [rl]
South Carolina took care of business this weekend against ECU, defeating the visiting Pirates 33-23 to improve to 1-1 on the season. Here are USC's good and bad takeaways from the game, as well as a few questions the game raised.
The Good.
KEEPING IT SIMPLE. Redshirt senior quarterback Dylan Thompson loves to air the ball out downfield and give his receivers and tight ends a chance to make a play. In certain situations, that can be a great thing. Against ECU Saturday night, it wasn't.
USC's offensive weapons were better athletes than the ECU defenders covering them. Thompson tried to throw the ball downfield to them in the first half and mostly struggled, completing just 10 of his 20 pass attempts and throwing an interception.
In the second half, head coach Steve Spurrier simplified the Gamecocks' offense. USC ran bubble screen after bubble screen and placed more emphasis on the rushing game, limiting the risk Thompson - or any quarterback, for that matter - introduces by lobbing passes downfield. Against a team like ECU, that works. You get your explosive players, the Shaq Rolands and Pharoh Coopers on your roster, into one-on-one matchups where they can take advantage of their superior athleticism.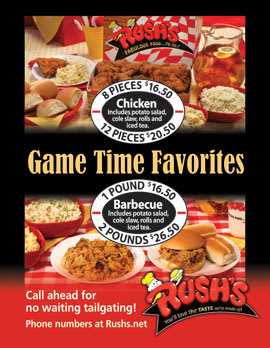 Click
Here
to view this Link.The result? Thompson went 15-for-18 with a touchdown in the second half, and the Gamecocks scored on every second-half drive.
FORCING SOME MISTAKES. It took six quarters, but the Gamecocks defense finally forced its first turnover of the season against ECU. Sharrod Golightly snagged an interception near the sideline to put a premature end the Pirates first drive of the second half, and T.J. Gurley followed with a pick of his own on ECU's next drive.
The two interceptions set the defensive tone for the second half and turned out to be the difference in the game, as the Gamecocks scored 10 points off of turnovers.
MIKE DAVIS.
He's back. The junior tailback gained 129 yards and scored two touchdowns on 21 touches against ECU, effectively putting last week behind him.
Here's a story
about his night.
OFFENSIVE LINE. Davis couldn't have done it alone, as USC's offensive line had an impressive outing. The big men up front didn't allow a sack and gave up just one tackle for loss against ECU. They also paved the way for a rushing attack that picked up 175 yards and two touchdowns, even when the Pirates seemed to know a handoff was coming.
TYLER HULL. Hull punted just once - another stat worth mentioning in the "good" column for South Carolina - but made it count. The punt went for 53 yards, bringing his average for the season to 47 yards per punt.
K.J. BRENT. The Waxhaw, North Carolina, native had the best statistical performance of his career Saturday night, catching two passes for 26 yards and a touchdown.
The seldom-used redshirt junior's previous best game also came against ECU. He caught two passes for 14 yards in USC's blowout of the Pirates in 2012.
SHAQ ROLAND. The junior receiver led the Gamecocks with a career-high seven catches for 94 yards. Getting him the ball more often in space appears to be in USC's best interest, as Roland showed several times he can make things happen after the catch. He also rebounded well from his first game of the season, where he caught just one pass for two yards.
SKAI MOORE. The sophomore linebacker led the team with seven tackles - four of them solo. Fellow linebacker T.J. Holloman was right behind him with six tackles, all of them solo.
The Bad.
DAVID WILLIAMS' DEBUT. It didn't go nearly as well as USC fans had hoped or expected. Williams, a redshirt freshman tabbed by many as the future of USC's rushing attack, got his first college snaps Saturday night.
In his much-anticipated debut, the former four-star product from Philadelphia rushed once for no gain and caught one pass for six yards. After the game, Spurrier seemed to lament that Williams couldn't get more opportunities, noting that the freshman tailback wasn't given much of a chance when USC's blocking broke down and an ECU defender stuffed him on his only carry.
SHORT-FIELD OFFENSE. USC was able to move the ball down the field against the Pirates, but less capable of punching it into the end zone. The Gamecocks scored on seven of their nine drives (not counting the four-second possession that ended the first half), but were forced to kick four field goals.
Those four-field goal drives ended on ECU's 2, 9, 21 and 24-yard lines, well within striking distance of the end zone. Against ECU, stalling out on offense wasn't costly. But against a tougher opponent where every possession and every point matters, the Gamecocks may not be able to afford missing out on those four extra points.
SHON CARSON THE RETURNER. Shon Carson the running back didn't make an appearance, but Carson the returner got plenty of action. The redshirt junior took the opening kickoff back 38 yards, but none of Carson's five other returns made it past the 25 - where the offense would take over had the returner taken a knee in the end zone. He finished with a 21-yard return average, but the Gamecocks would have probably been better off with a returner who has a higher propensity for accepting touchbacks when offered them.
SECONDARY. The Gamecocks haven't quite figured out how to stop the pass. ECU senior quarterback Shane Carden completed 32 of his 46 passes for 321 yards and a touchdown, and USC couldn't cover Justin Hardy, who caught 11 passes for 133 yards, or seemingly anyone running a slant route. Fortunately for the Gamecocks, Georgia redshirt senior quarterback Hutson Mason, who passed for just 131 yards against Clemson in week one, isn't likely to provide a similar aerial challenge next week. What happens on the ground, though, is another matter.
The Unknown.
WHERE DOES THIS LEAVE WILLIAMS, CARSON? Right now, it appears there are enough carries for just two Gamecock tailbacks. Mike Davis and Brandon Wilds are getting those carries. If that's the case all season, what's to become of Shon Carson and David Williams, who have combined for two carries for two yards this season? The question becomes especially significant when pondering next season. USC's coaches think Davis could head to the NFL after this season, and running backs coach Everette Sands has said Wilds could follow him if he has a good year as well.
If that were to be the case, would Carson and Williams be prepared to shoulder the load in 2015? Carson has been mostly ineffective at USC, aside from a 102-yard outing against Florida and a 56-yard game at Arkansas last season. And Williams has only played a few snaps. It's hard to imagine that USC will continue to give such a high percentage of its carries to Davis and Wilds, but if it does, Carson and Williams could be unprepared to take on larger roles next season.
CAN THE GAMECOCKS STOP GURLEY? Clemson didn't make it look like an easy task in week one, allowing Georgia tailback Todd Gurley to rush for 198 yards and three touchdowns on 15 carries.
Gurley, arguably college football's best tailback and a Heisman Trophy contender, is likely to handle most of Georgia's rushing responsibilities next Saturday - though the Bulldogs have several other capable backs as well.
He's a punishing back, and it probably take more than one defender to handle him on a given play. USC's defenders will have to swarm relentlessly to slow him, and they must tackle much better than they have over the first two weeks of the season.
DOES THE STREAK END HERE? USC has been in the AP's top 25 for 67 straight weeks, dating back to the second week of the 2010 season. The Gamecocks dropped to No. 24 in the latest poll despite beating ECU, putting the streak in jeopardy with No. 6 Georgia coming to town next Saturday.
The Gamecocks were faced with a similar dilemma last fall, entering a meeting at No. 5 Missouri as the No. 21 team in the country. USC escaped that game with arguably the best victory of the season. Will history repeat itself Saturday?

Click
Here
to view this Link.