USC-Florida Diamond Extra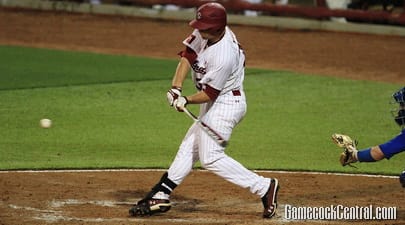 The bat belonging to Adam Matthews finally awoke on Thursday.
The senior from Lexington entered Thursday's series-opener against Florida with a lowly .211 batting average (12-for-57) and just two extra-base hits in South Carolina's first 21 games.
However, Matthews belted a go-ahead two-run homer over the left-field fence in the bottom of the fourth and led off the eighth with a single before eventually scoring his second run of the night on a run-scoring groundout.
"I am thankful that I got a good swing on (the homer)," Matthews said. "It felt good coming off the bat. What I have been doing lately is just trying to stay short and get to the ball and get the bat head out there, and it is finally paying off a little bit. I've been trying not to put too much pressure on myself and try to stay positive."
The bottom part of the order sparked USC's 12-hit attack, as freshman Tanner English was 2-of-4 with one run scored in the No. 8 spot and Matthews was 3-of-4 with two RBIs and two runs scored from the No. 9 hole.
Matthews, a White Knoll High School graduate, raised his batting average 35 points to .246 (15-for-61). He now has two homers and seven RBIs on the season.
"Even though Roth had a good game and we brought Price in, Adam Matthews was the big story for me," USC coach Ray Tanner said. "He really looked comfortable. He hasn't been like that in a while. He works extremely hard. He wanted to have a big senior year. But his numbers weren't good and he got off to a slow start. I had to sit him down a couple of times, but I don't want to.
"He gave me some comfort tonight. He took some good swings up there. Obviously, the ball that left the yard gave us an opportunity to get going a little bit. It was great to see."
When factoring in leadoff hitter Evan Marzilli's 3-for-4 night, the 8-9-1 spots combined to go 8-for-12 with four runs scored and two RBIs. That level of production from multiple sources lifted USC to one of its biggest wins of the season.
"It helps us get the momentum going forward," Matthews said. "To do it against a good team like Florida means a lot. Each of our guys is excited about what's ahead and we know we have a lot of work to do - myself as well. We have room to make improvement, so we are just going to come out here each day and try to get better."
FRIDAY'S STARTERS: With Matt Price removed from consideration following his 44-pitch relief appearance on Thursday, Tanner and pitching coach Jerry Meyers must decide who will start today and Saturday for the Gamecocks. The coach said USC would likely keep Colby Holmes in the Game 3 slot and utilize sophomore Forrest Koumas as Friday's starter.
Koumas is 1-1 with a 2.13 ERA in 12 2-3 innings spread out over 11 appearances this season. All of his 2012 outings have been out of the bullpen. He last started a game in June when he hurled 5 2-3 innings (three hits, one run) against Florida at the College World Series.
"I haven't talked with coach Meyers yet, but we'll probably keep Colby where he is, which is Saturday for him," Tanner said. "(Saturday's) starter is to be determined. Koumas is a guy who hasn't stretched it out yet, but he's been there before. We could start him. He's certainly a candidate. (Tyler) Webb wouldn't be far-fetched, either."
Florida will start right-hander Brian Johnson, who is 3-0 with a 3.16 ERA in 25 2-3 innings this season, in Game 2 tonight. He has allowed 23 hits and nine runs with 24 strikeouts and five walks.
ROTH THE DESIGNATED HITTER: Michael Roth didn't just start Thursday's game on the mound. He also batted for himself, meaning USC didn't open the game with a designated hitter. Roth, though, had a tough night at the plate, going 0-for-4 with three strikeouts.
Even after he was replaced on the mound, Roth took his regular turn at the plate in the bottom of the seventh as the new designated hitter. He was replaced in the eighth by pinch-hitter Brison Celek, who delivered an RBI single to left.
After the game, Tanner explained why he made the unusual decision to open the biggest game of the 2012 season to date without a DH. Roth entered the game with a .178 career batting average (8-for-45) with one homer and seven RBIs.
"I've been looking out there and seeing too many young guys lately," Tanner said. "That's very difficult at this level of baseball. We had too many youngsters. Roth has been a good hitter for us. But we just haven't used him because he's pitched so much and we protected him. But (Johnson) pitching for Florida (tonight) has been doing it for a long time."
Roth had a pinch-hit double at Kentucky last weekend for his only hit of the season so far. It was his fourth career extra-base hit.
"Michael had some pretty good practices. He got a hit off the bench at Kentucky, so we told him we were going to turn him loose," Tanner said. "He had a tough night up there. But he's an older guy and I'm not going to shut that down. I probably won't do it on a daily basis, but I'm going to continue giving him some at-bats. Our maturity as a team is a little better if we can keep Matthews in there and keep Roth around and not have so many new players on the field."
Freshman Kyle Martin was batting .375 entering Thursday's game, but had just three RBIs and left a lot of runners stranded, too many for Tanner's tastes. Thursday, Martin delivered a two-run single down the first-base line.
"He's a pretty good hitter but he just hasn't driven in enough runs," Tanner said. "(Thursday) I was hoping he would lift the ball. He ended up hitting one down the line that we'll take. But despite being a pretty good freshman hitter, that number (just three RBIs) was glaring. Hopefully, he can grow in that category."
STICKING WITH PANKAKE: Despite his recent fielding woes (he added another error on Thursday), Tanner said freshman Joey Pankake will remain in the lineup because he is hitting (1-for-3, walk, run scored in Game 1). Thursday's win marked his fifth straight start at shortstop and his 15th overall in 2012.
Thursday, Tanner compared Pankake's situation to a current Atlanta Brave who announced recently that 2012 would be his final season. Tanner said Pankake's hesitation in charging balls has cost him a few times.
"I'm not planning to sit him down," Tanner said. "When Chipper Jones broke in, he made some errors in his first two or three years. That's going to be the case with a freshman shortstop at this level. Joey is a good player. We worked extremely hard in the fall and spring on coming to get balls.
"He sits back on balls too much and that's when the errors come. When he comes to get it, he's been pretty consistent. He knows it. It's easy to talk about, but sometimes in a game you sit on your heels a little bit, especially with a guy like Joey who has a plus throwing arm. He can let it go a little bit."
NOTES
* The win on Thursday improved USC's record against Florida to 5-1 since the start of last season. Of course, two of those wins came in the national championship series in Omaha when USC swept the Gators.
* Florida came into the series possessing one of the best bullpens in the country, but USC knocked four Gator relievers around for seven runs on five hits and five walks in 2 1-3 innings.
* Coming off a 5-4, 11-inning loss on Wednesday to Wofford, Tanner says USC's players "were a little more relaxed." "We were at home, we had a great crowd and we wanted to make a run in the late innings. It played out that way for us tonight."
SEC SCHEDULE (March 23-25):
Ole Miss at Alabama
Arkansas at Mississippi State
LSU at Auburn
Georgia at Vanderbilt
Kentucky at Tennessee


D. McCallum