VMI eager for chance to face USC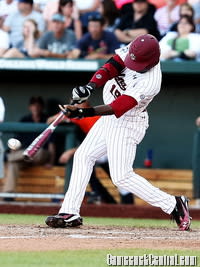 Virginia Military Institute coach Marlin Ikenberry didn't realize what he was getting his team into when he agreed more than two years ago to face South Carolina in the opening series of the 2012 season.
At the time, USC was picking up the pieces from a disappointing 2009 season in which it fell to East Carolina in the NCAA Regionals.
Fast forward 24 months.
Ikenberry begins his ninth year at the VMI helm by bringing his team into a lion's den. The Gamecocks will celebrate their second straight national championship with a lively party on Friday at Carolina Stadium and the fun should last all weekend.
Ikenberry, though, says his team is excited to be part of the season-opening festivities at arguably the best college baseball facility in the country.
"It's a great challenge, but more important, it will be a great experience for our young players," Ikenberry said on Wednesday. "We put this together on the schedule two years ago before they won the first national championship. For VMI to be playing the defending national champions in any sport, I don't think that has ever been done. Hopefully, we'll put a good product on the field and compete."
VMI rarely encounters an opportunity to play in front of more than 8,000 fans at a ballpark, so Ikenberry is eager to see how his team reacts to the intense environment.
"I think it's awesome," Ikenberry said. "You always want to play the best and, obviously, coach (Ray) Tanner has done a great job with his teams. We're the third-smallest Division I school in the country and now we're playing one of the biggest schools in the country. It should be a great weekend."
The fact that VMI is a military institution could help the Keydets keep their composure.
"I'm not really concerned. Being a military school, and what they've gone through as far as getting to where they are right now, I'm just excited to see how they do react," Ikenberry said. "Since it's opening weekend, everybody has the nervous jitters. This should be something they never forget."
VMI is trying to rebuild after key personnel losses from last season, including shortstop Sam Roberts, a Wallace Award semifinalist and a 26th-round draft pick of the Oakland A's, and second baseman Justin Hess (.313, three home runs, 23 RBIs in 2011).
The Keydets must also replace OF Graham Sullivan, last season's leading hitter (.358), and catcher Alex Haitsuka, who led VMI with six homers in 2011.
In their place, VMI is expected to start true freshmen at second and shortstop on Friday, as well as a redshirt freshman at catcher. As a result, the Keydets will be very young and inexperienced up the middle defensively.
The top returning hitter is first baseman George Piccirilli, who batted .332 last season with four homers and 34 RBIs.
"George is a real good hitter. We expect him to have a real steady senior year," Ikenberry said. "He is a good college hitter. We asked him to do a lot last year. He was originally a second baseman that we converted to a first baseman. He played there all of last year and did a great job."
Overall, VMI has 13 freshmen and six sophomores to go along with seven seniors on its 2012 roster. Three true freshmen - second baseman Thomas Stallings, shortstop Drew Bryan and outfielder Gary LeClair - are in the projected lineup, while redshirt freshman Matt Winn is expected to start behind the plate.
For the second straight year, VMI is facing a perennial college baseball power to open the season. Last year, the Keydets lost the first game of the 2011 season to Florida State and were outscored 36-2 during the three-game series.
Later, they made the long trip to Corvallis, Ore., to participate in a tournament hosted by Oregon State. Three years ago, VMI opened the season with a three-game set at North Carolina.
"Our guys are used to going on the road and playing a big opponent early in the year," Ikenberry said. "I like it because our guys can have the experience of seeing what it's like to play the best teams in the country."
With Adam Lopez still on the shelf following arm surgery that cut short his 2011 season, junior right-hander Coby Cowgill (4-3, 3.73 ERA in 72 1-3 innings, 61 hits, 59 strikeouts, 31 walks) will make his first career opening-day start on Friday. Lopez, a senior, got the nod on the last two opening days for VMI.
Cowgill took over as VMI's Friday starter last year when Lopez was sidelined for the season after just three starts.
"Coby is pretty accustomed to pitching in big environments," Ikenberry said.
VMI was voted seventh in the Big South preseason poll of the league's coaches. The Keydets' roster features 30 players from Virginia, meaning some old friends could be meeting up this weekend in Columbia.
USC has six players from Virginia on its roster, and some of them were teammates with VMI players on various summer-league teams.
In addition, Ikenberry is very familiar with a former USC great that just finished his career and is now pursuing a pro baseball career.
"Jackie Bradley Jr. played for a high school team in Virginia that was coached by Mickey Roberts," Ikenberry explained. "Both of coach Roberts' sons played here at VMI (Sam Roberts is one of the sons). So I've been watching Jackie since he was a freshman in high school. I followed him very closely last year with the injury. It will be exciting to see him this weekend."


D. McCallum