WBB: Baylor blows out South Carolina
SOUTH CAROLINA WOMEN'S BASKETBALL
No. 4 Baylor easily dispatched South Carolina 94-69 Sunday night at Colonial Life Arena dropping the Gamecocks to 0-3 this season against top 10 opponents.
Baylor quickly took control of the game, scoring the first five points and sprinting out to a 16-3 lead less than four minutes in. South Carolina responded with six straight points, but then Baylor went on an 8-0 run to take firm control of the game.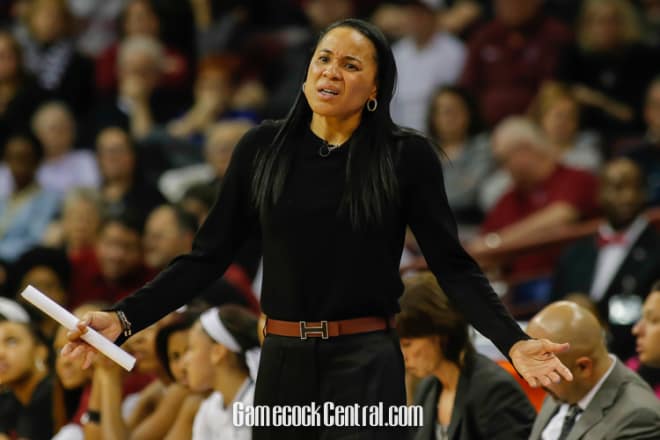 Baylor led by 19 at the end of the first, by as many as 27 in the second quarter, and 30 in the second half. South Carolina simply didn't have an answer for Baylor's size and skill. The 32 first quarter points tied for the most given up by South Carolina in a quarter, and the 94 tied for the most allowed under Dawn Staley.
Even when the Gamecocks did manage to do well in one aspect of the game, they were let down by another part. They held the Lady Bears to just 14 points in the third quarter, but actually saw the deficit grow as the Gamecocks shot just 3-15 from the floor.
"We tried to push the ball, beat them down the floor," Gamecock guard Te'a Cooper said. "That was hard being that they were scoring and it took us time to take the ball out and they were already back."
South Carolina shot just 35 percent. Some of the credit goes to the Baylor defense, but even when South Carolina did have open looks they didn't go in. South Carolina attempted 30 free throws, which should have been a good thing, except it made just 19, for 63 percent.
"We just have to find a way to get that ball in the hole," Staley said.
On the other end, Baylor ate South Carolina up in the half court. South Carolina's game plan was to collapse on post players Kalani Brown (22 points) and Lauren Cox (10 points) and dare the guards to make shots. But when the defense collapsed, they kicked the ball out to Chloe Jackson (19 points) and Juicy Landrum (15 points, 3-4 from three) who knocked down jumpers.
"We tried to do that, but they were hitting from outside," Staley said. "That first quarter really rocked us."
"I can take what contributions we got from Cox and Brown, it was what everybody else that got off," she said later. "When you give everybody the pick of the litter you're in for a long night."
Baylor shot 65 percent in the first half, and 50 percent for the game. Baylor shot at least 50 percent from the floor in three of the four quarters. It scored 52 points in the paint and outrebounded South Carolina 42-39.
Cooper scored 16 to lead the Gamecocks, after going scoreless against Dayton. LeLe Grissett started and came through with her first career double-double, with 11 points and a career-high 10 rebounds. Alexis Jennings added 11 points and nine rebounds, while Tyasha Harris struggled with her shot, going 3-12, but still had 10 points, four assists, and four rebounds.
Notes:
LaDazhia Williams played 11 minutes, scoring three points. She did not play against Dayton or Oregon State. … Bianca Cuevas-Moore got a loud ovation each time she checked into the game. She finished with five points and a block in 11 minutes. … South Carolina had 11 assists on 23 made baskets. … Announced attendance was 10,531. … South Carolina's next game is Wednesday against Appalachian State.
RELATED