Will Matulis be ready to play next week
[rl]
The question has been prowling around the South Carolina offensive line for the past week or so.
When will Mike Matulis be ready to return to action?
Matulis, who has battled shoulder injuries for the past two years, incurred a severely sprained knee during a scrimmage in mid-August and missed the first six games after he was expected to be the starter at right guard.
Matulis has not played in a game in almost two years. His last action came in October 2012 when he started at left tackle against Florida. Shortly thereafter, he underwent the first of two surgeries on his shoulders. He redshirted last season in order to facilitate the healing process in his shoulders.
In his place, USC has started two different linemen - Cody Waldrop and Will Sport. The latter has started the last three games at right guard due to an injury suffered by Waldrop.
Matulis is back "running around" during daily workouts and could start practicing on a full-time basis next week when the Gamecocks begin preparations in earnest for the Oct. 18 contest against Furman (Noon, SEC Network), Steve Spurrier said Wednesday night on his weekly call-in show.
Offensive line coach Shawn Elliott said Matulis is making progress, but contended he needed to gain strength in his legs before getting on the field.
"He is getting a lot closer than he has been," Elliott said Wednesday. "He's been out here running and rehabbing. One thing he has to do is get stronger. His legs have to get stronger. He has to build that muscle back up there. Once they feel he is about where he needs to be, he'll be out here practicing."

"There's always a possibility," Elliott said. "He has made tremendous strides. We'll see how he looks next week."
Sport, a redshirt junior, has played well in the first extended action along the offensive front in his career, and could prove difficult to unseat when Matulis is ready to play.
"Will probably played his best game (at Kentucky) since he's been out there," Elliott said. "He played very well."
Waldrop has missed the last three games with a knee injury, and could be ready to start practicing, as well.
"Cody said he felt the best (Wednesday) that he's felt in the last two weeks," Elliott said. "The time off has certainly helped. We'll evaluate him next week and see if he can come out here and practice. If he can come out here and give us some reps in practice, you may see him in the ballgame. Right now, he's not out here practicing. Hopefully, he'll be ready to go on Monday."
Waldrop is not assured of regaining his starting role upon his return.
"There are no automatics, not at all," Elliott said.
NOTES:
-- Elliott said the offensive line has experienced "ups and downs" over the past couple of weeks like the rest of the Gamecock offense: "There has been some goods in both games, and been some bads as well. We probably played more consistent (at Kentucky) than we did two weeks ago (vs. Missouri). We're trying to get a stable first five in there and that's when you usually start to see it."
-- Elliott said USC has not tweaked the offense in the bye week, deferring all questions to Spurrier. Instead, they've spent the bye week focused in the fundamentals.
-- Elliott said redshirt freshman Alan Knott will remain the starter at center despite his poor shotgun snap at Kentucky. "That was very disappointing because I thought he had been snapping pretty well," Elliott said. "It was a situation where I told him to cut (block) a guy right before the play and he got really antsy. He threw it up there a little high. Those things happen. It was unfortunate, but we were able to recover (with Mike Davis' 40-yard run) from it."
-- Elliott on offensive linemen Na'Ty Rodgers and Malik Young practicing some with the defensive line during the bye week: "We're down a lot of offensive linemen. I can't afford to give up anybody. Those guys are offensive guys. They need to be on this side of the ball."
-- Elliott said Rodgers is about 275 pounds and has the body of an offensive tackle, even though Spurrier said a couple of weeks ago on his call-in show that Rodgers could get a look at guard.
-- Elliott acknowledged the Gamecocks' confidence took a hit with the back-to-back losses, but "you can't sit there and think about and think about it. They have to get their fire back. The will to win is something they've all got. We should all see it again."

Click
Here
to view this Link.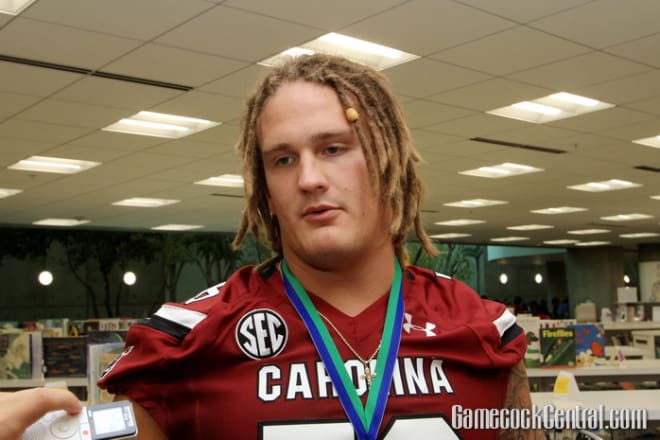 DM