Dowdle's performance reminding many of Lattimore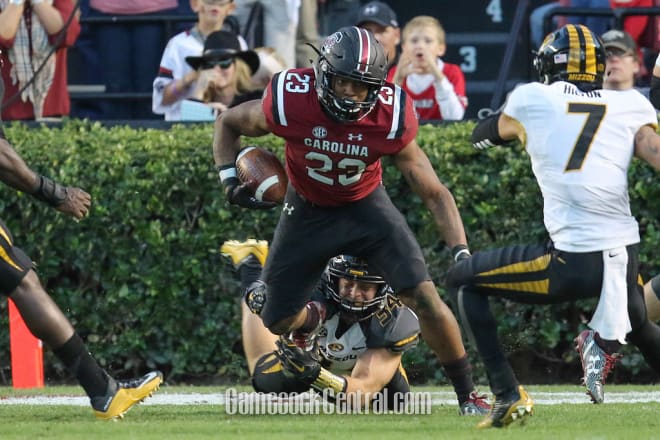 Freshman Rico Dowdle sat out the first four games of the season with an injury before making his way onto the field. Since then, he's become one of the Gamecocks' top weapons and earned praise from fans and media members alike, being labeled by many as the next Marcus Lattimore.
It's not uncommon for a breakout player to draw comparison to the last great player at his position, especially when those players possess similar physical measures. However, it's not always fair to compare two players if their skill sets are not similar. Here, I'll breakdown each players' skills by category, namely the ones used by NFL scouts. To keep the comparisons as fair as possible, I'll only rely on film and stats from Lattimore's freshman year, as Dowdle has the potential to improve year-by-year.
Size
On the official 2010 roster, Lattimore was listed at 5'11", 215 pounds, almost identical to Dowdle's 5'11", 211. As scouts loved to point out, Lattimore's legs were massive, and I'd say his frame was slightly larger than Dowdle's, leading many to think the difference in size to be more than four pounds.
Advantage: Draw
Speed
Perhaps the area in which Dowdle surpasses Lattimore most easily is his top-end speed. Scout.com estimated Dowdle's 40-time at 4.37. Lattimore's lowest recorded time was in the 4.5 range. Here, Dowdle holds the clear advantage.
However, raw top-end speed is not the only aspect when grading a running back's speed, we also have to look at acceleration. In that regard, no one surpasses Lattimore. No one. It's a large part of the reason Lattimore was rarely taken down behind the line of scrimmage. His ability to hit the hole at full speed is a skill unmatched by any other running back in Gamecock history.
Take this run against at Troy in 2010, his longest of the year. (Start at the 0:15 mark). Lattimore is already at full speed as he runs through an arm tackle a yard behind the line of scrimmage. However, he gets caught at the 8.
Dowdle also has good acceleration, however, and his advantage in straight-line speed is enough to separate himself from Lattimore, literally.
Advantage: Dowdle
Strength
Dowdle's power is the basis behind most comparisons. Both are downhill runners that are not afraid of contact, though it may be more accurate to say that Lattimore looked for contact. Dowdle, on the other hand, seeks to avoid contact, but still possesses the power to bounce off would be tacklers and accelerate through arm tackles.
It's probably more accurate to say that Lattimore preferred to run over his competition, rather than around them, and there have been few backs since that possess his amount of pure power. (See 2010 Florida game)
Both runners fall forward and rarely go down on first contact. Still, Lattimore is the clear leader here.
Advantage: Lattimore
Elusiveness
I'm just gonna leave this here.
Advantage: Dowdle
Vision
This is tough for a number of reasons, but mainly because Dowdle's goal is different than Lattimore's. Because Dowdle is more of a boom or bust back (With the majority of his yardage coming on a few big runs) he will sometimes miss the primary hole which would have netted a few yards, and instead cut it back looking for a monster gain.
This can lead to a number of highlight plays, but also means he often gets tackled a few yards shy of where hitting the hole would have put him.
Lattimore was Mr. Consistent, rarely getting tackled for less than three yards. You'd be hard pressed to find a play where he missed the hole, and if no hole existed, he made one.
We saw Dowdle miss a few holes against Missouri, but we also saw Dowdle cut back some runs for extra yardage. Because of Lattimore's consistency, I have to give him the advantage here.
Advantage: Lattimore
Receiving Ability
Dowdle is a capable receiver, but with just eight receptions for 35 yards, his sample size is too small to fairly judge at this point. Lattimore was a stellar receiver for a power back, averaging 14.2 yards a reception on 29 catches as a freshman.
At least at this point in their careers, Lattimore is the clear favorite here.
Advantage: Lattimore
Blocking Ability
Like any young back, Dowdle has room to improve as a blocker. However, he has shown flashes as a pass protector, like his block on K.C. Crosby's touchdown against Tennessee. Lattimore had the advantage of blocking for the likes of Stephen Garcia and Connor Shaw, but was solid in pass protection. He gets the advantage here.
Advantage: Lattimore
Bottom Line
While there are similarities between the two backs, I think Lattimore was an overall better back at this point in his career. Dowdle, however, has the potential to match and even surpass Lattimore, if he continues to improve at this rate.
While I would not personally use Lattimore as the perfect comparison for Dowdle, (I prefer to use Buffalo Bills running back Lesean McCoy) the two backs are very similar and it should not come as a surprise that Dowdle reminds fans of Lattimore.
It may be simply because Dowdle is the best back South Carolina has had since Lattimore. (No disrespect to current pros Mike Davis and Brandon Wilds) Or it could be that the similarities extend beyond the field of play.
Lattimore was known for his class and hard work off the field as much as his talent on the field. Many see some of that same attitude in Dowdle.
"We get compared because of our drive our will and our never give up mentality," Lattimore said. "He plays the game the right way. No celebration, no ego, we just love the game of football. That's all we need. We don't need an incentive. He would play if there was no result attached to it."
Dowdle's time at South Carolina has just begun, and if the offense continues to improve as it has the last few weeks, his tenure at the school will be memorable.
Who knows, in a few years, we may be comparing the next great back to Rico Dowdle.