Gamecocks clinch spot in SEC Tournament with thrilling win
SOUTH CAROLINA GAMECOCKS BASEBALL
STARKVILLE, MISS.—South Carolina knew it was one loss away from its season being over.
Brett Kerry, Parker Coyne and the offense kept the Gamecocks' season going at least a few days longer with a thrilling win Saturday against Mississippi State.
South Carolina earned a dramatic win, holding on tight for a 10-8 victory to clinch a spot in the SEC Tournament and keep the book going on the 2019 season for bare minimum one more game.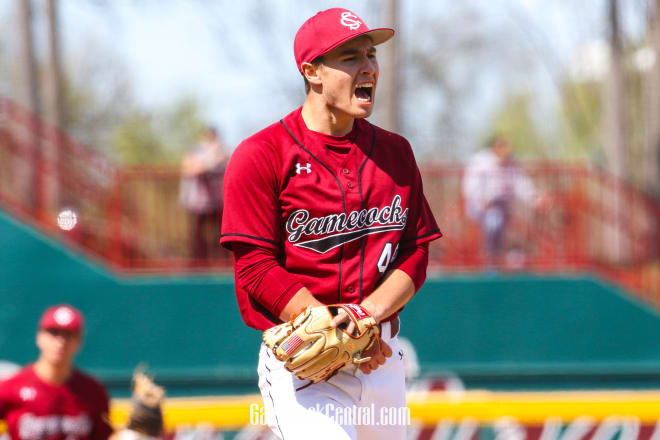 "This is step one to our ultimate goal," Luke Berryhill said. "We struggled a little bit this year but we never lost heart. We always kept fighting every game. It's an incredible feeling."
Also see: Five things to like about Micaiah Henry
The Gamecocks (27-26, 8-22 SEC) are now guaranteed an above-.500 record, avoiding their fourth losing season since 1963, and will play in the conference tournament as the No. 12 seed facing No. 5-seeded LSU Tuesday night.
They'd do it behind gutsy performances from starter Brett Kerry, who shut down the most potent offense in the SEC, the middle of the Gamecock order led by almost all upperclassmen and a door-slamming save from Parker Coyne in a game that could have very easily gone the other way.
"We didn't want our season to end. That team plays hard and could have come out and mailed it in. Offensively we were great, Brett Kerry was great and our defense played really well," Mark Kingston said. "Parker Coyne came out and was outstanding. He started the week for us and ended the week really well."
Also see: In-state hoops prospect earning attention from SEC, ACC programs
After pitching out of a bases-loaded jam in the first, Kerry (4-1, 2.62 ERA) made it look easy the final 5.1 innings of his outing, finishing giving up two runs and scattering five hits, only four after the first inning.
He'd strike out four and walk three, pitching in an insane atmosphere for his first-ever SEC start.
"That's massive guts," Berryhill said. "That's the number five team in the country and he's going down and shoving it down their throat. The guy did not hold back. He went right at everybody."
He'd be spotted four runs over his outing with the Gamecocks drawing first blood with a solo shot from Andrew Eyster in the first inning before they plated three runs on three RBI singles in the fifth to take a lead they'd never relinquish.
It was Berryhill in the seventh, though, who gave the Gamecocks a sigh of relief, launching a three-run shot to left field after Mississippi State intentionally walked Eyster to put two runners on base.
It was his 12th of the year, now second on the team, and said it was maybe the easiest swing he's ever taken and it "felt like I was hitting a tennis ball."
"My face lit up. I was so incredibly happy. I knew they wanted to pitch to me. If they were putting somebody on, that means they wanted to try and pitch to me," he said. "They didn't think I could do it, but I had all the confidence in the world. I know how good of a hitter I am. The past couple weeks I've been struggling a bit, but it was a good day to break out of it."
Click for Saturday's box score
Eyster hit another bomb, a two-run shot in the eighth, and finished with a career-high four RBI in his first multi-homer game.
Mississippi State would make it a game, scoring seven runs over the final three innings to put the tying run at the plate with two outs, but it was Coyne who slammed the door shut, striking out the side in the inning to clinch the win and a spot in Hoover.
"To be completely honest, not until the last out. That's just a testament to them," Eyster said about when he knew they'd win. "That team can hit the crap out of the ball. When we were up seven runs it was definitely a good feeling. We were pretty comfortable up until the last two or three innings. But that team can hit the ball for sure."
For Coyne, it's his first career save, and he finishes tossing 1.2 innings, striking out three and giving up one run on three hits. It comes four days after he threw five shutout innings against USC Upstate and Saturday he did it in arguably the team's biggest win of the year.
"It feels great, feels great that the coaches have the confidence in me to get those outs. I knew they could hit so I knew I had to battle my butt off to get those outs. I ended up doing it. I knew no matter how many guys got on base I was going to get those three outs."
Also see: The latest on Burch, more on a few priority targets
Player of the game: Andrew Eyster finished with four RBI and two homers, giving the Gamecock offense a much needed boost Saturday.
Key moment: With the tying run at the plate, Coyne got cleanup hitter Justin Foscue, who led the team with 14 homers, to pop up to first base and end the biggest late-inning threat.
Up next: The Gamecocks move on to the SEC Tournament where they'll play No. 5 seed LSU Tuesday night.