Muschamp teleconference recap - examining options, injury updates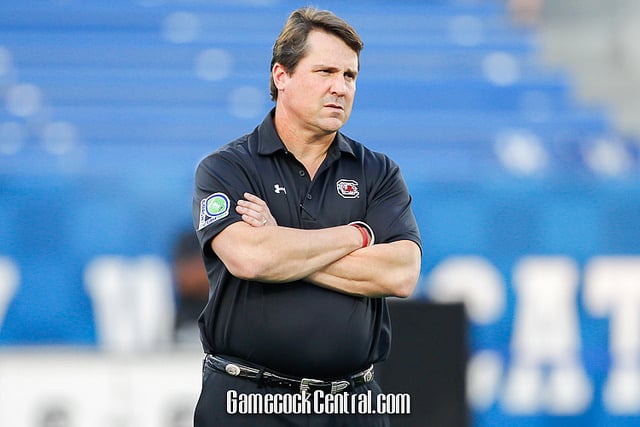 Will Muschamp held his weekly Sunday teleconference following the Gamecocks' 17-10 loss to Kentucky in Lexington. Highlights below:
- Frustrating, disappointing night on offense. Started up front, but third downs were an issue. Muschamp said the team is in the process of "what can we do? What can we improve on?" Said there are limitations with injuries and with youth, but that they have to try to get better.

- Defensively, they missed three or four runs but one was a 40+yard touchdown and then some seven-eight yard runs that caused drives to be extended. Three special teams mistakes took points off the board for USC.

- USC isn't a team that can overcome self-inflicted issues, Muschamp said.

- "Several issues" involving with all levels. Muschamp met with the team and showed them several base calls on special teams and offense that they do all the time that apparently they didn't execute. They're not an explosive enough team to overcome those things, he said.

- USC got the ball on the perimeter some and Hayden Hurst did a nice job. They have to narrow it down and find out what will help the team play faster and execute better.
- They'll look at personnel and if they need to make changes based on what they can do, they will. They'll evaluate scheme, everything.
- As for Jake Bentley, Muschamp said "everything is open as far as that discussion is concerned. Brandon played well a week ago and we're excited about him moving forward." Brandon McIlwain is still the starter, he said. USC has to play well around him. McIlwain is getting all the first team reps.

- Muschamp thought the defense did a good job pressuring the quarterback and in some situations they got a better pass rush than they had been getting previously. - USC met its goals as far as limiting yards per attempt - they wanted less than five and it was at four. There were not a lot of explosive plays given up in the passing game. There's a lot of improvement to be made in that department, Muschamp said.

- A&M's Trevor Knight has good command, A&M is as talented as any on the perimeter and have some 'wow' factor, Muschamp said. Knight has hurt people with his legs and run-pass options.

- Larenz Bryant will probably be out through the open week. He's running, but not full speed. Stanley and Camper will be back after the open week. Chaz Elder practiced tonight, but they'll see how he handles contact. There's a chance he plays this weekend. Samuel should be able to play and Dreak Davis will probably be out. Davis is the same hamstring he had this season.

- Rico Dowdle practiced tonight and they'll see where he is Tuesday, Wednesday, and Thursday. Said "we'll see what happens" in terms of playing time. Contact, ball security, all of that is an issue because he's missed so much time. At the minimum, USC needs him on special teams.

- Muschamp said that the pass interference call on Jamarcus King's pick that was overturned was a good call. Said there was no doubt.

- The biggest message Muschamp gave in the locker room was that they win together and lose together. They're going to put more attention to detail. Muschamp said he saw it on the field last night - things they've repped multiple times against the looks they expected and they make mistakes on it. The youth isn't an excuse, Muschamp said, but that's part of it. Kentucky didn't do anything new and USC didn't either, but USC made mistakes with things they've been over. "We have to coach it better and play it better in those situations."

- Muschamp said there were frustrated guys in the locker room and that's a good thing. He feels they'll continue to improve, even though it's not always going to be pretty.

- Fans make a difference at home and USC needs that, Muschamp said. "We need to play well for them."
- Asked how the OL graded out this week - Muschamp simply said "we need to improve." No awards are given out to a loss, but Zack Bailey played well. Part of the discussion right now is mixing some things around up front, along with scheme.
ALSO SEE: What went wrong for the Gamecocks in Lexington? We go in-depth on the offense and more here | The latest insider info on the Gamecocks' recruiting board, including names to watch at DB and DL