Rico Dowdle finds place in record books with Saturday's performance
Rico Dowdle joined some elite company Saturday night. He can now float his name out there with the likes of Brandon Bennett, Steve Wadiak, Marcus Lattimore and George Rogers.
The freshman setting the SEC on fire, added some more fuel it against Western Carolina, rushing for 226 yards and two touchdowns. The human battering ram averaged 10.8 yards per carry in the Gamecocks' 44-31 win over the Catamounts.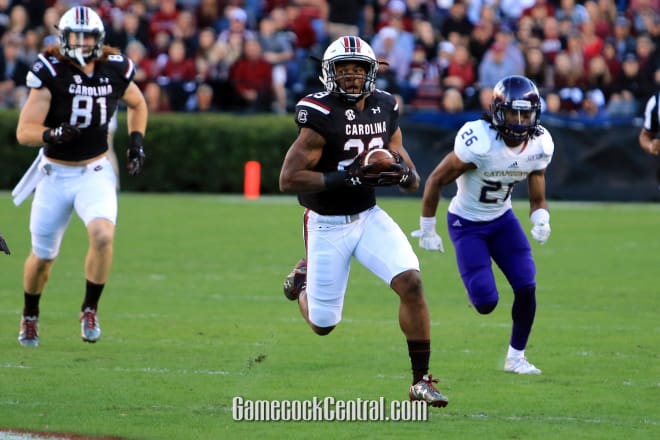 Dowdle is the first 200-yard rusher since Lattimore in 2010, and his 226 yards are the sixth most in school history, only behind Bennett (278 yards), Jeff Grantz (260), Wadiak (256), Lattimore (246) and Rogers (237).

"The more snaps he takes the better he's going to get. He's a very good football player; he runs through contact. He runs for daylight," head coach Will Muschamp said. "He's a guy that as the game goes on they get tired of tackling. He's got a big lower body."
Also see: Baseball adds four players this week
His chunk of yardage was part of a Gamecock offense that sliced and sprinted its way to 422 total rushing yards, the most since amassing 352 against Coastal Carolina in 2013.
That was in part to an abysmal Catamount rush defense that was giving up 297.8 rushing yards per game in the FCS, but another wrinkle was the offensive line's ability to get off the line and get blockers into the secondary.
"I definitely felt like we controlled the line of scrimmage tonight, myself included," tight end Hayden Hurst said. "Just getting those dirty yards gets the offense going and opens stuff up for us."
It's a tougher test next week for an offensive line that's struggled at points this year, going up against a Clemson defense giving up a paltry 135 yards on the ground per game.
Also see: Recruiting notes for Western Carolina game
Left tackle Mason Zandi led the charge on the offensive line, blocking for Dowdle and Deebo Samuel coming around the end all night.
Zandi, a senior who played his last game at Williams-Brice Saturday, will play his first game at Clemson next weekend. He missed the game his sophomore year due to injury, but will be full-go this week for his first taste of Death Valley.
Even though the offensive line seemed to click against an underwhelming opponent, lineman Mason Zandi said the Gamecocks (6-5, 3-5 SEC) could still learn from this kind of performance.
"Every game you play and every practice you participate in is a learning experience," he said. "We're going to prepare our way, the right way and keep moving forward."