WBB: South Carolina beats Belmont
SOUTH CAROLINA WOMEN'S BASKETBALL
It wasn't the complete game Dawn Staley wanted, but it was close as South Carolina cruised to a 74-52 first round win over Belmont.
There was an offensive dry spell in the second quarter, and a defensive lull in the third quarter, and too many offensive fouls, but the Gamecocks made sure none of those issues cost them.
South Carolina went three-and a half minutes without scoring in the second quarter, but offset that by holding Belmont to three total points, tied for the fewest they've allowed in a quarter, on 1-9 shooting and forcing nine turnovers. That defensive effort led to a 13-point halftime lead.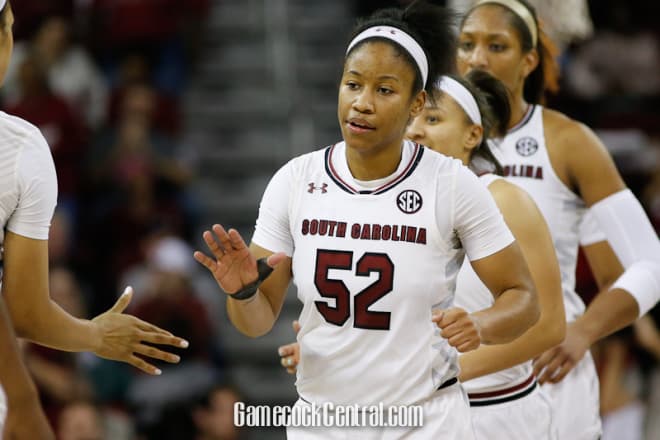 "We guarded them well in the first half," Belmont's Bart Brooks said. "For us to still be in the game at the half after scoring three points in the second quarter was a minor miracle."

Belmont started the third quarter with seven quick points, and made four of its first five shot attempts. But South Carolina matched the points until it settled in defensively, and scored 31 third quarter points on 13-16 shooting to pull away.
As for the offensive fouls, the officials called them on Belmont too, particularly leading scorer Darby Maggard, who was whistled three times for pushing off, same as Te'a Cooper.
South Carolina got balanced scoring, with four players in double figures. Cooper led all scorers with 13 points in only 26 minutes. Alexis Jennings and Tyasha Harris added 12 each, and Doniyah Cliney chipped in 10. South Carolina shot 55 percent for the game, and was shooting nearly 60 percent when Staley emptied the bench.
The defensive effort, especially on Maggard was was very good. Maggard scored 13 points, but eight points came in the fourth quarter after the Bruins were already down 30. She was, through three quarters, just 1-3 from three, and struggled just to get looks at the basket.
As a team, Belmont came in shooting 36 percent from three, and averaging 10.4 makes per game on 29.1 attempts. Friday afternoon, South Carolina held Belmont to just 6-22 from three, 27.3 percent.
"They're sticky, they're athletic and they have length at about every position," Brooks said.
"We had some looks that we didn't take and we had some close out situations that we didn't attack like we normally do They get you out of your rhythm. Some of the stuff we typically run wasn't as easy to run today."
"It was probably the second most important thing that we decided were the keys to the game, behind pressuring the basketball," Staley said. "They have a lot of experienced players who are used to playing with each other. We knew that we had to disrupt. It started with the ball."
South Carolina succeeding in pressuring the ball, too. It forced 17 Belmont turnovers, including several shot clock violations, and converted the turnovers into a whopping 27 points. Meanwhile, Belmont got just eight points off 14 South Carolina turnovers.
"They want to turn their defense into offense and they did that today," Maggard said. "I felt like there were times were times when we let them do that."
South Carolina was missing two of its most experienced tournament players. Mikiah Herbert Harrigan was benched for the first half and Bianca Cuevas-Moore for the entire game. Staley refused to divulge why either was benched, but said both have served their punishment and she expects them to play Sunday. Herbert Harrigan checked into the game with 3:10 left in the third quarter, and made an immediate impact with five points, three blocks, and two rebounds in just ten minutes of action. She wouldn't say why she was benched when asked about it after the game, but revealed Staley's message to her.
"She just said can you get your mind right, because you won't play in the first half," Herbert Harrigan said.
Notes:

Jenny Roy had seven points and eight assists for Belmont. … Belmont had 11 assists on 18 baskets, while South Carolina had 14 on 31. … Harris had six assists. … South Carolina outrebounded Belmont 38-22 and had 13 second chance points on 14 offensive rebounds. Jennings had nine rebounds to lead all players. … Without Cuevas-Moore and Herbert Harrigan, Bianca Jackson got increased minutes. She responded with eight points, two rebounds, and an assist. … Leaving the court after the game, Staley spent time thanking Charlotte athletics director Mike Hill for allowing South Carolina to host at Charlotte. … South Carolina will play the winner of Bucknell and Florida State on Sunday. Game time will not be announced until all of the Friday games are concluded.