2012 baseball preview: Outfield comfort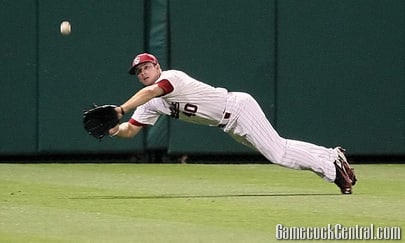 Tanner English speaks the language of baseball.
Often, though, the freshman outfielder from Murrells Inlet talks with his lightning-fast feet and a powerful throwing arm that rivals the one belonging to former Gamecock Jackie Bradley Jr.
Because of his impressive physical skills, the 5-foot-9 English should be in the opening day lineup on Feb. 17 when South Carolina opens the 2012 season with the first of a three-game series against VMI.
Joining him in the starting outfield should be junior Evan Marzilli and senior Adam Matthews, who spurned the opportunity to sign a pro contract in order to return to the Gamecocks.
And don't forget about senior Jake Williams, one of the unsung heroes of USC's second consecutive national championship run last June in Omaha.
"We're extremely comfortable with our outfield situation," USC Associate Head Coach Chad Holbrook recently told Gamecock Central. "We have four very good outfielders. They are all very talented and some of them are very experienced."
Most Gamecock baseball fans are familiar with what Marzilli, Matthews and Williams can do on the diamond. English, though, is different. Opening day will mark the first time many USC followers get the chance to see him play at Carolina Stadium.
"Tanner English is going to be in there quite a bit as a true freshmen," Holbrook said. "He is a tremendous athlete. He has a great throwing arm and can run like no kid I've ever seen before."
Holbrook believes the 8,000 or so fans in attendance at Carolina Stadium for the first game of the highly-anticipated 2012 season will nod their heads in appreciation while watching the St. James High School graduate race around the base paths or track down a hard-hit ball into the alley.
English, who helped lead SJHS to the Class AAA state championship, was selected in the 13th round by Tampa Bay in last June's First-Year Player Draft, but declined to sign a pro deal in favor of spending at least three years with the Gamecocks.
English was rated the third-best high school prospect in the Palmetto State by Baseball America after hitting .412 in his senior season with seven HRs, 23 RBI and 28 stolen bases.
"He can really throw," Holbrook said. "I don't know if there is a difference between the arm strength of Jackie (Bradley Jr.) and Tanner. When Tanner throws the ball, people will ooh and aah. It's like watching Ichiro throw. He can really throw even though he's not a big kid and he can really run."
His incredible speed (a major-league scouting report reported English ran the 60-yard dash in 6.37 seconds) was a major reason he was taken in the top 15 rounds by Tampa Bay.
While possessing incredible physical skills, English must improve his discipline at the plate. Right now, he swings at too many pitches outside the strike zone, a tendency that's keeping him out of the leadoff spot. Holbrook and Gamecock head coach Ray Tanner spent the fall helping the freshman learn to hit the ball into the ground and avoid fly balls.
"As soon as he develops an offensive approach, he'll become a special player," Holbrook said. "I hope (he becomes a leadoff hitter), but he is so aggressive right now. He is probably too aggressive. But that's OK. We don't want to take that away from him. He could easily be a leadoff-type guy. He has some pop in his bat, too. He can hit it out of the park. He is a fun player to watch play when he is putting the ball into play. He is an awfully talented kid."
English is comfortable playing all three outfield positions, but should see most of his action in left or center, particularly when Marzilli and Matthews are in the lineup at the same time.
Marzilli started slowly last season and overcame a health issue relating to his heart (rapid heartbeat) until catching fire in the final month of the season, including nine straight hits in one stretch. He finished with a .291 batting average, three homers and 31 RBI in 65 games.
"Marzilli is as good as it gets defensively and he has a lot of pop in his bat too," Holbrook said. "He is very athletic. He is continuing to learn how to play. Obviously, we're extremely comfortable with Evan. Where we hit Evan in the lineup, we don't know yet. It's too early to decide. You can't sit Marzilli's defense on the bench."
Matthews had health issues, as well, in 2011 due to a severe hamstring injury that limited him to 34 games (29 starts) in his third season with the program. A year ago, most analysts expected Matthews to make the jump to the professional ranks, but being drafted in the 23rd round by the Orioles convinced him to return to Columbia and try to improve his draft stock.
"Adam had a terrific, terrific fall in the way he played and how comfortable he was," Holbrook said. "If he plays 56 regular season games like he played this fall, he is an All-SEC type player, no question in my mind. He just has to bring it every day and be consistent with his performance. No question about Adam Mathews' talent."
"Both Marzilli and Matthews have been healthy, which is good, and both have been good from a leadership standpoint for Tanner English. (They said) watch how we do things, watch how we practice, watch how we go about our business.
Williams is a savvy ballplayer that makes up for his lack of speed with fundamentally sound play and solid defense. He uncorked one of the greatest throws in USC history last June when he threw out a Florida runner at the plate in Game 1 of the national championship series.
Williams started 58 games last season (21 at DH) and batted .268 with two HRs, 38 RBI and a school-record six triples.
"Jake might be one of the best defensive left fielders around," Holbrook said. "He is not blessed with a strong throwing arm, but he catches everything. Whether he is in the outfield or at DH, Jake will be in there because of his experience."
Freshman TJ Costen (Virginia Beach, VA), another player with blazing speed, is listed on the roster as an infielder but could get a look in the outfield if he is unable to beat out JUCO transfer Chase Vergason at second base.
"You could make a case that his athleticism is built for the outfield because he can really run and throw," Holbrook said. "He is in the same category of speed that Tanner English is. But he likes the infield and wants to be up there. So we're giving him the opportunity to play both this year. We'll see how it shakes out. He is in the mold of Whit Merrifield, but a lot faster and physically stronger. He is a utility type guy like Whit was."
Promising freshman Seth Constable (Lewisville, N.C.) suffered a serious broken leg injury (fractured two bones in lower leg in a freakish accident during a game) as a high school senior and will probably redshirt in 2012, Holbrook said. Constable was rated the No. 1 high school outfielder and the ninth-best high school prospect overall in the state of North Carolina by Impact Baseball.
"Seth had extensive surgery and a rod put into his leg," Holbrook said. "So we're taking it slowly with him. Hopefully, he will continue to get healthy. He is practicing full speed, but he is a little bit behind because of the injury situation."
2012 OUTFIELD ROSTER:
TJ Costen (Fr.)*
Tanner English (Fr.)
Evan Marzilli (Jr.)
Adam Matthews (Sr.)
Jake Williams (Sr.)
* Also listed on roster as infielder


D. McCallum