5 Predictions For USC-Tennessee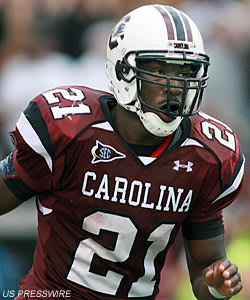 South Carolina squares off with SEC East rival Tennessee Saturday at 12:20 p.m. at Williams-Brice Stadium. USC can take a step closer to capturing the SEC East title with a victory over the Vols. Here are five predictions for the game:
1. MARCUS LATTIMORE WILL RUSH FOR 100 YARDS OR MORE AND SCORE AT LEAST TWO TOUCHDOWNS: The L-Train is back. And just in time to face the ninth best rushing defense (161.6 ypg) and the worst overall defense (403.1 ypg) in the SEC. Alabama's Trent Richardson ran for 119 yards against UT last weekend, including a 65-yard TD scamper. Lattimore has saved his best performances for the biggest stages with 182 yards against Georgia and 93 yards in the huge win over Alabama. If he can nearly reach the century mark against the Crimson Tide, he can surpass it running against the weak Vols. In addition, Lattimore has seven TDs in four SEC games, a pair in three of those contests. You can count on Lattimore to add to his TD total Saturday.
2. USC WILL HAVE AT LEAST 425 YARDS IN TOTAL OFFENSE: Quick, guess which team has gained the most yards in a single game against Tennessee this season. LSU with 434 yards? No. Oregon with 447 yards? Nyet. Alabama with 536 yards? Ha. And the winner is. . .UAB with 544 total yards on Sept. 25. Take away the season opener when I-AA Tennessee-Martin mustered 142 yards and the once vaunted Tennessee defense is yielding a staggering 447 yards per game. Except for Alabama, nobody on UT's schedule has a RB-WR combination equal Marcus Lattimore and Alshon Jeffery. If USC gets the inside zone run going and Garcia has time to throw a few passes on the outside to Jeffery, it could be another long day for the Vols' defense.
3. USC WILL LEAD BY SEVEN POINTS OR LESS AT HALFTIME AND WIN BY 17 POINTS OR MORE: Tennessee has fought hard in the first half of most of its major games this season. UT was tied with current No. 1 Oregon, 13-13, at halftime. The following week, Florida led by just a 7-3 margin at halftime. LSU and UT were tied at 7-7 at intermission. Last Saturday, Alabama led by just a 13-10 score at halftime. The only game this year in which the Vols were out of it at halftime was the lopsided loss at Georgia three weeks ago. Tennessee has some good first-team players, but eventually their lack of depth kills them.
Tennessee has been outscored, 126-58, in the second half. That's better than a 2-to-1 margin. It's apparent the UT defense has worn in the second half. Alabama scored 21 points in the third quarter last week to pull away. Florida, which has struggled on offense all season, put up 24 second-half points on the Vols back on Sept. 18. Oregon blitzed UT, 35-0, in the second half.
4. THE USC DEFENSE WILL HAVE AT LEAST FOUR SACKS: USC leads the SEC with 24 sacks in seven games, an average of 3.4 per game. The largely inexperienced Tennessee offensive line should include at least two freshman starters. Ja'Wuan James has started all seven games at right tackle. The Vols have surrendered a league-high 25 sacks and are on pace to give up 43 for the season. USC DE Devin Taylor has 6.5 sacks on the season, while Melvin Ingram has 4.5 sacks. The Gamecocks defensive line has played very well for most of the season, and could have their way with the porous Tennessee O-line. Matt Simms could be under fire most of the game.
5. USC WILL FORCE TENNESSEE INTO THREE OR MORE TURNOVERS: I know USC hasn't forced a turnover in two full games and is now a SEC-low minus-6 in the turnover margin. But the Tennessee offense has been a turnover machine the last two weeks with five turnovers and no takeaways. As a result, the Vols have gone from plus-four in turnover margin to minus-1. Expect USC to pressure UT QB Matt Simms all game long, especially since the Vols are converting just 29 percent (29-of-101) on third down. Simms has thrown five INT and UT has lost four fumbles. If this turns into a typical UT game in which the Vols are forced to play from behind in the second half, watch out.
BONUS PREDICTION:
6. THE TENNESSEE BAND WON'T PLAY ROCKY TOP ONCE IN THE FOURTH QUARTER: That's because USC will have a comfortable lead and most UT fans will have left the stadium by then on their way back to Knoxville or wherever they reside. Obviouly, the enthusiasm in the UT camp isn't high for this game since the Vols returned about 2,000 tickets from their allotment.