After being 'saved by God,' Blackshear eager to live up to expectations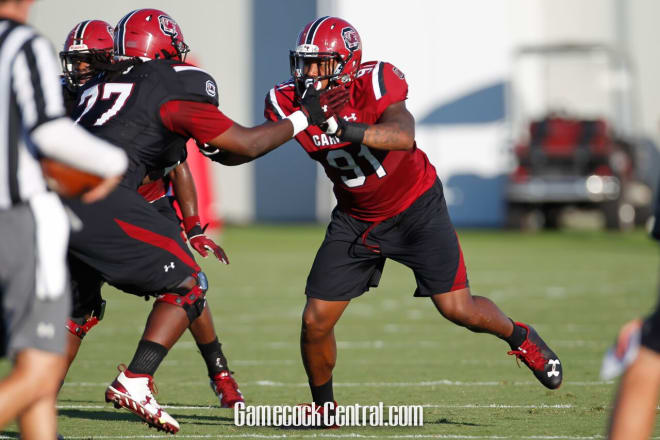 Every morning when he wakes up and every night before he goes to bed, South Carolina defensive end Shameik Blackshear says a quiet prayer, thankful to be alive.
Eight months after being shot and seriously wounded at an apartment complex near Founders Park, Blackshear's bounce back from the brink of catastrophe in terms of his health is nearly complete.
Life's close calls – those chilling moments when somebody stares death in the face and survives to tell about it - have a curious way of changing one's perspective.
"I say a prayer every morning and every night because I'm not supposed to be here," Blackshear said Tuesday in his first interview with reporters since the shooting incident in December. "I was saved by God, so I give him everything all day and night.
"Anytime you get shot, it's serious. I could have passed away, but God saved me. I give him thanks for that. I got more humble and things are getting better every day."
Winning back the trust of coaches and teammates, and demonstrating he could still play football at a high level befitting one of the Palmetto State's top prospects for the 2015 recruiting cycle, have proven nearly as challenging as survival.
"I feel like I'm in the process of rebuilding my image," Blackshear said. "That's not something that just happened overnight. It will take some time. In due time, if I keep myself clean, do the right things and be respectful and be thankful I'm still living (my image will change)."
The long road to recovery has rarely been easily navigable for Blackshear, often littered with potholes, speed bumps and dangerous curves. He did not participate in spring drills as he continued to rehab from his serious injuries with USC trainers.
"It's been a lot of hard work," said Blackshear, who politely declined to offer details of the shooting incident. "Some days I was out of it, I was down. Some days, I was up and kept saying to myself, 'I have to get back, I have to get back.' I pushed through it and tried as hard as I could to get back by (the start of preseason) camp. I met my goal. But there were a lot of frustrating days."
Did doubt ever creep into his mind that he would ever play football again? Of course.
"Some days I felt like I couldn't ever come back," Blackshear said. "There was a point when I didn't know if I was going to play football again. I was just praying and praying that I would be all right and be able to play."
At one point, Blackshear's weight dropped to 225 pounds. But with the help of the USC strength and conditioning staff, he has built his weight back to 255 pounds.
"I bust my tail every day," Blackshear said. "Whatever they ask me, I do it to the best of my ability so I can become what they want me to become. I'm not where I want to be. But I'm definitely working at it."
When preseason camp started, Blackshear worked at the BUCK linebacker spot, the hybrid linebacker spot demanding the skills of both a defensive end and outside linebacker.
Once he showed the coaches that his strength and speed had returned, Blackshear was shifted to strongside defensive end after the first week of practices and that's where expects to line up on Sept. 1 at Vanderbilt.
"Anytime they need me to go back and play the BUCK, I can do that, but mostly I'll be playing strongside defensive end," Blackshear said.
On a scale of 1 to 100, Blackshear said his strength level is about a 75.
When Blackshear arrived on campus 15 months ago, he was considered by many analysts as one of the crown jewels of USC's 2015 recruiting class, possibly the successor to Jadeveon Clowney at defensive end. However, a serious knee injury dating back to his senior season at Bluffton High School hampered his progress.
Eventually, Blackshear appeared in two games (UCF and Missouri) before being shut down. He petitioned the NCAA for a medical redshirt and the request was granted, making him a redshirt freshman in 2016.
Blackshear acknowledges his frustrating 2015 season fell far short of expectations, compounded by his sometimes rocky relationship with the former coaching staff.
"It was tough coming in," Blackshear said. "As an in-state player, I expected to be in there. But I still had the knee injury I was trying to overcome and I was trying to learn the playbook. Things were rocky, but I never gave up."
Happily, his relationship with Muschamp, who recruited Blackshear when he was at Florida, and the new staff are miles ahead compared to last season.
"Coach Muschamp has a lot of faith in me," Blackshear said. "He and I talk a lot. He just tells me to keep going, stay positive, keep working hard and good things will come to me. That's what I live by every day.
"I really wasn't close like that to any of the coaches last year. But now I feel like I'm close to every single coach. I can talk to any coach about anything and I feel like they will give me the honest feedback I need to get better.
"I thank Coach Muschamp and his staff for still believing in me and still believing I could become who I was on the field."
Considering the distance he has come over the past eight months, USC's season opener on Sept. 1 will certainly be a special occasion for Blackshear.
"It feels good to be back. There are things I need to work on, but I feel like I'm back on the same page as everybody else," Blackshear said. "I feel like I'm better than what I was, but I'm not where I should be, so I'm working every day to get back to where I should be.
"I feel like I'm on the fast track to getting back to where I used to be. When I get my chance to go into the game, I want to produce and show everybody I'm still here and I'm still the same player I was when I came out."