Aftermath: Gamecocks celebrate hard-fought bowl eligibility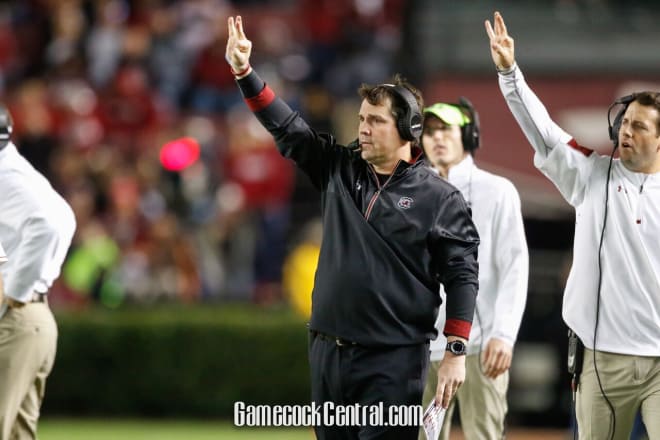 The process wasn't always easy or pretty – rarely is in the pressure-packed world of major college football – but the Gamecocks crossed the bowl eligibility threshold Saturday with the hard-fought 44-31 victory over Western Carolina at Williams-Brice Stadium.
Six wins – something few analysts predicted when the season again – and the SEC's generous list of conference affiliated bowls (11 spots this year if Alabama reaches the four-team playoff + Sugar Bowl takes the next highest ranked conference team in CFB playoff standings) assures the Gamecocks will be playing football in late December.
Where? TBA.
Right now, the Gamecocks are just celebrating the opportunity to extend their season beyond Saturday's Palmetto Bowl in the Upstate.
Coaches have preached for decades that the principal benefit of playing in a bowl is the additional two weeks or so of practices they get prior to the game (If I had a nickel for every coach who said, "Bowl practice is like having an additional spring practice," I'd be a rich man).
"The bowl game is going to be huge for us to continue to develop a young team," Gamecock head coach Will Muschamp said after Saturday's win, which improved USC to 6-5 overall. "Football is a developmental sport. You have to play the game. It's not like basketball where you can roll the ball out and play one-on-one. You can't get into the batting cage and get better. You have to play the game. That's what we're going to be able to do preparing for a bowl game. It doesn't matter where it is."
USC's prospects of qualifying for a bowl looked gloomy when it lost back-to-back home games to Texas A&M and Georgia in early October and fell to 2-4 overall heading into the bye week. However, the 24-21 upset win over Tennessee Oct. 29 breathed new life into its quest.
However, one regular season game remains and in the eyes of many people around the Gamecock program, it's the most important game of the year.
"It's a huge relief," senior offensive lineman Mason Zandi said of bei9ng bowl eligible. "But our mindset is next-game mentality. It's even bigger for the program moving forward. To get a bowl game, especially on senior night, just solidifies how much this team fights."
For the past few weeks, Muschamp and the Gamecock players have talked about getting to a bowl game as a way to honor the seniors and fit another building block into the foundation.
"When we were struggling in the middle of the year, Qua [Marquavius] Lewis and I were just talking," Muschamp said. "Qua went to junior college and came here last year. He said, 'Coach I've never been to a bowl game. I just want to go to a bowl game.' When you're able to fulfill something like that for a guy like that who's given everything to South Carolina and loves this place, loves being a Gamecock, that's really important.
"To see the look on his face and a lot of those guys' faces, especially the seniors, is almost a bit of a relief to be able to say we're going to a bowl game. We needed to get to a bowl game. That was really important for us to be able to do that considering where we were after our first four games of the year and knowing what we had on deck. Getting to a bowl game is really important for our program."
Now they will as Lewis and the other 18 seniors honored during pre-game festivities get to play one more game.
"It's big for the program," Gamecock linebacker T.J. Holloman said. "We're the building blocks for Coach Muschamp and the new staff and it can only go up from here. That's been our mentality. Today was a special day for us seniors by this being our last home game here, but also a special day for this program by taking it to the next level and starting off being bowl eligible."
NOTES:
-- Freshman QB Jake Bentley was 14-of-23 passing for 154 yards. He had no interceptions and no TD passes as the Gamecocks scored on four rushing touchdowns, a kickoff return and three Elliott Fry field goals. Bentley is now 86-of-130 passing (66.2 pct) for 989 yards, 6 TDs and 1 INT. Equally important, USC has committed just three turnovers in his five starts.

-- Bentley is one of two FBS players that passed up their senior years of high school to enroll early in college. Kansas safety Mike Lee is the other player who could be playing prep football this fall.
-- For the first time since September, someone other than Hayden Hurst leads the Gamecocks in receiving. Deebo Samuel (four receptions vs. WCU) has taken over the top spot with 41 receptions for 579 yards. Hurst has 39 catches and Bryan Edwards 37. Hurst is vying to become the first tight end to lead the Gamecocks in receptions in 34 years.
-- Darius English had USC's only sack on Saturday, giving him 9.0 on the year, tying him with Eric Norwood, Melvin Ingram and three others for the fifth most in a single season in Gamecock history. Kelcy Quarles is fourth with 9.5 sacks in 2013. USC has 20 sacks on the season.
-- Fry scored 14 points on Saturday (3 FGs, 5 PATs) and now has a school record 351 points.
-- The Gamecocks forced one turnover Saturday to increase its season takeaway count to 24.
-- USC's status as one of six FBS teams to hold every opponent under 30 points this season ended as WCU scored 31 points, the final seven coming on a 93-yard kickoff return by Detrez Newsome in the fourth quarter.
-- Since 2000, the Gamecocks are 40-2 against teams not in one of the Power 5 conferences. The only two losses during that span came to UConn in the 2009 Papajohn's Bowl and The Citadel last season. UConn was in the Big East when it beat the Gamecocks, but have since moved to the AAC.
-- The 35 first-half point scored by the Gamecocks marked the most in the opening 30 minutes since Nov. 23, 2013, when they scored 42 against Coastal Carolina. The 44 points Saturday marked a single game high for USC this season.
-- Senior LB Jonathan Walton had seven tackles to lead the Gamecocks, while juniors Bryson Allen-Williams and Dante Sawyer both had six.
-- Since the Gamecocks got bowl eligible, Darius Rucker, former lead singer of Hootie and the Blowfish, will play a concert on the USC campus.
SEC WEEK 12 SCHEDULE (Nov. 19)
Texas A&M 23, Texas-San Antonio 10
Georgia 35, Louisiana-Lafayette 21
Florida 16, LSU 10
Tennessee 63, Missouri 37
South Carolina 44, Western Carolina 31
Kentucky 49, Austin Peay 13
Alabama 31, UT-Chattanooga 3
Arkansas 58, Mississippi State 42
Alabama A&M at Auburn, 7:30 p.m. (SEC Network Alt. Channel)
Ole Miss at Vanderbilt, 8 p.m. (SEC Network)
NOTE: Florida won the SEC East with today's victory at LSU. The Gators face Alabama Dec. 3 in the SEC Championship game at the Georgia Dome.