Bailey out for Gamecocks' bowl game
SOUTH CAROLINA GAMECOCKS FOOTBALL
South Carolina will be down a senior offensive lineman moving forward.
Zack Bailey broke his fibula and will likely miss the team's bowl game and should be fine moving forward for his professional career, head coach Will Muschamp said. He said it's not good but the injury could have been much worse since the fibula isn't a weight-baring bone.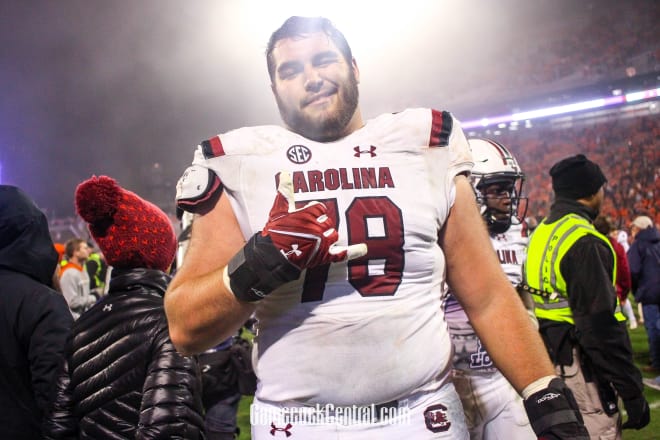 "That's is a good thing at the end of the day," Muschamp said mentioning it won't be a catastrophic injury to Bailey's professional future.
Also see: Saturday visitor scoop
Bailey broke the bone on the final play of the third quarter in his final home game of his four-year career. Bailey started 37 games over his career at every position on the line.
"It's unfortunate. You hate to see his last game here end like that," Jake Bentley said. "You don't want him to get hurt. He's a pivotal player for us and has brought a lot of experience on the offensive line. definitely going to miss him for sure."
Keisean Nixon has a shoulder injury that's limited him some this season and Keir Thomas missed Saturday's game with an ankle injury. Thomas is expected back for the bowl game.
Also see: Josh Low's instant analysis Saturday
Shi Smith missed Saturday's game with some back spasms that hit Wednesday this week and the staff didn't feel good about putting him out there against Akron.
Jaycee Horn didn't play in his second-straight game with a lateral ankle sprain he suffered against Chattanooga, but Muschamp said the true freshman shouldn't be out much longer.
In his stead, Israel Mukuamu played a lot of safety Saturday and Steven Montac slid to nickel.
"If we played next week he'd play," Muschamp said of Horn. "He gave it a go up there in Clemson and just didn't feel good about it then had some soreness. we felt good about our lineup going into today."
Also: What we're hearing: Gamecocks bowl update
Eldridge Thompson, OrTre Smith, Javon Charleston, Jamyest Williams, Danny Fennell and Aaron Sterling are all out for the year and didn't dress.
Bryson Allen-Williams, D.J. Wonnum and Jaylin Dickerson are all out today but are more than likely back for the bowl game. J.T. Ibe and Nick Harvey are both out today as well.
The Gamecocks (7-5) beat Akron 28-3 Saturday.