BLOG: 5 Predictions For USC-Auburn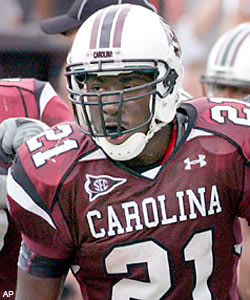 In a battle of unbeaten teams, South Carolina travels to Auburn for a critical SEC matchup Saturday night. Here are my five predictions for the game:
1. USC's Quarterbacks Will Throw For More Than 200 Yards: If Auburn has a weakness in Gene Chizik's first two seasons as head coach, it's pass defense. The Tigers were 10th in the SEC last season (218.0 ypg) and currently stand 11th after three weeks. Even Arkansas State had 323 yards through the air in the season opener. Clemson was more balanced last Saturday with 220 passing yards and 187 rushing yards. Spurrier is eyeing improvement from USC's passing game and this game may present a good opportunity to get healthy quickly. USC's wide receivers will enjoy a huge height advantage over Auburn's defensive backs. Throw it up to Alshon, Tori Gurley and D.L. Moore and let them work their magic.
2. Marcus Lattimore Will Rush For More Than 100 Yards: Even if seeing Gene Chizik and Michael Dyer on the opposite sideline doesn't provide all the motivation Lattimore needs for this game, the potentially inflammatory comments of another Auburn player this week cemented the deal. USC has turned into a running team behind the exploits of Lattimore and looks ready to finish in the upper half of the SEC in rushing offense after three straight last-place finishes. Obviously, it helps to have an efficient offensive line and the return of Garrett Chisolm after he missed last Saturday's game should have a profound impact on the Gamecocks' offensive front. Rokevious Watkins also appears ready t go. Even Hutch Eckerson, once considered doubtful, could play. In short, the blocking up front should be better this week.
3. Auburn Will Rush For Less Than 150 Yards: Considering the Tigers have three of the top 10 rushers in the SEC - QB Cameron Newton (103.0), RB Onterio McCalebb (75.0) and RB Michael Dyer (70.7 ypg) - the defensive game plan for the Gamecocks shouldn't be difficult to figure out. Stop the run. USC has the No. 1 rushing defense in the SEC after three weeks. The first three opponents have rushed for 67, 61 and 51 yards. The difference over last season? Travian Robertson, whose presence in the defensive interior has made all the difference in the world for the Gamecocks. In the last seven games Robertson has appeared, USC has allowed more than 100 yards rushing only twice. The average? 82.9 yards per game. If the USC defensive line stands up physically to the experienced Auburn O-Line, the Tigers could discover running the football against USC to be difficult.
4. USC Won't Allow A Scoring Play Longer Than 25 Yards: Auburn has proven to be a big-play team in the early going with five of their 13 touchdown plays covering at least 35 yards. That's why they lead the nation in passing efficiency despite having a completion percentage lower than the next 23 teams behind it in the rankings. I think the USC secondary has learned their lesson after surrendering a 72-yard TD pass and a 47-yard pass to Furman in the fourth quarter last week. All they need to do is watch the Clemson-Auburn game to realize how a big play can quickly change momentum in a game.
5. USC Will Win The Turnover Battle: Since the beginning of last season, USC is minus-3 in turnovers, including plus-1 in 2010. That represents a significant improvement over 2008 when the Gamecocks were off the charts in a bad way in turnover margin. Through three games, Auburn is minus-4 in turnovers. But with three wins to start the season they haven't yet paid the price for those miscues. Spurrier and quarterbacks coach G.A. Mangus have constantly preached ball security to their quarterbacks and for the most part they've heeded those words.