BLOG: Garcia Must Choose Path To Follow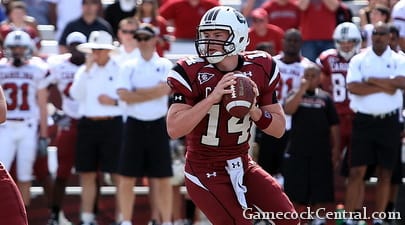 Based on what we've heard the last three months or so, it's tough to believe South Carolina QB Stephen Garcia finished second in the SEC in 2009 behind Ryan Mallett of Arkansas in passing yards per game (220.2 ypg) and third in total offense (234.5 ypg).
But since USC finished just 7-6 and struggled to get anything going offensively in the bowl game, it's accurate in my opinion to assert Garcia had a good, but not great, redshirt sophomore season while starting all 13 games and taking every meaningful snap.
Certainly, we saw enough from Garcia to be encouraged about the future.
The message, though, has been lost in translation for some in the media who take themselves far too seriously.
In case you haven't heard, Garcia was omitted from Phil Steele's four-deep pre-season All-SEC team while John Brantley of Florida and Cameron Newton of Auburn, neither of when has done much in their careers except sit on the bench or excel at the junior college level, were named to the third and fourth teams, respectively.
Moreover, well known sports talk show host Paul Finebaum, who fancies himself a buddy of Spurrier, blasted Garcia recently as the "worst quarterback in the history of the SEC" on his national show broadcast on XM Radio.
Excessive, unnecessary and over-the-top hyperbole? Yeah. But it's not unexpected from a 'broadcaster' who sells controversy on a daily basis.
The genesis of all this trash talking? As we all know, just being good isn't good enough for USC head coach Steve Spurrier, who decided early in spring practice to take an aggressively negative approach towards Garcia.
His ammunition was USC's 37 sacks allowed in 2009, which tied LSU for the most in the SEC.
Unlike most coaches, Spurrier didn't point the finger entirely at the offensive line for the unacceptably high number of sacks. Instead, he forced Garcia to share the blame for holding onto the football too long in certain situations rather than throwing it away or running out of the pocket too quickly when he sensed danger.
And then, of course, there's Spurrier's dissatisfaction with Garcia's work ethic and commitment level. In this regard, the pair has meshed almost as well as oil and water.
In plain English, Spurrier doesn't feel Garcia works hard enough.
For a long time, Spurrier has wanted his quarterbacks to pursue their football craft with a single-minded doggedness, especially during the summer months when few distractions exist.
Garcia, meanwhile, is a happy-go-lucky charcter who likes to enjoy a good time occasionally and have fun with the college experience. Make no mistake, though, Garcia is far more intelligent than he usually lets on.
Without a doubt, Garcia's fondness for fun drives Spurrier batty from time-to-time. The HBC doesn't begrudge his starting QB the right to have fun sometimes, he just wishes he did it a little less frequently and stayed home more studying his play book. In that way, the latter is closer to being an old-school coach than the media lets on.
By denouncing (Finebaum) and ignoring (Steele) Garcia, I believe both of them have taken Spurrier's criticism of Garcia out of context and well beyond its original intent - to motivate Garcia and get him to improve his work ethic and commitment level.
If I were Spurrier, I would require Garcia to tape a copy of Steele's pre-season All-SEC team inside his locker so he will see it every day when he puts on the uniform. I would also obtain a copy of Finebaum's comments and make sure Garcia listens to them often.
Frankly, if those two things don't motivate Garcia, nothing will.
At no time has Spurrier ever claimed Garcia is a poor quarterback. In fact, he has proclaimed the opposite, saying on multiple occasions that the physically gifted Garcia has the potential to become an outstanding SEC quarterback if he made the necessary commitment to the cerebral side of the game, which is much more important than people realize.
Question is, will he? Only Garcia can answer that question. Clearly, we'll find out over the next two months how badly Garcia wants to become an elite QB in the toughest, most demanding football conference in the country on a week-to-week basis.
In short, Garcia himself will either be his biggest ally or worst enemy. He must choose.
Simply, the sweltering months of June and July will constitute the summer of Garcia's discontent or the beginning of his rise among SEC quarterbacks. Gamecock fans obviously hope for the latter because it's extremely difficult to win consistently in the SEC with a true freshman QB. Even Tim Tebow didn't start right away at Florida. He worked as the backup to Chris Leak in 2006 before taking the reins the following year.
Spurrier will surely be asked a ton of questions about Garcia at the SEC spring meetings which begin in eight days in Destin, Fla. and later on July 22 when he makes his annual appearance at SEC Media Days in Hoover, Ala.
Of course, this is not to say Garcia is close to perfect because he's not. He has a long road ahead before he reaches the destination of becoming a great SEC quarterback and, essentially, making Finebaum eat his words. The good news, though, Garcia has both hands on the steering wheel and controls the path his vehicle follows.
This summer is absolutely HUGE for him. Garcia, entering his fourth year with the program, has an opportunity in 2010 to silence the critics. If he doesn't, the volume of voices urging Spurrier to give true freshman Connor Shaw a legitimate chance to play will increase to a deafening roar.
From my perspective, the summer months and pre-season camp leading up to the Sept. 2 opener are especially intriguing because they will show us how Garcia reacts to real competition for posisbly the first time in his life.
Really, when was the last time Garcia truly had to battle for his job as a starting quarterback? Not at USC. He redshirted in 2007 and entered 2008 not expecting to play that much. He ended up starting three games because Tommy Beecher fizzled out and Chris Smelley struggled in key spots.
In the wake of the transfers by Beecher and Smelley, even Spurrier acknowledged Garcia didn't face serious competition from his cohorts in 2009 and was the only QB prepared to play - the principal reason he took almost every snap - a first for Spurrier in his head coaching career.
So, we have to return to Garcia's formative high school years at Jefferson High in Tampa, Fla. to find out the last time when he was required to truly compete for the starting QB job. Even there, it might not have happened.
But with Shaw around, that should come to an end in 2010. Spurrier could now have the guy in place to successfully create the intense competition he desperately craves in order to push Garcia along.
The next few months are going to very interesting.
If you have any questions about this article or wish to discuss it with other Gamecock fans, be sure to visit The Insiders Forum.