BLOG: UGAs QB Discord Raises Stakes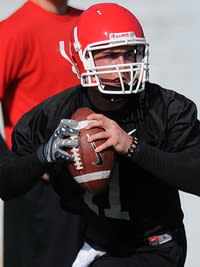 It hasn't exactly been the most harmonious off-season in Mark Richt's decade-long tenure as Georgia head coach.
When Georgia started spring practice in March, the Bulldogs had three quarterbacks ready to battle for the starting job.
As April nears an end, chaos reigns. One QB has been dismissed (Zach Mettenberger), another is giving serious consideration to transferring (Logan Gray) and the third is staying (Aaron Murray).
Even if Gray, angered by the fact Murray was listed ahead of him on the post-spring depth chart, decides to stay, most people believe the latter will still earn the starting job.
Murray is a redshirt freshman who hasn't yet taken a snap in a game. Another QB prospect joins the team in August (Hutson Mason from Marietta, Ga.).
So, if Gray leaves (published reports Monday night said Gray met earlier in the day with Richt to discuss his status), that would leave the Bulldogs with a redshirt freshman and a true freshman as the only viable options at the most important position in football.
UGA's quarterback woes shouldn't affect them in the Sept. 4 season opener against lightweight Louisiana-Lafayette, but the following weekend the Bulldogs come to Columbia for the annual early-season showdown with USC.
I'm already on record as saying the Sept. 11 clash at Williams-Brice Stadium is a must-win for the Gamecocks because it's a cherished home game and one they have to win if they want to be regarded as serious contenders in the SEC East.
I understand if USC fans approach the game with trepidation considering all the blown chances to beat UGA over the last decade (2002, 2004, 2005, 2008 come to mind immediately), highlighted, of course, by last season's 41-37 loss in Athens in which USC dominated the statistics but fell largely because of special teams blunders (kickoff return for TD, another long kickoff return, missed extra point, etc.).
But with the possibility increasing every day that Georgia will begin that game with a freshman at quarterback, I can take it a step further - there is absolutely, positively no way USC can allow Georgia to beat them on their home turf.
Simply, all of UGA's QB problems mean one thing - the stakes have risen for USC on Sept. 11.
Sure, UGA can turn to the running game and hope their offensive line does a bang-up job, but one-dimensional offenses always struggle in the SEC. At some point, the Bulldogs will have to throw the football down the field into the teeth of what should be an improved and more experienced secondary.
I'll take a wild guess here and say most of those throws will be in the direction of A.J. Greene.
Nevertheless, I anticipate Georgia running backs Washaun Ealey, Caleb King and Carlton Thomas will get a lot of carries in that game in order to try to take some pressure off the young quarterback, whoever he is.
It will be interesting to see what Ellis Johnson's strategy is going into that game. Does he put eight defenders in the box to stop the run and dare UGA to throw the ball, or should he bring the heat early in an attempt to rattle the young and inexperienced UGA quarterback?
Even if Gray decides to stay, he's a junior with minimal experience since he sat behind Matthew Stafford and Joe Cox in his first three years with the program. Gray only attempted 12 passes last season, completing five for 31 yards. A lot of his career highs in passing were set in the Tennessee Tech game.
In addition to exploiting Georgia' youth at quarterbacks, this year's meeting with the Bulldogs presents a golden opportunity for the USC offense. Last year, the Gamecocks moved up and down the field against the UGA defense but struggled in the red zone, too often settling for field goals when they should have scored touchdowns. It cost them dearly in the end.
This season, Georgia's new defensive coordinator will be coaching in his second game with a rebuilt unit, starting with the defensive line, which lost three defensive tackles in the NFL draft (Geno Atkins, Jeff Owens, Kade Weston). In all, five UGA defensive players were taken in the draft.
For the first time in recent memory, I can pass the snicker test with the claim USC has just as much talent, if not more, than Georgia in 2010.
Of course, whether this is a one-year wonder or the start of a long-term trend remains to be seen.
If you have any questions about this article or wish to discuss it with other Gamecock fans, be sure to visit The Insiders Forum.