Bradley Jr. Powers USC Past Broncos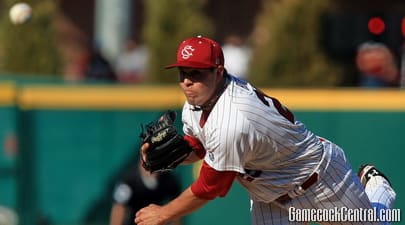 If the NCAA hoped to reduce scoring with the modified bats in use for the 2011 season, their plan didn't work on Friday.
South Carolina banged out 13 hits, including homers by Jackie Bradley Jr., Christian Walker and Scott Wingo, as the Gamecocks routed Santa Clara, 12-5, in front of a sellout crowd in the 2011 season opener at Carolina Stadium.
But it wasn't as easy as the final score indicates.
Santa Clara strung together six consecutive singles off reliever Steven Neff to cut a four-run deficit to 6-5 and throw a major score into the Gamecocks and the sell-out crowd in the top of the eighth.
But with the tying run 90 feet away, John Taylor induced an inning-ending double play grounder with the bases loaded to kill the threat.
"It was good win for us," USC head coach Ray Tanner said. "I know it got very tight there in the eighth when they started stringing together some hits. I thought Neff was throwing the ball OK. But they got some hits and you have to give them credit. John Taylor did a nice job inducing that ground ball."
The Gamecock took the momentum into the bottom half of the inning, scoring six times, the first three on a timely blast by Walker into the Santa Clara bullpen to make it 9-5.
Had USC not responded with the six-run outburst in the eighth, closer Matt Price was ready to come in and try to close it out in the ninth, Tanner said.
"It was important to answer back," Tanner said. "We had Matt Price in the bullpen ready to go. Taylor got the double play and we had a one-run lead. We were going to give it to Matt Price, but we answered and got some runs. So we sat him down."
After a walk, hit batter and sacrifice fly, Wingo delivered a two-run home run over the right field fence to expand the lead to 12-5.
"The double play gave us some momentum going into that eighth inning," Walker said. "I hadn't done very much at the plate until then."
Game 2 of the season-opening series is scheduled for Saturday at 3 p.m. Sophomore lefthander Tyler Webb will take the mound for the Gamecocks.
A pre-season All-American, Bradley Jr. lived up to the hype by going 4-for-4 with a long home run in the fifth inning, a pair of doubles, a single, three runs scored and three RBI.
"I'm seeing the ball really well right now," Bradley Jr. said. "I didn't feel any pressure at all. I'm just trying to go up there and help the team. I don't want to overdo anything."
His epic 11-pitch at-bat in the eighth was a masterpiece. He fouled off five full count pitches before ripping a double into the right-center field gap.
"The gnats kept getting in my eyes and I tried to keep waving them off," Bradley Jr. said. "I was just trying to battle. With two strikes, I didn't want him to throw it by me. He kept throwing fastballs."
Bradley Jr. and Walker combined to go 6-for-8 with two homers, six RBI and four runs scored from the third and fourth spots in the batting order.
USC starter Michael Roth worked 5.2 innings to register his fourth career victory. He allowed four hits and two runs while striking out six and walking one.
He retired 17 of the 23 batters he faced and threw 80 pitches.
Taylor fell one out of recording his second career save, but was lifted after issuing a two-out walk in the top of the ninth. After Alex Burrell hit a SC batter on the only pitch he threw, Patrick Sullivan punched out the final Santa Clara hitter on three pitches to end it.
After he doubled in his first at-bat, Bradley Jr. singled home Wingo for the first run of the season in the bottom of the third. He then blasted a two-run homer far over the right-field wall in the fifth to make it 3-0. USC added another run in the inning on a double by Marzilli.
"I'm not surprised because he's a good player but even the great ones still make outs. He didn't make an out today," Tanner said about Bradley Jr. "He was up there in some tough situations and that's what you want. You want your (big) guys to be there with run-scoring opportunities and big at-bats. He came up in some critical times today and he delivered."
Santa Clara cut the gap in half with a pair of runs in the top of the sixth, driving Roth from the mound in the process.
But four Bronco hurlers gave those runs back in the bottom half of the sixth because of their inability to throw strikes. Five straight walks forced home two runs and gave USC a 6-2 lead.
When Neff retired the first five batters he faced, the lead seemed safe. Somehow, after being handcuffed all day, Santa Clara mustered six straight singles in the top of the eighth with a variety of bloops and grounders and had the go-ahead run at second base with one out when Taylor came on and used his submarine delivery to get the critical double-play grounder to short.
"I felt bad for Neff," Tanner said. I thought he came in and threw the ball pretty well. The results looked pretty good early. But his line doesn't look real good right now (1.2 IP, 6 hits, 3 runs). But I'm discouraged by that. I want him to get the ball down a little bit more. He got some balls up and they found a way to get some base hits. It wasn't a miserable outing from my perspective."
The timely twin-killing set the stage for USC's six-run uprising in the bottom of the eighth.
Santa Clara got a runner on base in the top of the first as a result of an error by Adrian Morales. But moments later the senior from Hialeah, Fla. made a diving stop of a hard grounder and fired to first for the third out.
Bradley Jr. lined a two-out double into left-center in his first plate appearance of the season. Walker then beat out an infield single and caught Santa Clara by surprise by racing to second for his first stolen base.
However, despite putting two runners into scoring position, USC was unable to score when Thomas took called strike three.
USC went down in order in the second but Gamecock hitters had their way for most of the rest of the afternoon.
"We knew going in that Santa Clara had a solid club," Tanner said. "They averaged about seven runs a game and hit .325 as a team last year. They know what they're doing on the offensive side.
LINESCORE:
SCU: 000 002 030 = 5-10-0
USC: 001 032 06x = 12-13-2
WP: Michael Roth (1-0);
LP: Brock Simon (0-1);
SV: None;
HR: Jackie Bradley Jr. (5th, 1 on); Christian Walker (8th, 2 on); Scott Wingo (8th 1 on).
Time: 3:04.
Att: 8,242.
PLAYER OF THE GAME: Jackie Bradley Jr. He received the loudest ovation during pre-game introduction and for good reason. The Prince George, Va. native doubled, singled and homered in his first three at-bats.
KEY MOMENT: Just when it appeared Santa Clara would pull off a stunning comeback and take the lead in the top of the eighth, reliever John Taylor came on with the bases loaded and one out and got the Santa Clara batter to hit a tailor-made double play grounder right at shortstop Peter Mooney. USC turned the double play to preserve the lead.
TURNING POINT: USC led, 4-2, in the bottom of the sixth when Santa Clara's pitchers couldn't locate the strike zone. Broncos starter Brock Simon got the first two outs easily on a pair of groundouts. But then he committed the cardinal of walking Adam Matthews. He was pulled after issuing that free pass. But two relievers proceeded to walk the next four straight hitters before the final out of the inning was recorded.