Clowney decision surprises coaches
[rl]
When the idea first was floated for All-American defensive end Jadeveon Clowney to sit out his junior season at South Carolina and await the millions he would shower in come the next NFL Draft, Steve Spurrier, Lorenzo Ward and even Clowney himself scoffed at the notion to the great relief of Gamecock fans.
Now, after four disappointing games and a somewhat mystifying decision to sit himself at home against lowly Kentucky, some may be wondering if he hasn't decided to do just that. Neither Steve Spurrier nor Lorenzo Ward said they had any idea Clowney wouldn't play against the Wildcats in No. 13 South Carolina's 35-28 win.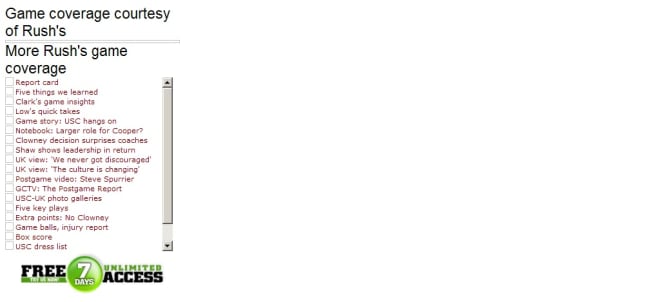 "I don't want to get into all of that," Spurrier said. "I will just say he told me he couldn't play, that his ribs hurt, he couldn't run. I said, 'That's fine. You don't have to play.'"
"He told me right before the game. We were thinking he was going to suit up and play."
"We'll move on. He may not be able to play next week. I don't know. But we're not going to worry about it, I can assure you that. If he wants to play, we'll welcome him to come play. If he doesn't want to play, he doesn't have to come. It's as simple as that."
Clowney, whose complaints so far this season have included a stomach bug and the heat against North Carolina, bone spurs in his foot against Georgia and Vanderbilt, being sick again against Central Florida and now bruised ribs, did not practice Thursday but was expected to play with the extra rest afforded him.
That's why his game-time decision came as a surprise to Spurrier and Ward.
On Thursday, Ward said, "JD has got a little rib bruise, but I think he'll be ready to play."
On Saturday, Ward said he was not expecting to hear right before the game that Clowney was taking the night off.
"I was totally surprised," Ward said. "He went through walk through earlier today and said he was hurting but I thought he was going to play."
What effect did Ward think Clowney's absence had?
"I don't think it had any effect," Ward said. "I think all the guys found out, when they knew he wasn't going to play, that they had to step up.
"We'd love to have JD out there, but we have to put 11 players on the field."
Asked if he'll be ready by next week, Ward wasn't sure.
"We'll see," Ward said.
On the other side of the ball - and almost in counterpoint to Clowney's decision, another player competed through an injury and led his team to victory. Quarterback Connor Shaw hinted that his shoulder wasn't 100-percent ("It's alright," he said) but said there was no way he could let his team down.
"I knew I had a shoulder injury and couldn't take any unnecessary hits, shots, like I sometimes do," Shaw said. "I tried to (stay in the pocket) as much as I could."
"It's my senior year, and I didn't want to miss another game."
For Clowney, also playing his final season, how many more games he'll miss seems not up to the coaches, not to the training staff but almost entirely up to Clowney himself.
GCTV: The Postgame Report