Dantzler, Greiner sizzle in scrimmage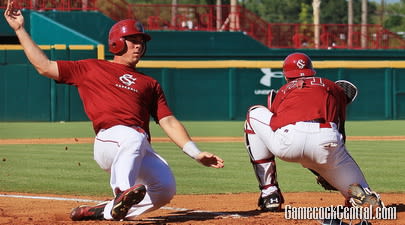 LB Dantzler is turning into a cyborg at the plate.
Grayson Greiner, meanwhile, is proving to be every bit as good at the plate as the South Carolina coaches envisioned.
Dantzler doubled twice and drove in three runs in his first two plate appearance while Greiner, a freshman from Blythewood, launched a grand slam in the bottom of the seventh inning to spark the starters/home team to an 8-1 victory over the reserves/visitors in an eight-inning scrimmage on Friday at Carolina Stadium.
It was the first of three scrimmages on the weekend. The next scrimmage will be at 1:30 p.m. on Saturday.
Dantzler, a junior-college transfer from Winter Haven, Fla., belted a two-out RBI-double off the center-field wall in the bottom of the first, driving in leadoff Evan Marzilli, who had walked and stole second.
However, Adam Matthews fanned and Christian Walker fouled out, putting pressure on Dantzler. He delivered with a one-hopper off the fence to the right of the batter's eye.
In the bottom of the third, Dantzler delivered again with a two-run double to the right-center gap that scored Matthews (double) and Walker (single) to give the starters a 3-0 lead.
All three runs were scored off junior right-hander Patrick Sullivan.
Dantzler continued his hot hitting from last weekend when he walloped three home runs. Friday, Tanner put him in the cleanup spot behind Walker.
"LB Dantzler has separated himself at third base with his offensive performance," Associate Head Coach Chad Holbrook told 107.5 FM The Game early Friday. "He had a great offensive weekend last week. We recruited LB to give Christian Walker some protection and the way it looks right now, he will be able to provide that. He has also been surprisingly very good defensively as well. We're excited about LB and what he is going to bring to us this year."
Dantzler's production in the first four scrimmages also eases concerns about USC finding a successor to Adrian Morales at third base. Morales was a vocal team leader and battled for nine innings every time out.
"We recruited him to be a middle-of-the-lineup hitter first," Holbrook said. "We knew that if he couldn't do it defensively, we had to have a guy who could DH or something and protect Christian Walker. We wanted a guy who had some maturity, experience and age. We like junior college kids around here. LB fits the mold. He's been terrific so far, but we haven't played a game and turned the lights on yet, so we shouldn't get ahead of ourselves. But he has been very good so far. He has found a home at third base."
In the bottom of the seventh, singles by Marzilli and Walker sandwiched around a walk to Matthews loaded the bases for Greiner, who promptly deposited a pitch from senior left-hander Logan Munson into the left-field bleachers.
The top five hitters in the starters' order (Marzilli, Matthews, Walker, Dantzler, Greiner) combined for 10 hits, eight RBI, four walks and seven runs scored.
Greiner continues to battle Dante Rosenberg for the starting job at catcher. Rosenberg batted sixth for the reserve team on Friday and collected a single in three trips.
"We have two really good guys battling it out," Holbrook said. "We're very strong defensively behind the plate and we're comfortable with both of those guys. In this league, you need two catchers because of the wear and tear on you in the SEC. It's a difficult position to play and we feel very lucky to have two guys as good as they are defensively."
Friday starter Michael Roth faced just two batters over the minimum in four scoreless innings of work, allowing two hits (leadoff double by Kyle Martin in the second; leadoff single by TJ Costen in the fourth) with four strikeouts and one walk.
Costen, one of the bright spots on the day for the reserves, was quickly erased on a double play grounder by Connor Bright.
The reserves scored their only run on a RBI single by Seth Constable in the top of the seventh off the struggling Drake Thomason, who followed with a perfect top of the eighth.
The final run of the scrimmage was scored by the starters in the bottom of the eighth on a two-out RBI single by Greiner through the middle. However, Walker was thrown out at the plate by Costen to end the scrimmage.
After grounding out in his first three at-bats, Greiner finished the afternoon 2-for-5 with five RBI.
Costen played center field for the reserves and gunned down two base runners in consecutive innings. He threw out Brison Celek at third base to end the bottom of the seventh and then Walker an inning later.
The reserves managed six hits off three pitchers. Sidearmer Hunter Privette, a JUCO transfer from Florence-Darlington Tech, hurled the fifth and six innings before Thomas finished it.
Privette pitched a perfect fifth before allowing a pair of singles in the sixth. Three of the first four batters reached base against Thomas in the top of the seventh (two singles, HBP), but he wiggled out of the jam without major damage by striking out Ahmad Christian and getting Costen to ground into an inning-ending forceout at second.
There was a scary moment in the top of the seventh when Thomas plunked Jake Williams in the helmet with a pitch. But the senior from Greer, by way of Wofford, walked under his own power to first before being lifted for a pinch-runner.
Junior left-hander Tyler Webb pitched three effective innings against the starters, retiring all three batters he faced in the fourth. A walk and error started the fifth, but he set down the next three batters on a pair of flyouts and a groundout.
Webb issued a lead-off walk to Joey Pankake in the sixth and he quickly stole second. But he was stranded there on a popup, fly to left and comebacker to the mound.
"One of the strengths of our team is the pitching depth," Holbrook said. "We're a long way away from setting the roles, especially in the bullpen. We certainly feel good about the guys that will have the first opportunity to set the seventh, eighth and ninth innings out."
NOTES:
-- Holbrook said the second base job is "still kind of wide-open" with Chase Vergason still in front, but he is being pushed by Costen and Bright. Holbrook said Vergason "has a little bit of an edge," though things could change over the final six scrimmages. "It might go into the first month of the season," Holbrook said. "We might continue to give guys some opportunities once our season gets underway."
-- Holbrook said Pankake has the shortstop job nailed down.
-- Matt Price is scheduled to pitch on Saturday.
LINEUPS:
Visitors/Reserves: Ahmad Christian, TJ Costen, Connor Bright, Kyle Martin, Erik Payne, Dante Rosenberg, Sean Sullivan, Jake Williams, Seth Constable
Home/Starters: Evan Marzilli, Adam Matthews, Christian Walker, LB Dantzler, Grayson Greiner, Joey Pankake, Brison Celek, Tanner English, Chase Vergason
Pitchers:
Visitors: Patrick Sullivan (1-3), Tyler Webb (4-6), Logan Munson (7-8)
Home: Michael Roth (1-4), Hunter Privette (5-6), Drake Thomason (7-8)
Just because SIGNING DAY is over doesn't mean our coverage of the
big day stops. We have more analysis of USC's 2012 signing class, plus
all of our normal content on GamecockCentral.com. Don't miss a thing
FREE TRIAL.
D. McCallum