Dantzler shows off power in scrimmage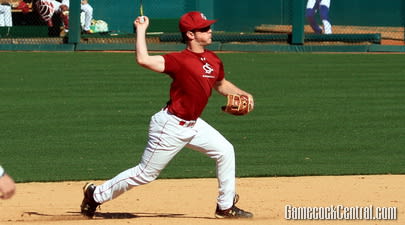 LB Dantzler likes to hit with two outs.
The transfer from State College of Florida (Manatee-Sarasota) slammed two home runs - one of them a towering grand slam - as the team consisting mainly of starters posted a 9-1 victory over the reserves in a six-inning scrimmage on Sunday at sunny Carolina Stadium in front of an estimated crowd of 1,250.
It was the last of three scrimmages conducted by the back-to-back national champions on the opening weekend of full team practice. The 2012 season opener is set for 3 p.m. on Feb. 17 against VMI in the first of a three-game series.
Dantzler ended the weekend with three homers as the 5-foot-11, 205-pounder from Winter Haven, Fla., showed off his impressive power. He also played solid defense at third base in his quest to replace Adrian Morales, a key component of USC's national championship squads.
"He had a pretty good weekend, no question about it," coach Ray Tanner said following the scrimmage. "I'm happy with what he has been able to do offensively and defensively. He proved himself in the fall and he's off to a great start this spring."
Dantzler (2-for-3) gave the starters an insurmountable 4-0 lead by homering into the USC bullpen beyond the right-center field fence with the bases full in the third. Two innings later in his next at-bat, he walloped a three-run blast off Al Hentz, who walked Evan Marzilli and plunked Christian Walker with a pitch before Dantzler drove an offering over the right-field wall onto the patch of grass in front of the walkway.
The starters added two more runs in the sixth when Joey Pankake singled, Dante Rosenberg doubled and T.J. Costen singled home a run. The final run scored on a groundout to first by Marzilli.
The starters collected nine hits overall, four for extra bases.
The reserves, meanwhile, were handcuffed by a trio of pitchers (Evan Beal, Vince Fiori and Thomas Little) until finally breaking through with a run in the bottom of the sixth on a single by Kyle Martin, who is expected to back up Walker at first base.
Beal, a talented 6-foot-3 freshman right-hander from Fairfax Station, Va., is expected to contribute this season as a mid-week starter or out of the bullpen.
Beal is another member of a freshman class that impressed Tanner this weekend with its level of play and demeanor on the field. The solid group includes Tanner English (2-for-4 in Sunday's scrimmage), Pankake and Grayson Greiner - all of whom are expected to start - along with Costen (2-for-3 on Sunday), Connor Bright and Jordan Montgomery.
"I like the fact the new players - the freshmen and a couple of junior-college guys - are playing with some pretty good energy and heightened awareness right now," Tanner said. "I didn't like our older guys so much. They didn't play poorly necessarily, but I want to see a little more energy from them.
"Some of those guys have stripes on their sleeves and it's practice, not game time, so I respect that. But I'd like to see more sense of urgency from those guys."
If anything, Tanner maintained, the promising young stars are too self-assured at times in the way they play.
"Sometimes, they're a little bit too confident about themselves," Tanner said. "But it's better to be that way than not. It's my job to tone that down a little bit and keep it in perspective. But they are a talented group and they can play a little bit. They will get some opportunities and I believe they will be successful as long as they're comfortable."
An intriguing question heading into the start of full team practice this weekend was how the middle infield would shape up in the wake of the departures of slick-fielding Scott Wingo and Peter Mooney, arguably the top double-play combination in the country last season.
Tanner was pleased by what he saw this weekend from Pankake and multiple second basemen, including Chase Vergason and Costen, although he wants to see more.
"It's OK right now, but it's still early," Tanner said. "They're starting to be a little more comfortable and they're showing some athleticism, which is good. When they relax a little and play like they're capable, they'll be OK."
Montgomery, a 6-foot-3 southpaw from Sumter, threw the first two innings for the reserve team on Sunday, facing a total of eight batters. He worked out of a two-out, two-on jam in the first before retiring the side in order in the second. He set down the final four batters he faced.
Montgomery is one of several capable young pitchers doting the roster, and most of them pitched well this weekend.
"I like the freshman arms," Tanner said. "They attacked a little bit, so it was pretty good from that standpoint. Montgomery showed he can throw a changeup at this level."
Ethan Carter, who spent last season at Louisburg (N.C.) College, made his first appearance Sunday for the Gamecocks since the 2010 season. The 6-foot-4 right-hander from Newport News, Va., surrendered Dantzler's two-out grand slam in the top of the third.
In the fourth, he allowed a one-out single, but the runner was quickly erased on a double play started by a liner to Erik Payne at third base. Despite Payne's play, the weekend was marked by ragged defense at times with a number of errors.
"Overall, it wasn't a bad weekend, though it got sloppy at times," Tanner said. "(It doesn't bother me) that much because it happened late in the game and people were involved that might not be on the field necessarily."
LINEUPS
Starters (Visitors): LF Tanner English, CF Evan Marzilli, RF Adam Matthews, 1B Christian Walker, 3B LB Dantzler, DH Brison Celek, SS Joey Pankake, C Dante Rosenberg, 2B TJ Costen
Reserves (Home): DH Ahmad Christian, SS Connor Bright, 1B Kyle Martin, C Grayson Greiner, 3B Erik Payne, LF Sean Sullivan, 2B Chase Vergason, RF Jake Williams, Tanner Lovick (DH), CF Seth Constable
PITCHERS:
Starters: Evan Beal (1-2), Vince Fiori (3-4), Thomas Little (5-6)
Reserves: Jordan Montgomery (1-2), Ethan Carter (3-4), Al Hentz (5-6)
SATURDAY: Solid pitching was the theme of the day as four hurlers led by Colby Holmes (2 IP, H, R, 2K, BB) limited the team consisting mostly of starters to four hits over seven innings. The reserves rallied with two runs in the fifth and two more in the seventh to pull out a 4-2 victory.
After scoring a run in the first on a walk, single and error, the starters took a 2-0 lead in the third off Adam Westmoreland on a RBI double by Walker to the right-center field gap. Their final hit came in the fourth on a lead-off triple by Payne, but Westmoreland induced three straight groundouts to prevent him from scoring.
Freshman Joel Seddon from St. Clair, Mich., silenced the starters' offense in the fifth and sixth, facing the minimum six batters. He fanned two of the first three hitters he faced. In the sixth, he issued a one-out walk to Dantzler, who was quickly erased on an inning-ending 5-4-3 double play grounder by Payne.
"He's a pretty good one," Tanner said. "He's a guy that is very confident as well. He has a quick arm. He's going to get a chance to pitch as a freshman. He's made that kind of impact already. Of course, how he pitches early will determine how much he gets later on."
The reserves battled to tie the score at 2-2 in the top of the fifth. Martin led off with a double, moved to third on a throwing error by Dantzler and scored on a groundout by Sullivan, a transfer from Winthrop. A single by Jake Williams (2-for-3, two RBIs) tied the score.
The reserves snapped a 2-2 tie with a pair of runs in the top of the seventh off JUCO transfer Josh Knab. With the bases loaded, consecutive RBI singles by Williams and the formerly suspended Tanner Lovick provided the winning runs.
Saturday's scrimmage marked the return of left-handed pitcher Nolan Belcher to action following a year off while recovering from Tommy John surgery. Belcher hurled the third and fourth innings against the reserves, allowing no runs and no hits with a pair of strikeouts.
A pair of errors allowed the only two base runners to reach off Belcher, but neither one advanced beyond first base.
"That was very encouraging," Tanner said. "I was glad to see Nolan out there. I know his teammates were hooting him a little bit, but he was good. He felt confident and his stuff was pretty good. That's nice to see from a guy that's been on the shelf a little bit. He can make a difference for us."
SIGNING DAY is almost here, and GamecockCentral.com will have loads of coverage leading up to and on the big day. Don't miss a thing with our 7-day FREE TRIAL.
With an annual membership to GamecockCentral.com, you save $20 per year. Plus, you get free text alerts with breaking news and access to premium content across the Rivals.com network. Best of all, you get coverage of Gamecock sports, recruiting and much more!
Click here to get it all
.


D. McCallum