Davis bounces back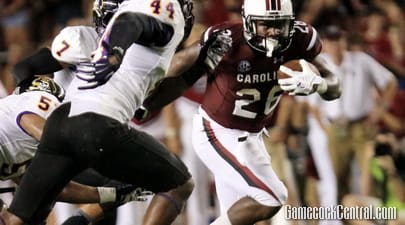 [rl]
What a difference 60 minutes of football can make.
Mike Davis rushed for 15 yards on six carries last week against Texas A&M, and his decision not to play after halftime with bruised ribs didn't sit well with some fans who took to social media to question his selflessness and toughness.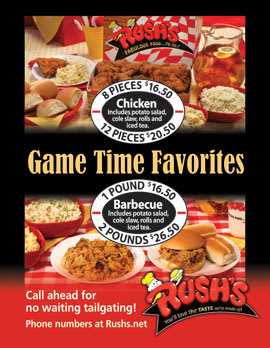 Click
Here
to view this Link.Davis didn't speak to the media after that game or over the next week and a half, but would take his place in front of a microphone again Saturday night.
Just minutes after helping South Carolina defeat East Carolina 33-23 to move to 1-1 on the season, Davis was a picture of humility.
"I don't care what people really say. I care about my teammates. I care about my team," said Davis, who rushed for more than 100 yards for the eighth time in his career. "As long as we win, I don't care what my stats are or how my performance is."
Perhaps more than any player on USC's roster, Davis had room to brag about his game Saturday night. His injury concerns behind him after having an extra few days to rest, the Atlanta, Georgia, native put the Gamecocks on the board for the first time near the end of the first quarter, bouncing a run outside and 36 yards downfield for a touchdown.
It was the first offensive touchdown the Pirates have surrendered this season.
"What I saw was Shaq Roland out there giving his all and blocking for me," Davis said later about the play, adding that his offensive line paved the way for him all night. "I can't do anything without those guys up front."
Davis was at it again in the second quarter, hurling himself through ECU's defensive line for a 3-yard touchdown to give USC a 17-13 lead with less than five minutes remaining in the half.
More than a week before, and just a day after the loss to Texas A&M, Davis tweeted, "Either way it goes I still love my team even if our own fans disrespect us."
He soon deleted the tweet - though not before a few news websites collected screenshots - and replaced it with a one stating "GamecockNation has the best fans."
All that seemed a distant memory Saturday night as the junior tailback gashed ECU's defense for 101 rushing yards and two scores on 18 carries.
Davis added three catches for 28 yards and nearly another touchdown, effectively silencing his critics for at least the next week.
"Mike's a special back. We know that," said redshirt senior quarterback Dylan Thompson, when went on to credit the offensive line for creating space for all of USC's tailbacks. "Those guys did a heck of a job. Mike had a great game. I think he was over 100. He's just a good player and works hard, and we're excited to have him on our team."
Davis described last week as "very frustrating," but said he and his teammates made a conscious effort to keep a positive attitude on the sideline Saturday night.
"That was really the goal, to come out and have fun," he said.
Leading a rushing attack that piled up 266 yards against the Pirates - who finished 13th in the nation in rushing defense a season ago - always helps.
"It was encouraging to run the ball," said head coach Steve Spurrier. "Mike and Brandon, obviously everybody in the ball park knew what play was coming, and we just kept handing it off and letting the clock run, which was crucial to beating these guys."
A swarm of questions surrounded Davis' short outing last week against Texas A&M, but just one seemed to emerge from Saturday night's contest. Why didn't he get the ball more?
"That's not up to me," Davis said. "That's the coach's decision. Whatever gameplan we have, I'm down for it. I'm not looking to go to the coach and say I want the ball.
"Whatever helps us win the game, I'm always down for it."

Click
Here
to view this Link.