Davis healthy, ready to lead rushing game against Georgia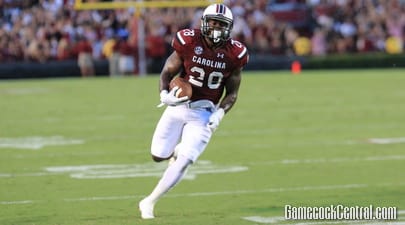 [rl]
South Carolina's rushing attack could decide the Gamecocks' fate against Georgia this Saturday. Fortunately for USC, junior tailback Mike Davis - who a week ago missed practice and half of the Texas A&M game with bruised ribs - is ready to lead it.
"Mike's healthy," said running backs coach Everette Sands. "He's ready to roll. He's going to be good."

"I think I rushed myself out there, and ended up cutting a guy and getting kneed in the ribs and re-injuring them worse," Davis said Wednesday of his disappointing season debut. "I went into halftime, sat down for 10 minutes, tried to come out and jog on the field, and my body wouldn't let me."
The Gamecocks, who have since dropped to the No. 24 ranking from No. 9, got a stellar performance from Davis a week later in a 33-23 victory over East Carolina, with the junior tailback rushing for 101 yards and two touchdowns.
"It felt good to be back out there just having fun with my teammates," Davis said. "I love those guys to death. I'd go out there and do anything for those guys, even lay my body on the line for them.
Davis' teammates may need a similar outing from the Atlanta, Georgia, native to survive a visit from No. 6 Georgia this weekend. The rushing battle has proven paramount in recent meetings between USC and Georgia, with the team that rushed for more yards winning eight of the last 10 contests.
"I think it helps settle everybody down a little bit when you can get that run game going early, and we've got to do that," said quarterbacks coach G.A. Mangus. "We've got to be able to stay balanced, move the chains and stay on the field."
Mangus pointed to the Texas A&M loss, when USC fell behind early and tried to pass its way back into the game, as an illustration of USC's need for offensive balance.
"The running game's a quarterback's best buddy, always has been," said Mangus. "If you can run the ball and stay balanced, a lot of things open up."
Offensive line coach Shawn Elliott said establishing the running game can work wonders for the line's pride.
"That's something that gets you juiced up," Elliott said. "You want to be able to go out there and be able to move the football against those guys. It's something that we talk about doing."
Elliott specifically mentioned USC's final, 18-play drive against ECU, which took 10:33 off the clock and concluded with the Gamecocks kicking a field goal to take a 10-point lead. The drive featured 12 rushes, including a stretch where the Gamecocks ran the ball nine straight times.
"It's very satisfying to go out there and do it when I think everybody in the stadium could have told you what we had to go do," said Elliott.
The Gamecocks are hoping for similar ground success against the Bulldogs, who limited Clemson to a measly 88 rushing yards in their season opener.
"Georgia's got a great front," said Elliott. "They've got a heck of a defensive coordinator. It's going to be a great challenge for our group."
Head coach Steve Spurrier said earlier this week that Davis would probably get his first start of the season at tailback, and it's likely 5-foot-9, 223-pound back will shoulder the bulk of USC's carries against the Bulldogs.
Davis rushed for 149 yards and a touchdown in a 41-30 loss at Georgia last year, and says he has confidence his teammates - and specifically the offensive line - will pave the way for another successful offensive attack Saturday.
"We're going to take it one play at a time and go out there with enthusiasm and spirit and try to have fun," he said.
NOTES.
--- Davis said he was upset and not being able to play the second half against Texas A&M.
"It's frustrating when you can't come out at halftime and go out on the field," Davis said. "It's frustrating going out there watching and seeing my guys and not being out there with them."
--- Davis was quick to dispel the notion that he and Georgia tailback Todd Gurley are rivals. He and Gurley have a good relationship free of trash talk, Davis said.
"We're good friends," he said. "There's no competition between me and him. We both want to see each other do good. He's over there rooting for me, and I'm rooting for him. We just hope we do good."

Click
Here
to view this Link.