Dawn Staley preparing to "expect the unexpected" with new group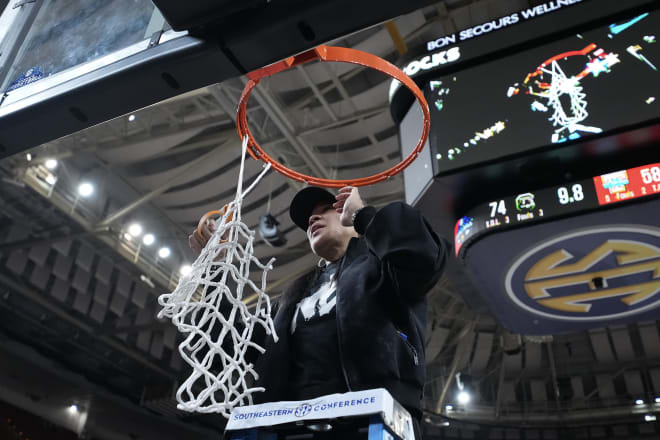 Walking into the gym is almost disorienting.
No Aliyah Boston. No Zia Cooke. No Brea Beal. No Victaria Saxton. No Olivia Thompson.
Laeticia Amihere was technically present, but wearing sweatpants and watching from the sidelines as a returning alum after completing her first WNBA season.
If the reality of this completely new era of South Carolina women's basketball was not real before, it definitely is before after day one of practice.
"This is a totally different group," Dawn Staley said. "The slate is wiped clean, this is all about this group. It's not a bad thing, it's new. We can't erase what took place from the last four years, but we can start anew and give this group its own identity."
Building an identity is going to be the central focus for this group with five newcomers out of 11 players. Sakima Walker and Te-Hina PaoPao are in as transfers, and the true freshman class of MiLaysia FulWiley, Sahnya Jah and Tessa Johnson will have to grow up quickly. All five starters — however Staley chooses to shuffle the deck — will be new after losing the Freshies class as well as point guard Kierra Fletcher off the 2022-23 team.
This is as dramatic an overhaul as you will see for a program maintaining championship aspirations anywhere in college sports, and it is going to take some time. A tough non-conference schedule featuring the likes of Notre Dame, Maryland, North Carolina and Duke before the season is even a month old will be a quick barometer for where the process of building an identity is.
Especially after losing Boston and her bread-and-butter post offense, this team is going to be heavily reliant on the perimeter game. It was part of the incentive behind landing PaoPao and her 42.4 percent 3-point shooting clip from Oregon in the transfer portal. And in a lot of ways, it stems from an increased optimism around Raven Johnson after she showed significant flashes as a passer and driver last season, but knows she still has another gear to go up shooting and defensively.
"Last year was a learning experience learning off Kierra," Johnson said. "She was that fifth-year senior and had that experience. I'm glad to have her, but I think this year I'm ready to take over the role and get back to that championship."
And then there is the question of leadership. Part of the natural progression of having so many experienced players is you always know where to look for leadership, both vocally and by example. This year there is a vacuum the staff is still waiting for someone, or several players, to step into.
Kamilla Cardoso is the leader in terms of playing time as a fourth-year player in her third at South Carolina. Bree Hall and Sania Feagin are the most experienced players in terms of basketball in Columbia, both two seasons into their careers and potentially looking at junior year jumps into the starting lineup.
"It shifts every day," Staley said about leadership. "Who do we want to be a leader? We want Kamilla to be a leader. We want Breezy to be a leader. We want this team to collectively understand what they need to do. Like if you're given a choice, err on the side of the right thing to do. And that is an individual thing. But until we get that leadership part up to speed, coaches up to speed."
Even PaoPao already feels like an emerging leader with 77 career games under her belt in Eugene.
"I feel like I'm the most experienced guard on the whole team," PaoPao said. "I'm learning off them, they're learning off me, it's just a two-way street."
Regardless of who steps into leadership roles, who the starting five is in game one or what this team's identity looks like, it is going to be a work in progress. The coaching staff has two new faces with Khadijah Sessions and Winston Gandy's arrivals. Even the location of the season-opener is all new with the historic trip to Paris to take on Notre Dame coming in just 39 days.
"I see some things defensively that mirror how we play," Staley said. "I see some things offensively that are pretty good considering who we had. So I just think we can expect the unexpected, which isn't a bad thing. It's just we expected the expected for the past four years, and we don't have that luxury. But this team has a chance to be pretty good."
Welcome to the 2023-24 season, the year of the blank canvas. It might end up being a "pretty good" one, or even better.
***********************************************************************
Looking for a place to talk about all things South Carolina women's basketball? Head on over to the Insider's Forum to discuss your thoughts.