Defense prepares for tough test with video
[rl]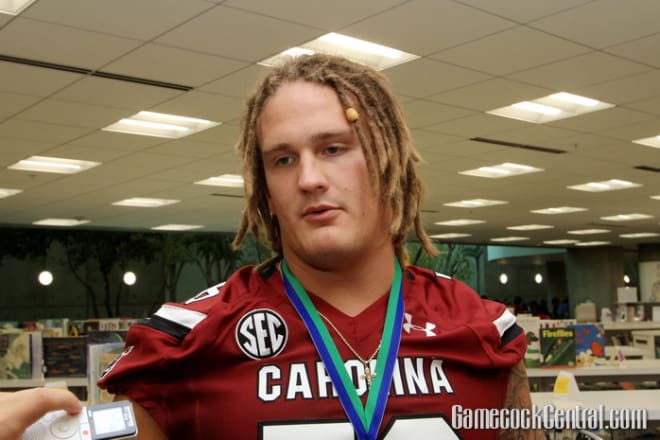 South Carolina defensive coordinator Lorenzo Ward's defense will face one of its toughest tests of the season this weekend when the Gamecocks travel to Auburn for a 7:30 p.m. showdown with the Tigers on the SEC Network.
The Gamecocks' defense, which has struggled for much of the season, especially against the run, will attempt to slow down Gus Malzahn's high-powered, hurry-up, no-huddle offense that, on paper, represents a bad match-up for Carolina.
Not only do the Tigers use a fast pace to keep an opponent from being able to make many changes from one play to the next, but Malzahn's system also features plenty of extra motions, shifts and fakes to keep defenses guessing and a step slow.
"You have to be really sound on what you do on defense because they give you a lot of different formations, a lot of different shifting movement," Ward said. "You have to make sure you fit where you're supposed to fit based on the defense that's called to even have a chance. Then if you do that, you still have to be physical and we've got to do a great job of gang tackling the running back and the quarterback."
Running back Cameron Artis-Payne paces the Tigers' ground game by averaging around 110 yards per game. He's rushed for 664 yards and five touchdowns. As a team, the Tigers average 262 yards per game on the ground, good for third in the conference behind just Georgia and Mississippi State.
"Hopefully we can go and play the way we did against Georgia," Ward said. "If we play with that level of emotion and that level of enthusiasm, we'll have a chance."
The Tigers are third in the conference in scoring offense with a 38.8 points per game average and fourth in the conference in total offense with a 487.8 yards per game average.
With South Carolina's defensive struggles this season, its focus in practice the last two weeks has been on tackling and on forcing turnovers. Ward has implemented a three-turnover rule, meaning force three turnovers in each practice or face the consequences after.
"The guys are conscious of getting the ball when it's in the air, they're conscious of intercepting it," Ward said. "When guys are running the ball, they're conscious of pulling it out. The things that you do in practice are the things that you do in the ball game, so hopefully we can get turnovers. We're going to have to get turnovers if we're going to win this ballgame."
On the injury front, South Carolina senior defensive tackle J.T. Surratt returned to practice Thursday and will play Saturday after missing the rest of the week of practice with a hamstring injury. Ward wasn't sure if he would start. Linebacker Jonathan Walton will also play, while defensive end Mason Harris will not.
Ward said that freshman Bryson Allen-Williams has been moved to defensive end from linebacker for the rest of the season. Ward said the coaches were still deciding who would start at the defensive end position opposite of Gerald Dixon, but it would likely be Darius English, though David Johnson will definitely play.
While Chris Moody will get the start at free safety, Chaz Elder has moved back up the depth chart and is second string now after falling behind Moody and D.J. Smith.
"I think Chaz has shown this week that he's been focused and making the proper checks and fitting the run right," Ward said. "He's shown he's ready to play. And if you show us you're ready to play, you're going to play."
While former South Carolina defensive coordinator Ellis Johnson, who is Ward's close friend and mentor, now runs Auburn's defense, Ward said that's not even on his list of worries this week.
"I promise you I haven't even thought about it, because it's just the nature of this business," Ward said. "You're going to always face some people that either you coached with or you're friends with, so the bottom line in this game is winning. We're going down there to try to win regardless of who is on the other sideline."