Defensive coaches given vote of confidence
[rl]
After watching the beleaguered South Carolina defense surrender 445 or more yards for the fourth time in eight games this season - and 550 or more yards for the second time - conventional wisdom says Steve Spurrier is itching to make changes on his defensive coaching staff following Saturday night's 42-35 loss at Auburn.
However, Spurrier will let the season run its course before considering any changes, although he expressed disappointment Sunday about how the unit has performed overall in 2014.
Saturday night, Auburn scored touchdowns on six of eight possessions, including 37-and 75-yard TD runs by Nick Marshall and Ricardo Louis, and amassed 551 yards of total offense in the shootout at Jordan-Hare Stadium.
"Certainly, certainly," Spurrier said Sunday during his weekly teleconference with reporters when asked if he still had confidence in the defensive coaches. "They were here for our first 11-win season and Lorenzo (Ward) has been the coordinator for the last two seasons.
"We're coaching very similarly to what we used to do. We do have a lot of young, different players out there. It is a different defense from last year. We thought we would be a little bit better than what we have been so far, but it hasn't worked out that way."
Contending "we're not talking any changes or anything like that," Spurrier pointed out most of USC's assistants have "security" in the form of multi-year contracts.
"We're just trying to win us a ballgame this week, that's what we need to put our focus on," Spurrier said.
Through eight games, USC is allowing 437.5 yards per game and opposing offenses are converting 43.6 percent of third down opportunities (41-of-94). Auburn was 6-of-8 on third downs.
Not surprisingly, the confidence level of the Gamecock defense is "not real good" at the moment, Spurrier said.
"Obviously, the coaches are disappointed," Spurrier said. "They're trying as hard as they can to put the guys in position. We're out of position a lot. We get blocked a lot and we don't tackle very well. When all three of those things happen, the other team goes up and down the field quite a bit.
"We have to get something positive to hang our hats on."
Will Spurrier step in and become involved in coaching the defense like he did with special teams after USC allowed two kickoff returns for touchdowns in Nashville on Sept. 20.
"I've tried, mainly after the Vandy and Kentucky games, but it got to the point where (I had to step away)," Spurrier said. "I've coached offense and called plays. That's what I've done my entire coaching career. I can't coach it all. But myself and the defensive coaches have not done a very good job this year."
The Gamecocks could be without leading tackler Skai Moore when they face Tennessee Saturday (7:30 p.m., SEC Network) at Williams-Brice Stadium in a key game for both teams in terms of bowl eligibility. Moore suffered a sprained ankle in the loss at Auburn and was described by Spurrier as "maybe doubtful" for the annual matchup with the Vols.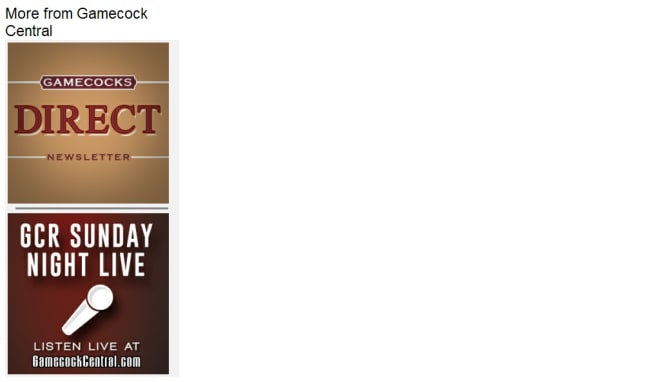 While the USC defense never figured out how to stop the Auburn offense, the Gamecock offense continually made mistakes in the red zone with two interceptions and a turnover on downs. USC was 2-of-5 scoring in red zone (40 percent), a significant dropoff from the first seven game when it was 27-of-28 (96.4 pct.) scoring in the red zone.
"We had been very good scoring in the red zone, but all of a sudden we missed a fourth down and had a couple of passes picked off down there," Spurrier said. "We had some errant plays in the red zone. It ended up being a big difference in the game. It was obviously a high-scoring game and both teams needed to score. We messed up three times down there and Auburn did not mess up at all with no turnovers (in the red zone).
"Had we forced some field goals and maybe forced a turnover, we would have been right there. Most of our guys played with pretty good effort. We're a struggling bunch of guys on defense right now. We know that. Offensively, we had to have a real good game, but the turnovers in the red zone turned it into a good game, but not a great game by any means. And we all became a loser."
USC's red zone difficulties against Auburn could find a cure in the form of the Tennessee defense on Saturday night at Williams-Brice Stadium. The Vols are last in the SEC in red zone defense as they have yet to stop any opponent inside the 20-yard line in the first eight games of the season.
Tennessee opponents have scored on all 17 trips inside the red zone this season.
Saturday night, Tennessee fell behind, 27-0, to rival Alabama early in the second quarter before mounting a rally that saw the Vols pull within 27-17 with just under six minutes remaining in the third quarter.
However, Alabama scored a touchdown and held the Vols to a field goal over the final 20 minutes as the Crimson Tide held on for a 34-20 victory at Neyland Stadium.
Tennessee posted wins over Utah State and Arkansas State to start the season, but have lost five of six games since then, with the lone win coming over Chattanooga, a FCS school. They lost by three points at Georgia (35-32) and by a single point at home to Florida (10-9), and were drubbed by Ole Miss (34-3).
"They are one of our four big rivals along with Florida, Georgia and Clemson," Spurrier said. "Hopefully, we'll get ready to play our best. Tennessee has a very good team. Their record is about like ours. They are playing with a lot of effort and energy. They have a young group of players that are really giving it all they've got. Hopefully, we can get the fans and everybody pumped up and try to have a real big game."
NOTES:
-- Spurrier shrugged off SEC officials missing the fact Auburn had two players wearing No. 1 on the field on the Hail Mary pass, which should have been a penalty. Spurrier said USC got some good calls too during the course of the game. "We don't have any complaints about the officiating," Spurrier said.
-- Spurrier hinted Auburn's pressure on Dylan Thompson "didn't help" in terms of forcing his first two interceptions. "He could have made some better throws, he'll tell you that," Spurrier said.
-- Spurrier on USC gambling on fourth down six times during the game: "They kept hitting for us and they gave us a chance to win the game. We got stuffed many times, but kept drives going. We were able to stay on the field. We told our (offensive) players that we were going to give them a chance to win the game. Right now, with the way our defense is playing, it's obvious that regardless of where they (opposing offense) started, it doesn't make much difference."
-- Spurrier recalled how dominant the USC defense was in the first scrimmage in August, but lamented how "things have changed."
-- The SEC has three of the top five teams, and five of the top nine teams, in the latest AP poll released Sunday afternoon. Here is the Top 10 in the AP poll:
1. Mississippi State
2. Florida State
3. Alabama
4. Auburn
5. Oregon
6. Notre Dame
7. Ole Miss
8. Michigan State
9. Georgia
10. TCU
DM