Elliott eyes developing young O-Line talent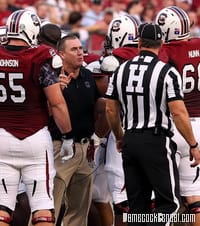 Early last season, South Carolina started three seniors on the offensive line.
Chances are, that won't happen in 2012.
In fact, USC's offensive line could feature four starters that are freshmen or sophomores in addition to senior center T.J. Johnson, a mainstay on the O-Line for three seasons.
The youth movement is the byproduct of USC's emphasis on signing quality offensive linemen for the past three recruiting cycles. Since 2010, the Gamecocks have signed a quartet of four-star offensive line prospects: A.J. Cann (2010), Brandon Shell (2011), Joe Harris (2-12) and Brock Stadnik (2012).
The Gamecocks could see their recent solid offensive line recruiting pay dividends in 2012. Offensive line coach Shawn Elliott plans to take advantage of the depth and experiment this spring with a variety of lineup to find the best combinations for the season.
"We're going to throw a bunch of little scenarios out there this spring to see what falls together and see what works the best," Elliott told 107.5 FM The Game, USC's flagship station, recently. "Then we'll go from there."
Youngsters must step up because USC is losing three seniors from the 2011 team - guard Terrence Campbell, right tackle Rokevious Watkins and left tackle Kyle Nunn.
Watkins started at three different positions in 2011 - right tackle, left tackle and right guard.
"He was right guard for 12 games a year ago and had to switch up to the right tackle spot this past season," Elliott said. "When Kyle Nunn went down, we had to make an adjustment and move him to left tackle. He could have played center. He was so unselfish. That's something we're going to miss. It's not easy to go from right tackle to left tackle. It's very difficult. It's not something every guy can do. That's why I try to teach the incoming freshmen all the positions up front and cross-train them."
Campbell missed the bowl game with a broken fibula suffered against Clemson, but his experience and leadership were invaluable up front for the entire regular season.
"He was a great leader for us this past season," Elliott said. "He brought enthusiasm and effort to our football team. Practices were made fun by his attitude and the enjoyment he had out there. He played very well for us. I'll miss his smile and his energy in the meeting room and on the practice field."
Nunn suffered a back injury in September and was forced to miss the final eight regular season games. But he returned to play every snap at left tackle in the Capital One Bowl in his final appearance as a Gamecock.
"You could say our best four games came at the start of this past season when we had Kyle playing left tackle, Rokevious playing right tackle and Terrence inside," Elliott said. "Those were the best four games we put together in a long time as far as offensive line play was concerned. It was very solid. I don't think we gave up many sacks (four) in those first four games.
"Kyle was a solid player for us. He was a tough, hard-nosed guy. He wasn't always the happy guy. He usually had a frown on his face. But you knew on Saturday he was going to give it his all and go out there and bust his tail for USC. When he went down it was a tough situation since it was his senior year. I knew it would affect our football team for a few games there. Coming back and playing four solid quarters in the bowl game was outstanding. He pushed through it. I was happy he was able to go out the way he did."
Assuming all five 2012 signees qualify academically under NCAA rules, the USC offensive line will feature eight true or redshirt freshmen out of the 15 O-linemen projected for the 2012 roster.
Only three will be seniors: T.J. Johnson, Kenny Davis and Kaleb Broome. Out of that group, only Johnson has seen significant action. Broome is a junior college transfer that played sparingly in 2011, while Davis is a converted defensive lineman still learning the techniques of playing offensive line.
The 2012 roster will also feature only one junior - Ronald Patrick. After undergoing surgery last March to remove a cyst behind his eye, the Cocoa, Fla., native moved back to his more familiar position of guard last season after spending 2011 as Johnson's backup at center. He appeared in nine games last season.
Patrick's shining moment last season was the second half of the Clemson game when he filled in for the injured Campbell.
"Ronald Patrick came in and did well in the Clemson game. But of course he has to get a lot better and become a more focused football player," Elliott said. "Do I think he has the ability to start and become a great football player? Yes, I do."
Elliott hopes Cody Gibson and Mike Matulis are able to build on the valuable experience they gained in 2011 by playing for the first times in their careers.
Gibson suffered a major setback last August when a broken kneecap sidelined him for over a month. He played in eight of the last 10 games, starting four at right tackle.
"Cody Gibson is going to be a solid player," Elliott said. "It's difficult to come in and play as a redshirt freshman or true freshman in the SEC because you have to be big and strong. When we signed him, Cody was probably undersized strength-wise and had to build up.
"But he is maturing. He had a great spring a year ago. He showed a lot of promise after missing some time because of the kneecap. That set him back, and it continued to do so. He never could get back into rhythm. He is a guy that has to step up."
Another young, promising offensive lineman sidetracked by an injury in 2011 was Brandon Shell, who underwent shoulder injury last spring when he was still attending Goose Creek (S.C.) High School. The aftermath of the injury lingered into August, so the coaches decided to redshirt Shell.
With his enormous size (6-6, 322 pounds) and ability, Shell could earn a starting tackle spot in 2012.
"I'm really going to push Brandon Shell," Elliott said. "Brandon has all the physical tools. His athleticism and size is something you look for. But we have to get him physical and get him tough and get him nasty. I'm really going to push him to grow up and try to man one of those tackle positions as quickly as possible. We'll see if he is willing to accept a role and become a good player for us."
Looking for a dark horse? Elliott likes what he has seen from redshirt freshmen Will Sport (Milton, Fla.), who arrived at USC last summer with little fanfare, but could develop physically and mentally into a solid offensive lineman.
"Will Sport is a guy nobody talks about, but he has transitioned his body from the time he came in," Elliott said. "He is physically mature now. He is one of our hardest workers we have in the weight room. I'm anxious to see what he can do. He is going to play both inside and outside."
Another redshirt freshman expected to get a long look in spring practice is Kyle Harris (Silver Creek, Ga.), Elliott said.
"Kyle Harris is gritty. He can throw it around with the best of them," Elliott said. "When you go into a fight, you want to fight with him because he has your back and he's going to bring it every day."
CLASS BREAKDOWN OF 2012 USC OFFENSIVE LINE:
Seniors: Kaleb Broome, Kenny Davis, T.J. Johnson;
Juniors: Ronald Patrick;
Sophomores: A.J. Cann (RS), Cody Gibson (RS), Mike Matulis;
Redshirt Freshmen: Kyle Harris, Brandon Shell, Will Sport;
True Freshmen: Joe Harris, Brock Stadnik, Clayton Stadnik, Cody Waldrop, Mason Zandi.
Note: Scholarship players only.


D. McCallum