ESPN analysts talk South Carolina
[rl]
CHARLOTTE, N.C.: When ESPN college basketball analysts Seth Greenberg and Sean Farnham take a look at South Carolina's basketball team, they tend to see the big picture.
It depicts a reputable head coach trying to turn around a program that hasn't reached the NCAA Tournament since 2004. And Greenberg and Farnham say he needs more time to do it.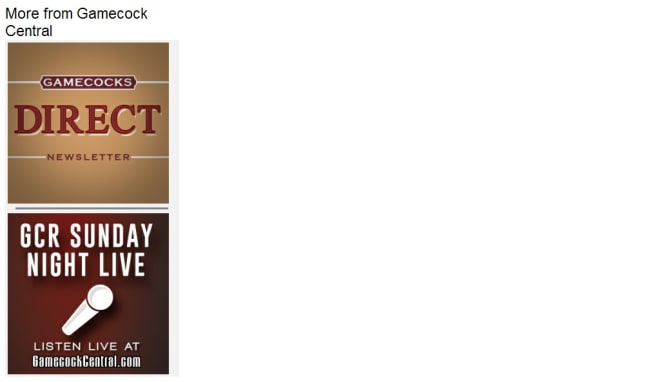 Martin, who is 28-38 since taking over at USC, had a hefty job trying to pick up those pieces and build something of his own, Greenberg said.
"It's a process," said Greenberg, a three-time ACC Coach of the Year with 22 years of head coaching experience. "It's 100 percent a process. And a process means no quick fixes."
A panel of SEC and national media recently selected the Gamecocks to finish 12th out of 14 SEC teams this season. Farnham said the conference should be much stronger this season, adding that five teams - Kentucky, Florida, LSU, Arkansas and Georgia - should be considered NCAA Tournament teams.
But a day after attending one of USC's practices and getting a look at senior guard Ty Johnson and sophomore guard Sindarius Thornwell, Farnham said the Gamecocks should be able to contend in the near future.
"You look at what Frank's doing; he's building it the right way," Farnham said. "I think they're still maybe a year or two away from moving into the top tier of the conference, but can they move up in this conference? Can they be a better team this year? There's no doubt."
Greenberg said Martin has to be given time to string together several of his own recruiting classes so he can "create his culture in his own image."
The culture was already in place when Martin took his first head coaching job in 2007 at Kansas State, Greenberg said, noting that Martin inherited a talented team when Bob Huggins departed Manhattan, Kansas, for the West Virginia job.
Martin's task at USC is entirely different, Greenberg said.
"South Carolina's a tough job," said Greenberg. "It kind of seduces you because of the campus and the facilities, but if you look, a lot of really good coaches have struggled there, no better than Eddie Fogler or Dave Odom. And Eddie probably did the best job of all of them.
"Frank will get it done. People need to be patient. I'm not sure that's a word that exists in the culture of college athletics today, but if they're patient, he'll get it done. He's just got to get multiple classes with his type of guys that buy into his mindset and culture."
Patience in USC's case may mean tempering expectations for the upcoming season. Farnham said that USC may have improved markedly from last season, but that the rest of the conference has improved even more, making every SEC victory harder to come by.
"They can improve, but maybe their record doesn't improve all that much because the conference has improved so much," Farnham said.
So, what's realistic for the 2014-15 Gamecocks?
"If they can qualify for a postseason tournament, I think that that's a good year," Farnham said. "I think that's a step in the right direction for the Gamecocks. Obviously, they probably have higher aspirations, and they should."