Facility upgrades: $154 million and counting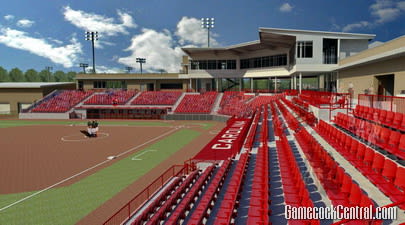 For most people, the sum of $154.26 million is an incomprehensible figure.
But that's exactly how much money USC has spent or committed to spend in the last five years towards upgrading or building new athletic facilities.
And that figure doesn't include the $40 million the school has spent on deferred maintenance. When you factor that sum into the equation, the total amount spent on athletics-related projects since 2006 approaches $200 million.
Yes, it's a mountain of money. However, USC officials say the expenditures were necessary to remain competitive in the SEC and to fulfill promises made to the conference 20 years ago that the school would improve their athletic facilities.
Hence, the YES program and other fund-raising efforts to raise the necessary capital to build urgently needed new facilities.
"We really needed to address our facilities," USC athletic director Eric Hyman said Monday night during the 'Inside the Roost' program on 107.5 FM The Game. "Across the board, we are enhancing the chances of our programs to compete on a high level in the SEC, which is very difficult to do. We promised the SEC we would enhance our facilities, but we hadn't really fulfilled that promise."
The latest project to be completed is the new tennis center, which was formally dedicated on Monday with a ceremony at the $4.5 million facility described as state-of-the-art. It is expected to produce a renaissance of the USC tennis programs.
"The facility is second to none," Hyman said. "We've gone from near the bottom as far as facilities in tennis to near the top. We're not going to take a back seat to anybody in the country. This will enhance the opportunity for our coaches to recruit on a very competitive basis with the top schools in the SEC. All Gamecock fans should be proud of this facility. It's phenomenal."
According to documents provided by the USC athletic department, 32 projects have been completed, including the baseball stadium, the Dodie Academic Center, parking garage and several key improvements at Williams-Brice Stadium for the football program.
The next major project for "The Roost" area? A sparkling new $8 million softball stadium. Construction is scheduled to begin soon after the conclusion of the 2012 season.
In addition, more than 600 trees will be planted throughout the Roost area by the beginning of the summer, beautifying the area.
"Young people want to see the tangible evidence that you are committed to having a top caliber SEC program," Hyman told reporters Monday afternoon following the dedication ceremony for the new tennis complex. "In tennis, now we do. In softball, we will in the future. Across the board, we've tried to enhance to our support through facilities for our student-athletes. It's not all about facilities, but it is a very important part of the decision-making process."
Several critically important projects remain under construction (Farmer's Market, athletics administration building, high-definition video board at Williams-Brice Stadium) and should be completed by the end of August, while others are awaiting the imminent start of assembly (softball stadium, Athletics Village infrastructure).
The general contractor for the Farmer's Market project is currently working on laying underground utility lines and grading the site.
Hyman maintained Monday night that the Farmer's Market and video board are "tracking on the appropriate time line we anticipated."
"Everything looks like they will (be finished) before football season, but that was our intent all along," Hyman said. "People can visually see the Farmer's Market and the transformation that is taking place there."
Some leaders of the university understand why fans could be taken aback by the amount of money being spent on athletics-related projects. But they quickly add spending so much money was necessary to catchup to their conference rivals.
"I think it is difficult sometimes to comprehend that kind of money being spent on athletic facilities," Chuck Allen, a prominent member of the Board of Trustees, told Gamecock Central. "But the SEC is the best conference in America. If you're going to compete, you don't have a choice.
"Frankly, we had gotten behind a few years ago. So, some of this is just catching up. We had lacked a vision for the future about facilities. But it is abundantly clear what we've done the last three or four years has affected recruiting (in a positive way). Almost every kid we sign makes a comment about being wowed by our facilities."
The new administration building (a/k/a coaches support building) located adjacent to the Dodie will be known as the Rice Athletic Center. It is scheduled to open in June.
Still more multi-million undertakings (indoor practice facility; football practice fields) are in the pipeline awaiting full funding and the mandatory approvals by the appropriate government agencies.
"People need to envision the amount of time it has taken to be able to do all these facilities in five years," Hyman said. "And the $154 million doesn't include the $40 million we've put into the infrastructure and all the deferred maintenance projects. We've made a tremendous commitment to the facilities over a five-year period. It takes a while to plan it. These projects are going to have a 20, 30 or 40-year impact. So you have to make sure you do it the right way."
Two minor projects (less than $500,000) are planned for the east side of Williams-Brice Stadium over the next couple of years - waterproofing the East upper deck and constructing a new women's restroom with 23 stalls.
USC has agreed to a new five-year lease with the National Guard for the Proving Grounds ($156,000 per year), but the contract contains a unilateral opt-out clause for the school in the event the new practice fields are completed before expiration of the lease in 2016.
Once those latter projects are done (hopefully by 2015), USC officials will turn their attention to Phase III of the Athletics Village, which includes a basketball practice facility, athletics performance center (locker rooms, weight-lifting, sports medicine, etc.) and major enhancements to the track and field facility.
Construction of those Phase III projects is not expected to begin until 2016, at the earliest. Currently, they are estimated to cost at least $41 million to build.
Here are updates on three ongoing projects affecting the USC football program:
Video Scoreboard: Bids for the first stage of the massive project (installation of the support structures and steel beams) were opened on Feb. 7. The lowest bid submitted was $2.06 million by Burkwood Construction. Work is tentatively set to begin on Feb. 20. Four video board manufacturers attended a pre-proposal meeting at Williams-Brice Stadium on Feb. 6. The deadline to submit proposals was Feb. 13. The final decision on which proposal to accept will be made on Feb. 24. At that time, the purchase order will be submitted.
Football Practice Fields: The estimated cost of the twin practice fields is $3 million. USC officials hope to start construction by July 2014 with the anticipation the fields - they'll be located on the west side of the Farmer's Market site - will be ready a year later in time for the 2015 season. The project will encompass twin turf fields, film towers, goal posts, grading, drainage, lighting and irrigation. USC has 50 percent ($1.5 million) of the project's total cost already in the bank. Phase I approval was granted by the Board of Trustees last Friday, the first step in the 18 to 24-month approval process.
Indoor Practice Facility: The total project cost is $14 million, all of which will be raised through private donations. The 86,000 square foot building is awaiting Phase II approval and will be located in the southwest corner of the Farmer's Market site across the street from the Proving Grounds. Since Phase I approval has been given, USC is now in the process of hiring an architect to design the building. The indoor field will be 133.3 yards long by 66.7 yards wide, sufficient for a full length (120 yards, including end zones) football field.
ATHLETIC FACILITY PROJECTS:
Carolina Stadium - $39.83 million
Farmer's Market - $30.5 million (includes purchase price of $15 million for land)
Athletics Village Infrastructure - $16.6 million
Dodie Academic Center - $12.6 million
Rice Athletic Center (Ath. Admin.) - $11.7 million
Softball Stadium - $8 million
Parking Garage - $7 million
Video Board and Control Room - $6.5 million
Tennis Center - $4.48 million
Williams-Brice Suites - $3.73 million
Williams-Brice Champions Clubs - $2.2 million
Williams-Brice Training Room - $2.2 million
Colonial Life Arena Locker Room - $1.0 million
Onewood Farm (Equestrian) - $879,000
Williams-Brice Locker Rooms - $791,530
Williams-Brice Recruiting Room - $636,000
Coliseum Locker Room - $515,000
Swimming and Diving Facility - $495,000
Williams-Brice Stadium Feasibility Study - $495,000
Stone Stadium Field - $494,000
Williams-Brice Crews Weight Room Facility - $462,000
Williams-Brice Football Lobby - $381,000
McGuire Club at Colonial Life - $369,000
Basketball Coaches Offices - $367,000
Softball Field (drainage, landscaping, etc.) - $360,000
Colonial Life Area LED scoreboards - $357,000
Volleyball offices - $340,000
Stone Stadium Scoreboard - $230,000
Track Complex Improvements - $241,000
Williams-Brice Seating - $226,000
Softball Stadium Scoreboard - $216,000
Colonial Center Weight Room - $82,000
TOTAL: $154,263,713.
FUTURE ATHLETICS PROJECTS:
Indoor Practice Facility (Football) - $14 million (Awaiting Phase II approval)
Practice Fields (Football) - $3 million
Athletics Performance Center - $15 million (Phase III; 2016 or later)
Track Complex - $8.8 million (Phase III; 2016 or later)
Basketball Practice Facility - TBD (Phase III; 2016 or later).


D. McCallum