Fish Story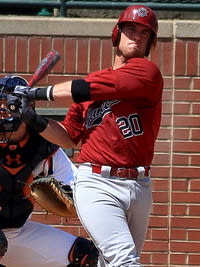 AUBURN, Ala. - South Carolina is winning again.
Which means that it's time for a new fad.
Two years after the Avatar Spirit Stick and one year after gettin' crunk, the No. 9 Gamecocks have a new rallying point. After beating Auburn 11-7 on Sunday to sweep the series, giving them eight straight SEC wins and four straight series wins to climb within two games of first place in the league, USC went public with its new motto.
"Fear the Fish."
Don't be surprised if the Gamecocks suddenly start meeting teammates at the plate after a home run with a hand placed perpendicular on their heads, looking like a dorsal fin. Don't also be surprised if relief pitcher Patrick Sullivan is toting a small plastic container to the bullpen before every game, carrying it more delicately than the two national championship trophies when carried by staffers to the center field display case.
The container and the inspiration for it comes from third baseman LB Dantzler, who had a problem and took care of it in the vein of former everyman Robert Beary. Beary claimed that he once nursed two baby hawks back to health after Hurricane Katrina displaced them, drawing cackles from his teammates although he swore it was true.
Dantzler doesn't claim anything that out-to-lunch, but he similarly couldn't leave an animal behind. Short a caretaker before the Auburn series, Dantzler scooped up his pet and brought him along.
The pet is a betta fish named Reptar. Small enough to fit in the palm of one's hand, his temporary home in Auburn was in a Tupperware container. The Gamecocks' relief crew took care of him in the Plainsman Park bullpen during the series.
Dantzler walloped two home runs during the series as part of five hits and four RBIs, with several more great defensive plays at third. The Gamecocks won all three games.
If the fish wasn't a mascot before, he is now. Never mess with a winning streak.
"He'll be at the field for the Alabama series, for sure," Dantzler said. "Normally, he's in a fishbowl with some SpongeBob stuff. On the road, he's just in a little Tupperware bowl."
That should be a relief. Reptar won't have to face a bus ride when the Crimson Tide visit Carolina Stadium, beginning on Thursday.
"I was very afraid," Dantzler said. "I was worried on the bus trip. That's when I was the most nervous. But I knew Sully would take real good care of him out (in the bullpen)."
Some background - Reptar is named after a character in "Rugrats," the animated children's show. A green monster with blue spikes on his back (think Godzilla colored with a highlighter), sometimes voiced by rapper Busta Rhymes, Reptar sometimes helps the babies on the show solve their problems.
Dantzler's neighbor picked the name, and it stuck. Normally, the neighbor takes care of Reptar on road trips, but she wasn't available this weekend.
"She was supposed to baby-sit, and she was home, but she's leaving at the end of May to go home for a few weeks," Dantzler said. "I figured, 'I've got to get him used to the road. He's used to the short trip, but Arkansas is coming up.' But I brought him along, and we won all three. So I guess maybe he's good luck."
Dantzler put Reptar in his own container and packed the fish food for the trip, and the fish survived the bus ride to Auburn, although it seemed as if USC was writing a sequel to "What About Bob?" Then in Saturday's game, Dantzler belted a homer in a four-run sixth inning, inspiring the fins on the heads from his teammates and the "Fear the Fish" hashtags.
On Sunday, Dantzler did it again, sending horsehide into the bullpen to help his pal "eat." The story, revealed by USC play-by-play man Andy Demetra just before Dantzler's first at-bat, quickly took on a life of its own.
The only question that remained was if Nolan Belcher could stop doing the pre-game backflip, which had become popular.
Reptar is considering it.