FNAN: Williams aims for another career first at Kentucky
In the wake of amassing 67 yards on the ground and leading the Gamecocks in rushing for the first time in his career last Saturday in the 20-15 victory over East Carolina, David Williams will strive for another career first against Kentucky at Commonwealth Stadium.
Back-to-back games with 50 more yards rushing.
Williams has eclipsed the half-century mark three times in his career: 2014 vs. Furman (110 yards) and South Alabama (65) and last weekend.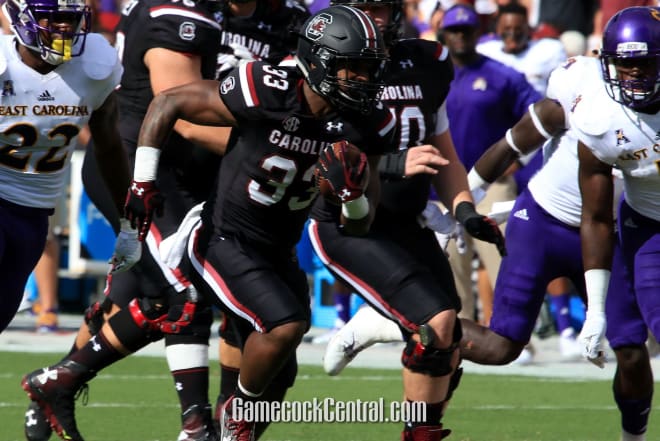 ALSO SEE: Breaking down the keys versus Kentucky | The Insider Report - Latest on several top Gamecocks targets | Josh Low's Weekly Thoughts

He credited a heart-to-heart talk early last week with Will Muschamp after not playing at Mississippi State for his performance against ECU, which was highlighted by a 25-yard option pitch run on fourth-and-1 with about two minutes remaining to seal the deal.
"Coach Muschamp and I met one-on-one in his office and went over stuff he felt I could do to make me better," Williams said. "I still feel like I'm the guy. I just have to go out and show that when I'm in the game."
Topping Muschamp's laundry list of items he wants Williams to accomplish: practicing harder.
"He said I have to go all out in practice," Williams said. "I have to treat practice like a game. I did that, and it paid off last week."
Williams and the Gamecocks are eying a 3-1 start, a record few predicted for the Gamecocks during the summer.
"A lot of people didn't expect us to be in position to go 3-1," said Williams, who has 626 career rushing yards on 143 carries (4.4 yards per carry). "And it's a SEC East game, so we have to go out and compete."
POINTS ARE DIFFICULT AGAINST USC: The Gamecocks rank just 10th in the SEC in total defense (415.3 yards per game), but are fourth in scoring defense (17.3 ppg). Why the apparent contradiction? The Gamecocks are allowing opponents to convert just 34.9 percent of third downs (15-43) and, of course, they lead the SEC in red zone defense after stonewalling East Carolina inside the 20-yard last week, forcing three turnovers and deflecting a field goal attempt.
"They're a great third-down team, they're a great red-zone team," Kentucky offensive coordinator Eddie Gran said. "We've got our hands full. They are a good defense. The yards don't mean jack. We can have 200 yards and 28 points -- I'd be fired up. This 400-600 yards stuff and you come out with 17 points, that's bad ball."
Gran isn't surprised to see the Gamecocks playing solid defense under Will Muschamp as the duo coached together at Auburn in 2006-07.
"Will is going to do what he does, and that's what makes him such a really good coach," Gran said. "We're watching last year's game, He's watching too. It's the same thing. You look at his schemes from where he's been. Has there been a major change? No."
WEATHER: Partly cloudy skies and temperatures in the low 80's are predicted for the 7:30 p.m. kickoff at Commonwealth Stadium. Temperatures will dip into the low 70's with clear skies by the end of the game around 11 p.m. Overall, a very good night for SEC football.
NOTES:
-- Since Kentucky quarterback Stephen Johnson is very mobile, Gamecocks defensive end Darius English said USC must protect the edges and make sure nobody is able to get outside on the perimeter. Kentucky's running backs are very good in space, he added.
-- ESPN.com 'Viewer's Guide' to USC-UK game: "With all the "hot seat" buzz surrounding the Auburn-LSU game, there hasn't been as much talk regarding Mark Stoops. But the fourth-year Kentucky coach faces a similar must-win scenario Saturday. At quarterback, Stephen Johnson will be replacing the injured Drew Barker. Johnson, a junior-college transfer, threw for 310 yards and three touchdowns last week against New Mexico State."
-- ESPN.com SEC writer Greg Ostendorf picked Kentucky's Mark Stoops as the SEC coach most in need of a win on Saturday: "I understand how important Saturday's game (vs. LSU) is for (Gus) Malzahn, but what about Mark Stoops? Kentucky blew a 20-point to Southern Miss in Week 1. The Wildcats were run out of the stadium Week 2 at Florida. And last week, they gave up 500 yards and 42 points to New Mexico State. Stoops is supposed to be a defensive coach, and Kentucky currently ranks No. 122 nationally in total defense. I realize the buyout to fire him is high, but this week's game at home in front of Big Blue Nation is still a must-win in my book. A loss to South Carolina and you can kiss that coveted bowl game goodbye."
-- Four of the five ESPN.com writers covering the SEC predicted Kentucky will win Saturday night's game.
-- CollegeFootballNews.com predicts a 26-20 victory for the Gamecocks over UK: "Do you like the team with no offense or the one without a defense? Kentucky's defense has shown absolutely nothing yet to show it can stop anyone with a pulse, and South Carolina's offense hasn't shown anything to suggest it might be able to keep up in a firefight. The Gamecocks will come up with the few plays to change the game in the second half that UK won't. The team that wins the turnover battle wins the game."
-- Kentucky freshman RB Benny Snell was mentioned in this week's SEC Freshman Tracker: "We knew Kentucky was deep at running back with Stanley "Boom" Williams, Jojo Kemp and Mikel Horton. Sophomore Sihiem King flashed his potential in the spring game. But I don't think Snell was on anybody's radar before the season. Snell, a three-star recruit who was playing in high school at this time last year, rushed for 136 yards and four touchdowns Saturday to help lead the Wildcats past New Mexico State. That's the type of performance, regardless of opponent, that will earn you more snaps."
-- The Week 4 schedule in the SEC for Sept. 24 features a key SEC East battle between Florida and Tennessee in Knoxville, a cross-divisional noon matchup in Oxford involving Georgia and Ole Miss and a "coach hot seat" game between Auburn and LSU:
Kent State at Alabama, Noon (SEC Network)
Georgia at Ole Miss, Noon (ESPN)
Mississippi State at Massachusetts, 3:30 p.m. (ESPN3)
Florida at Tennessee, 3:30 p.m. (CBS)
Delaware State at Missouri, 4 p.m. (SEC Network)
Vanderbilt at Western Kentucky, 4:30 p.m. (CBS Sports Network)
LSU at Auburn, 6 p.m. (ESPN)
South Carolina at Kentucky, 7:30 p.m. (SEC Network)
Arkansas at Texas A&M, 9 p.m. (ESPN)
(All Times Eastern)