Freshman report: Big day for young Gamecocks
SOUTH CAROLINA GAMECOCKS FOOTBALL
For the second time this season, South Carolina had two freshmen in the starting lineup.
Will Muschamp opted to make a change on the offensive line, starting Dylan Wonnum at right tackle, the true freshman's first career start, and Jaycee Horn also made his fifth start of the season at nickel back.
Enter to Win! We're giving away three $100 gift cards to Garnet & Black Traditions!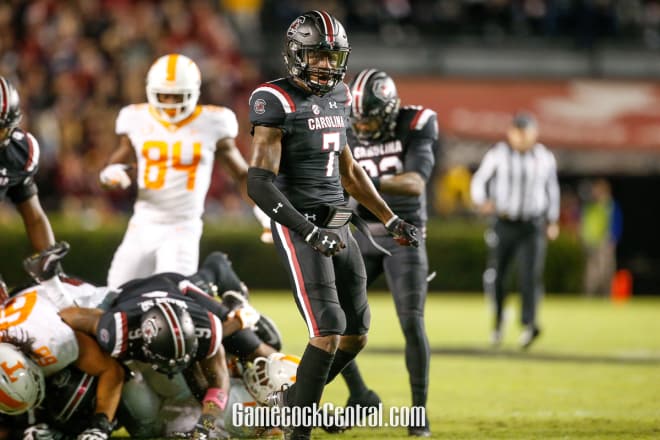 Wonnum's now played in back to back games for the first time this season after seeing about 30 snaps in last week's loss to Texas A&M.

Also see: Recruiting scoop after Saturday's dramatic win
This weekend, though, Wonnum and the rest of the offensive helped lead a Gamecock rushing attack to 224 rushing yards in a 27-24 win over Tennessee.
It was just the second time two freshman started the same game this season with the last coming three weeks ago with Horn and Josh Vann starting against Missouri.
Horn finished with four tackles, including one for a loss, and a pass breakup. He's now started three of the Gamecocks' (4-3, 3-3 SEC) last four games.
Also in the defensive backfield, RJ Roderick played probably the most he has all season, coming in a lot for Steven Montac at one of the safety spots.
Also see: Full updates from Will Muschamp's postgame press conference
He finished second among defensive backs with five tackles, only behind Jamyest Williams's seven tackles.
Like every other game this season, Rick Sandidge and J.J. Enagbare played significant snaps on the defensive line, combining for four tackles, one for loss.
With Bryan Edwards still battling through a lingering ankle injury, Josh Vann played big snaps in the game as well. He finished with seven receiving yards, all of which came on a reception that set up Parker White's go-ahead field goal.
The Gamecocks stormed all the way back from two scores down to beat Tennessee 27-24 Saturday night with White hitting the ultimately game-winning field goal, a 25 yarder with 5:52 to play.