Fry nears magical 300-point plateau, now 34 points shy of Mackie's mark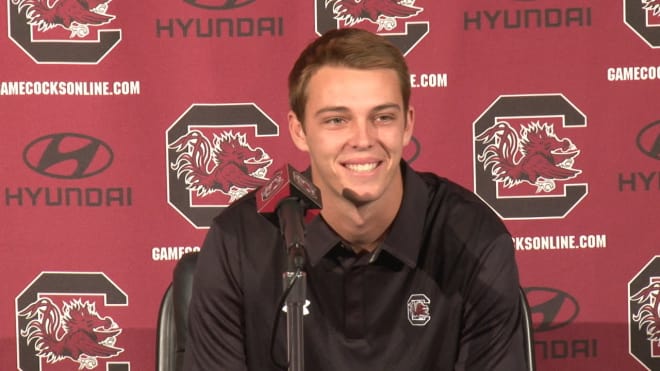 NASHVILLE, Tenn. – Heading into South Carolina's Week 2 encounter with Mississippi State in Starkville (ESPN2, 7 p.m.), Elliot Fry is four points from history.
His pair of field goals and extra point at Vanderbilt in USC's some-from-behind 13-10 victory Thursday night lifted his career point total to 296, putting him two kicks for points away from joining an exclusive club - players in Gamecock history that have reached the magical 300—point plateau.
Right now, the number is one.

Placekicker Collin Mackie (1987-90) is the school's all-time leading scorer with 330 points. At Fry's current career rate of 7.6 points per game, he should eclipse Mackie in early October.
Fry moved within two kicks of 300 career points with one of the biggest field goals of his 39-game career, a booming 55-yarder with 35 seconds remaining that sailed through the uprights with plenty of room to spare.
Field goals from that long distance are far from gimmees, but Fry typically makes those kicks in practice every day. He was "barely" short on a 62-yarder in pregame warmups. giving him and the coaches some confidence.
"In pregame, because the wind was blowing that way, (special teams coach) Coleman (Hutzler) felt he was good from the 38 (yard line) in," Muschamp said. "That's a 55, 56-yarder. I had total confidence he would hit the thing. He has been a good kicker for a long time. We are going to have to win some games like this. That's our M.O. right now."
His game-winning bazooka wasn't the first time Fry had tormented Vanderbilt. He kicked four field goals in USC's 19-10 victory over the Commodores last year at Columbia in Shawn Elliott's debut as interim Gamecock head coach.
By connecting on both field goal attempts at Vanderbilt, Fry improved his career field goal accuracy percentage to 75.3 percent (55-73), second best in school history behind Spencer Lanning (77.3 percent; 2007-10).
"I congratulated him in front of the whole team in the locker room," Muschamp "The guy is a senior. He has been in that situation before. And we created so many one minute end-of-game situations during the final week of practice. I can't tell you how many times he has hit that field goal (in practice), but having scouted South Carolina (when at Florida), I knew he had hit them before, so I had total confidence."
With the score tied 10-10, the Gamecocks took possession at their 27-yard line after Vanderbilt missed a 45-yard field goal attempt with 3:44 remaining.
That's when Fry started getting his leg warm.
"We had about four minutes left in the game and all the specialists were over there saying, 'This could be it,' Fry said. "From then on, I was locked in. Then we moved the ball down the field into field goal range. I just went in and kicked it. I knew I could get it there with the wind. I definitely hit it very well. I've probably kicked some better, but this one felt great. I knew it would definitely get there."
NOTES:
-- SEC Network analyst Tony Barnhart on USC's win over Vanderbilt: "It was a gut-wrenching loss for Vanderbilt because they were in control of the game in the first half. But for South Carolina to come back from 10-0 on the road and find a way to win that game, that's a program builder for Will Muschamp."
-- In the midst of South Carolina's celebrations walking off the field, LB Bryson Allen-Williams gave Muschamp a big hug that lasted for several seconds: "I just told him that I love him. It meant a lot for me to have Coach Muschamp come into the program. He's a defensive mind and I'm excited to see where the program is going to go."
SEC WEEK 1 SCHEDULE/RESULTS
Thur., Sept. 1
Tennessee 20, Appalachian State 13 (OT)
South Carolina 13, Vanderbilt 10
Saturday, Sept. 3
West Virginia 26, Missouri 11
South Alabama 21, Mississippi State 20
Wisconsin 16, LSU 14 (at Green Bay, WI)
Texas A&M 31, UCLA 24 (OT)
Arkansas 21, Louisiana Tech 20
Georgia 33, North Carolina 24
Southern Miss 44, Kentucky 35
Florida 24, UMass 7
Alabama 52, Southern Cal 6 (at Arlington, Tex.)
Clemson 19, Auburn 13
Monday, Sept. 5
Ole Miss vs. Florida State (at Orlando), 8 p.m. (ESPN)