Game Balls: Gamecocks versus Volunteers
Rico Dowdle
Dowdle rushed 14 times for 140 yards, a nifty 10.0 yards per carry. He gashed the Tennessee with runs of 16, 25, 21, 15 and 30. Coming into the game, Dowdle had just four runs of 15 or more yards all season. Dowdle didn't start the game, and didn't play until the third series, but he made an immediate impact. Dowdle had 62 yards on his first six carries on that drive to set up a chip-shot field goal. He added a third quarter touchdown, and then sealed the game with a 30-yard run, his longest of the season, to help run out the clock.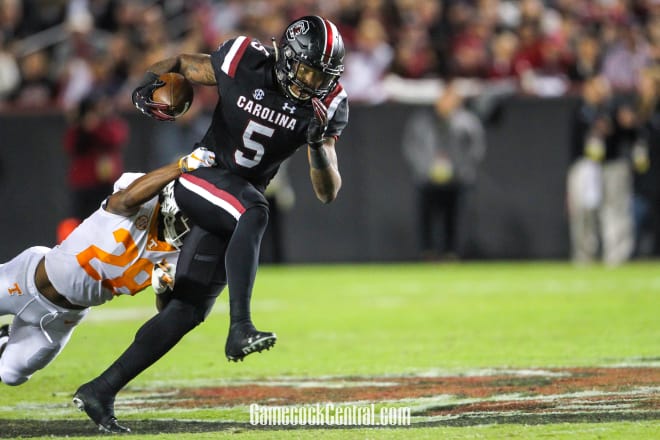 Jake Bentley
Bentley didn't have a great game statistically and missed a few throws, but for the first time this season he looked like the Jake Bentley of the last two seasons: a gunslinger making plays out of nothing and doing whatever was needed to win. He finished with 152 yards and a touchdown, with an interception on a pass deflected at the line. Almost half the yardage came on a beautiful 73-yard throw and catch to Bryan Edwards that set up the game-tying touchdown.
Also see: Which plays mattered the most in Saturday's win?
He also rushed for 20 yards, plus the game-tying two point conversion. He was hurt on the play, and collapsed after trying to get up. The trainers huddled over Bentley for several minutes, and then jumped up and sprinted off the field to the roar of a stadium that just two weeks ago wanted him benched.
"It felt like a boulder went through my chest," Bentley said. "I knew I was good, I was just like, whoa, I need to stay here for a minute. It knocked the wind out of me."
D.J. Wonnum
In his first game back from injury, Wonnum had only three tackles, but two sacks, including one on fourth down to end Tennessee's last possession. On a day when the defense frequently looked confused, Wonnum was also a steadying influence. There were several times he looked like the only defender who read the play correctly.
Also see: Insider recruiting scoop after a big win
"It was great to have him back," Muschamp chuckled. "He's great football player but he's also a calming factor. You breathe a little easier when he's around."
Parker White
White had a PAT blocked in the second quarter, but he remained calm and hit the game-winning 25-yard field goal in the fourth quarter. For the season, White is now 10-11 on field goals with two game-winners.