Game Balls: South Carolina-Missouri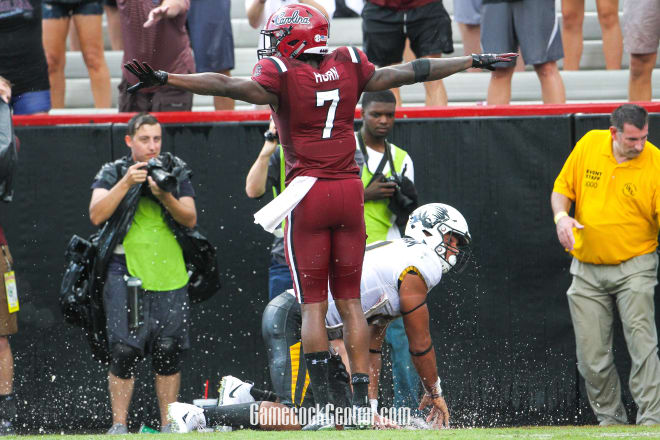 Michael Scarnecchia
How's a game-winning drive for your first career-start? Scarnecchia wasn't perfect, but he was pretty good. He outplayed Missouri's Drew Lock, if that counts for anything. Scarnecchia's numbers were relatively modest: 20-35 for 249 yards and three touchdowns. But he made big plays when called upon. Scarnecchia was 10-18 on third and fourth downs with eight first downs.
"He did a fantastic job," Will Muschamp said. "He converted some critical third downs."
Also see: Josh Low's instant analysis from a dramatic win
And that final drive. It went Dowdle for six. Incomplete. Pollard for nine and the first down. Incomplete. Markway (who else?) for 27. Incomplete. Rush. Edwards for 12 and the first down, and a manageable field goal.
"I knew we had to get to the 35 to give Parker a chance," Scarnecchia said, noting that he had a "homemade" peanut butter and jelly sandwich during the weather delay to get ready for the game-winning drive.
Bryan Edwards
Edwards was nearly the goat as well, with a couple of drops that would have been first downs. But he also had seven catches for 73 yards and two touchdowns, and was Scarnecchia's favorite target. The two touchdowns tied a career-high, and his 12-yard reception in the closing seconds set up the game-winning field goal. For good measure, Edwards also played defense on the final play and was credited with the pass break-up.
Also see: Which plays mattered the most Saturday?
Jaycee Horn
Horn seemed to be everywhere in the secondary. He finished with four pass break-ups, half of South Carolina's total. Horn also had three tackles, including one that may have been the biggest defensive play of the game when he chased down Damarea Crockett to knock him out of bounds. Horn's hustle led to the 70-yard touchdown being overturned, resulting in a botched Missouri punt, and Gamecock field goal.
Bryson Allen-Williams
What Horn was in the secondary, Allen-Williams was in the front seven. He finished with six tackles, including three for loss, a sack, and two quarterback hurries. He made the tackle on Missouri's botched punt, and forced another punt with a third down sack.
Parker White
White made three field goals, and each was a go-ahead kick. He made a pair of 42-yard field goals in the rain. Then, after Tucker McCann drilled a 57-yarder, White kicked the game-winner from 33 yards out.
"You don't want to overthink it, that's the worst thing you can do," White said. "You just treat it like any other kick."
*** Current subscribers: To discuss this story, head over to The Insiders Forum, our private, members-only message board!
*** Not a subscriber? Get in-depth and insider coverage of the South Carolina Gamecocks with a subscription to GamecockCentral.com!