Gamecock basketball wins season opener
SOUTH CAROLINA GAMECOCKS MEN'S BASKETBALL
It wasn't pretty, but South Carolina basketball beat USC Upstate 65-52 in the season opener for both teams Tuesday night at Colonial Life Arena.
The Gamecocks were slow to start both halves. They opened the game shooting 1-of-9, and went 1-of-8 to start the second half. But a big first half run and defensive pressure throughout allowed USC to come away with the 13-point win.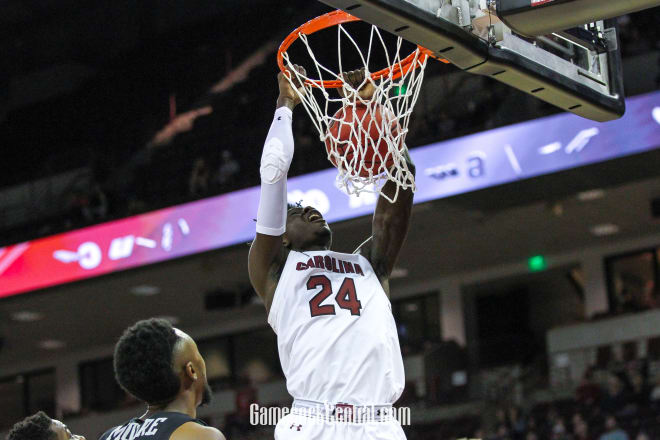 South Carolina trailed 9-2 four minutes into the game, but the second unit provided a spark, and South Carolina's defense clamped down. It held USC Upstate scoreless for 10:31, going on a 20-0 run. Freshman Keyshawn Bryant was the unexpected star during the run. He got things started with a tomahawk jam, and was aggressive on both sides of the court. Bryant had seven points and four rebounds in his first five minutes of play, on his way to a 21-point, seven-rebound debut.
The Gamecocks led by eight at halftime, but the Spartans narrowed it to three when USC got off to its slow start to the second half. But Bryant scored again, and the Gamecock defense took the Spartans out of their offense.
South Carolina held Upstate under 30 percent shooting for most of the second half, building its lead to as much as 18. Despite going 0-of-18 from three, South Carolina controlled the paint. It attempted 37 free throws, making 27, almost four times as many as Upstate made (7-10). South Carolina tallied a 36-16 edge in points in the paint and a 50-34 rebounding advantage. Despite shooting just 32.8 percent from the floor, Martin was happy with the offense.
"We shot 37 free throws which means we attacked the paint," USC head coach Frank Martin said. "I thought we took good threes. I have no problem with the threes we shot."
Defensively, the Gamecocks held the Spartans to 32.8 percent shooting, 25 percent from three, and kept the Spartans out of their offense all game. It was a good showing after the poor defensive play in the exhibition loss to Augusta.
"We defended and we rebounded today, and at the end of the day those are things that are important to me," Martin said. "We were good on the ball and off the ball."
Chris Silva, who finished with 13 points and 11 rebounds, said defense is about pride.
"This past week we were really focused on our defense," he said. "We were trying to get to the point where we can take pride in it."
Spartans coach Dave Dickerson felt like the Gamecock defense kept his team from getting into its offense all game, jumping passing lanes and pressuring the ball. The Spartans committed 22 turnovers that led to 16 Gamecock points.
"I hope we don't see that kind of pressure again this season," he said. "We couldn't capitalize on their mistakes, and they capitalized on almost all of ours."
Notes:
Hassani Gravett had a career-high 12 rebounds. His previous career-high was 10, set last season at FIU. ... Upstate's leading returning scorer Deion Holmes did not play with a broken hand. ... Both teams were a combined 19-of-58 from the floor. ... The last time South Carolina did not make a three-pointer was November 11, 2012 against Milwaukee. ... South Carolina committed 19 turnovers. ... The announced attendance was 10,145. ... South Carolina's next game is Friday against Stony Brook at CLA.